PayPal rolls out new cryptocurrency service to British users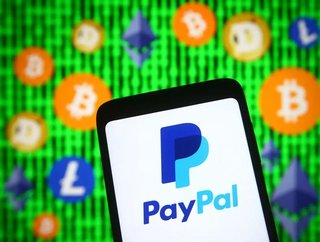 Payments giant PayPal's new crypto facility enables British customers to buy sell and hold four currencies
Payment giant PayPal's cryptocurrency service has been rolled to British customers this week, enabling them to buy, sell and hold four different types of cryptocurrency.
The service means customers can choose between Bitcoin, Ethereum, Litecoin, and Bitcoin Cash. Reports show that they can also buy a minimum of £1 in cryptocurrency via the PayPay app or website. 
The move marks the first international expansion of PayPal's cryptocurrency product, which is expected to expand its global presence in the coming months. 
Breakthrough in cryptocurrency regulation
The PayPay crypto service platform provides complete transparency on their investments, providing real-time currency prices, and offering content that advises users on what cryptocurrency is, and how it can be used. It also outlines the risks associated with trading in cryptocurrency.
Speaking to press, Jose Fernandez da Ponte, PayPal's general manager for blockchain, crypto, and digital currencies, said that as with the US version of the service, PayPal is using Paxos - a New York regulated fintech, which facilitates and buying and selling of crypto through the PayPal platform. 
He added that he was optimistic about the service uptake in Britain. "It has been doing really well in the US. We expect it's going to do well in the UK too."
PayPal and cryptocurrency
The move by PayPal, which is the world's largest digital payment platform, signals a shift in the international approach to the use of cryptocurrency. Although the UK's Financial Conduct Authority is yet to comment on the new service, all indicators suggest the product will prove popular and will be yet another step towards great regulation of DeFi (democratised finance) services. 
However, other tech giants are leaping on the bandwagon. Despite continued concerns about stability, security and the possibility of money laundering, Tesla, Facebook, and Mastercard have all explored cryptocurrency potential recently.  
Currently, Bitcoin is the world's leading digital currency. Data shows it hit a high of $65,000 in April but then fell to $30,000 four months later when Chinese regulators stepped in and halted the market. Since then, Bitcoin has risen again to $50,000.
Regulating cryptocurrency
Until PayPal launched its service, the fintech Revolut was the only mainstream platform to run such a service. However, although trading can happen within the new app, cryptocurrency cannot yet be moved off the platform. 
In a step further along in the journey, Revolut recently began testing a service that enables users to withdraw cryptocurrency to their personal ewallets. 
da Ponte said PayPal's cryptocurrency services makes life easier for its customers to explore the market. "The tokens and coins have been around for a while but you have to be a relatively sophisticated user to be able to access that. We are very deliberate about starting with initial functionality, and then we'll see where the market is going to take us. Different markets have different appetites for products."
He added, "Having that on a platform like ours makes a really good entry point."
The news comes hot on the heels of the Bitcoin ETN Futures announcement that it will list on Eurex in mid September.