Payments in 2021: What lies ahead after the digital boom?
By Stefan Merz, Chief Operating Officer, PPRO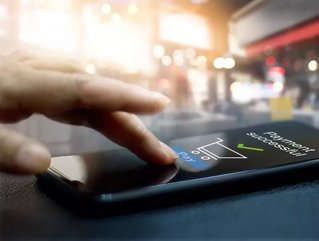 Stefan Merz, COO at PPRO, explores how permanently altered consumer behaviours could shape online payment preferences...
It has been a year of momentous change for the payments industry. Previously, emerging trends have seen a massive acceleration as a result of the pandemic. Years of transformation transpired in just a few months with rapid shifts in both consumer behaviours and merchant expectations for e-commerce. 
For instance, cash usage waned even further this year amongst fears around the pandemic, leading to a across the country with many merchants pointing consumers to digital payments if they lack exact change. According to , by the end of 2020, we can expect a drop of four to five percentage points in the share of global cash transactions.
The pandemic – while undoubtedly awful – has been rocket fuel for digital transformation, providing an opportunity for the payments industry to innovate. This year, for example, online payments via bank transfer have continued to proliferate, while have been named as one of the fastest growing online payment methods worldwide.
So, after a year of such rapid transformation, what can we expect to see in 2021? And how will permanently altered consumer behaviours shape online payment preferences?
Instalment payments are changing mindsets on credit
It is safe to say local payment methods, the nontraditional payments such as bank transfers, e-wallets, cash-based digital payments and local credit cards have seen huge growth over the last couple of years. They are now actually the dominant payment methods globally, used in more than Local payment methods (LPMs) continue to play a key role in accelerating digital adoption, particularly in emerging regions. , for example, LPMs generated $43bn in revenue in 2019.
In 2020, consumers have been more inclined than ever to try different payment methods, in a search for greater convenience and heightened security during national lockdowns. According to , 56% of global consumers mentioned that they used a new local payment method in the first month of the pandemic.
The payment method that has taken the world by storm is the interest-free 'buy now pay later' (BNPL) concept, with payment providers such as Klarna, Afterpay and Affirm leading the charge. Over this past holiday shopping rush, mentioned the availability of buy now, pay later is very important in determining how much they spend with retailers. , Afterpay saw a 186% increase in sales, while Klarna processed an astonishing five times more transactions than in the first four years of their operation combined. 
predicts that BNPL value will reach over 12% of total global e-commerce spend on physical goods by 2025, showcasing the staying power of this trend. 
Ongoing furlough measures and job losses have seen consumers face unprecedented financial strain this year, resulting in a reliance on 'pay later' schemes over traditional payment methods due to their flexible nature and lack of financial penalties. With the economy not expected to recover to pre-COVID-19 levels for some time, this is a trend we see continuing into 2021. As such, this is certainly a payment method online merchants need to offer, now.
Staying competitive in an increasingly digital age will be harder
It's no surprise that the figures from 2020 reflect a massive boom for global e-commerce. The , describes a 10-year shift in e-commerce experienced in just 90 days. During during the height of the strictest lockdowns for many countries, e-commerce sales grew 34% year-on-year – the highest growth rate reported since March 2008. And consumers were not turning to their trusted brands during this critical period. Many shoppers .
Disruptions in brand loyalty have created a wealth of opportunities for businesses big and small, pushing them to take their operations online and across borders. to enable growing businesses to sell to customers.
E-commerce is now king as , while experts predict Amazon will have received this holiday season. This digital surge will continue to proliferate as shoppers will turn to online channels even after the lockdown restrictions start to lift. In 2021, it won't be adequate for merchants to only support card transactions online if they want to stand out in a crowded market. 
According to , 42% of US consumers will abandon their baskets if their preferred payment method is not available at checkout. the global average rate of cart abandonment is as high as 75.6% - causing brands to lose up to $18m a year in revenue. We expect this demand to continue, putting pressure on retailers to expand current payment offerings.
Payments should prepare for hypergrowth
Rather than an evolution, the pandemic has been a revolution. It's turbocharged digital payments and changed customer expectations and behaviours overnight.
More and more customers are now online, looking for products or services that suit their very specific needs. A shopper might look across borders for what they want: better-quality products, more payment methods accepted, stronger brand loyalty, and more. Merchants could reach untapped markets by offering the right mix of goods, user experience (UX), local payment methods and delivery options.
With over 500 significant local payment methods across the globe, each country will have different payment preferences. To be able to scale up and succeed in the new normal, merchants must work with payment service providers to activate as many payment methods as possible at the checkout page.
2020 has seen a huge change in relation to consumer payment preferences, but 2021 will be all about addressing that change and seizing the opportunities that have emerged. Merchants must get ready now, or else, risk losing out to the competition.
While 2021 will certainly be another challenging year for the economy, the future for local payment methods (and savvy retailers who offer them) will certainly be very bright. 
This article was contributed by Stefan Merz, Chief Operating Officer, PPRO