Opinion: Say goodbye to plastic credit cards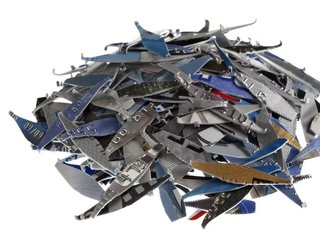 According to Günther Vogelpoel, CEO of the fintech Recharge.com, plastic payment cards are out, and digital payment options are leading the way
A 'code red for humanity' has been declared, according to the recent report from the UN's Intergovernmental Panel on Climate Change (IPCC) – published on Monday.
In response, the fintech community can help by delivering innovations that can help mitigate the levels of waste wreaking havoc on our planet- and to help meet the climate targets set out by the Paris Agreement. One of the most significant developments is a move to digital payments. Günther Vogelpoel, CEO of fintech Recharge.com explains. 
Plastic payments pollution
Since the 1950s, humans have created over 8 billion tons of plastic, with under 10% of it ending up recycled. As the world increasingly migrates online, with digital transformation trends only accelerating due to the COVID-19 pandemic, more companies are investigating how to use digital means to reduce their carbon footprint. 
Every year, about six billion plastic cards are pushed out into the environment, with most of them made by unrecyclable PVC plastic. Although Mastercard analysis shows that this is less than 0.015 per cent of the volume of plastic manufactured each year, it is a cost that is becoming increasingly unnecessary as digital options become more available.
The inefficiency of physical plastic cards is only more apparent when taking into account that it costs approximately 7 dollars to issue one plastic card, and about 5.7 million tonnes end up in landfills every single year. Once there, it takes not years but decades for them to break down into microplastics. 
Credit card microplastics
These microplastics are tiny plastic particles that end up being ingested by humans and could cause a range of health problems, such as reproductive harm, obesity, organ problems and developmental delays in children.
While only 34% of Generation X and 23 per cent of Baby Boomers were reportedly willing to pay more for sustainable goods, Generation Z (those born since 1997) have a completely different mindset. This collective mindset is spearheading the quest for a greener planet. 
62% of Generation Z prefer to buy from sustainable brands, which are in line with similar findings for Millennials (those born in the 1980s). As Generation Z enters the workforce and millennials continue to rise through business ranks, these new generations are beginning to influence the way companies manage their overall environmental impact. 
More digital-first than their predecessors, these younger generations can see that people increasingly use their mobile phones to travel, learn, shop, and share. Mobile devices are increasingly an indispensable fixture of modern life. In fact, the number of smartphone subscriptions around the world is currently over six billion and is set to grow by several hundred million in the next few years. 
Disruptive digital payments
Digital trends like these disrupt industries like the branded payments sector, a billion-dollar global industry. The digital disruption is driven by the rise of e-wallets and alternative payment, the growing need for digital cross-border transactions, all whilst traditional players are still predominantly offline.
Whether bought directly by consumers or sent from a friend or family member - branded payments are the financial infrastructure that can cater to the daily needs of billions of people around the world who remain un- or underbanked without access to traditional financial means. Branded payments form the economic infrastructure for their daily needs, whether they use mobile call credit or prepaid payment cards.
Branded payments can also ensure budget control and privacy, allowing people to recharge their smartphone, gaming, entertainment or prepaid money credit. It is becoming easier than ever to recharge from anywhere, at any time, using a range of payment methods.
There are 1.6 billion plastic gifts printed in the US alone each year, requiring 900 tons of plastic to create them. This equates to 33,260 tons of CO2 being released into the atmosphere. 
As the plastic pollution continues to haunt us, card manufacturers worldwide are competing to design new cards that are more ecologically friendly. However, the overarching aim should be to eliminate first-use plastic, which becomes easier when digital options are presented as the default preferred option. 
About the author: Günther Vogelpoel is the CEO of Recharge.com, a swiftly scaling digital payments fintech based in the Netherlands. He has more than 15 years experience in technology and financial market industries. Recharge.com is the European leader in online consumer-branded payments. Operating in over 150 markets around the world, the company processes millions of online transactions annually, connecting customers with leading global brands.