Nigerian payments fintech Grey in Kenya partnership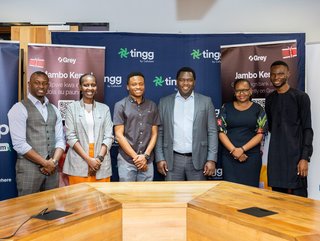 Nigerian payments fintech Grey has expanded into Kenya, making it easier for locals to accept payment in one of three supported currencies.
Nigerian fintech Grey has partnered with payments company Cellulant to expand availability of its platform into Kenya for the first time.
Grey, a Y-combinator backed fintech startup, allows users to get paid in US dollars, Euros or British pounds before withdrawing it to their local bank account or M-Pesa mobile payments account. It is particularly popular among freelancers and remote workers, who can invoice US or European clients in their local currency through the app.
The startup was founded last year by Idorenyin Obong and Femi Aghedo with the mission of helping Nigerians to easily exchange money into local currency and access foreign currencies using their own accounts.
'Path to prosperity' for young, tech-savvy Africans
In a statement announcing the new partnership, Cellulant explains: "Today, thousands of young Kenyans access work opportunities through digital platforms in a rapidly growing gig economy. The online gig economy is fuelled by a burgeoning young workforce, internet and smartphone penetration, and mobile money proliferation. With Africa having the youngest workforce yet with high unemployment rates, online gig work provides alternative and accessible employment opportunities and a path to economic prosperity for the youthful workforce."
Cellulant chief revenue officer David Waithaka continues: "We're thrilled that Grey has come into play in this space, connecting gig workers to a global economy by providing a relevant currency exchange platform. Their work ties closely to our mission of creating opportunities that accelerate economic growth for all of Africa. We're proud to power their payments in Kenya and enable seamless digital transactions."

And Grey CEO and co-founder Idorenyin Obong adds: "We are now enabling Kenyans to make and receive international payments via the foreign accounts Grey provides from the comfort of their homes. Grey's expansion to Kenya will replace the need for Kenyan residents and visitors to jump from app to app and make receiving foreign payments and converting directly to Kenyan Shillings easier."

Pay for local services in Dollars, Euros or Pounds
As well as providing young Kenyans and Nigerians with easier access to employment markets, Grey pointed out that the app could also be used by travellers to either country, who could convert any of the supported currencies into Shilling or Naira, and pay for goods and services through M-Pesa or by withdrawing it to a local bank account.
Grey officially signed the partnership with Cellulant in Nairobi last week. They hope their venture in Kenya will be the first of an expansion into East Africa and the beginning of further growth for the app.