Klarna Chooses Stripe for Quick and Easy Payments
By Derin Cag & Joanna England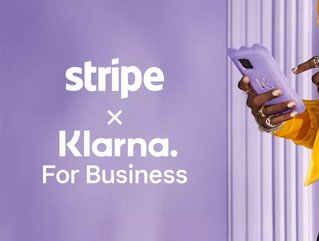 The BNPL fintech giant, Klarna, has partnered with payment behemoth, Stripe
Klarna is a global payment service that provides an easy and quick way for customers to pay through its buy now pay later solution. And Stripe is the leader in online credit card processing, making it easier than ever before to process payments.
Now the two fintech giants have partnered in order to enable users an even better experience and to drive new customers. It will be interesting to see how this partnership benefits both parties.
In a statement released by Klarna, details of the strategic partnership with Stripe revealed that retailers using Stripe can now activate Klarna as the preferred payment method in their checkout within minutes.
Initial results look set to yield impressive results as data shows that retailers using Stripe indicate the integration of Klarna's payment portal showed an average 27% growth in sales. 
Klarna has already proved its worth in terms of order volume, with retailers reporting a 41% upsurge in average order volume and a 36% increase in purchase frequency.
The fintech company has also been instrumental in swelling its retail partners customer base as 40% of Klarna shoppers are new to their brand. 
Klarna and Stripe partnership
The move should come as no surprise to industry experts as both fintechs are global leaders in their field. Klarna's latest valuation set it at $45.6bn, while Stripe is valued at $95bn.
Speaking about this latest move, Koen Köppen, Chief Technology Officer at Klarna, explained, "Over the past years, Klarna and Stripe redefined the e-commerce experience for millions of consumers and global retailers."
Köppen said that the strategic collaboration will accelerate growth for Klarna's retailers because the move will enable them to "maximize their entrepreneurial success through our joint services."
He continued, "By offering convenience, flexibility, and control to even more shoppers, we create a win-win situation for both retailers and consumers alike." 
More collaboration planned between Stripe and Klarna
Further plans to strengthen the Stripe/Klarna partnership are also in the offing. Stripe is currently Klarna's preferred payments partner for consumer purchases pre-funded by Klarna in the US and Canada. Pilots with Stripe's services have resulted in significantly improved performance. 
Therefore, Klarna has moved a significant amount of payment processing volume to Stripe and will now rely on the fintech to process the majority of its payment volume in the US and Canada
The continued collaboration also includes expanding into new markets and products in the future. 
Markets where Klarna and Stripe services are available
US

Belgium

Finland

Germany

Ireland

Italy

Lithuania

Netherlands

Norway

Greece

Latvia

Estonia

Denmark

Spain

UK

Slovenia

Sweden

Austria

France
Will Gaybrick, Chief Product Officer at Stripe, said, "We're thrilled to partner with Klarna so millions of businesses on Stripe globally can offer increased payment flexibility."
He added, "Klarna's payment options are a powerful tool for online businesses to attract more customers, boost conversion rates, increase basket sizes, and thus grow their revenue."