Cryptocurrency: Ethereum finally emerges from the shadows
By Katharine Wooller, MD (UK & Eire), Dacxi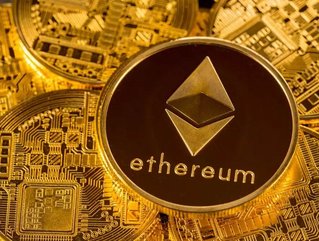 Wooller explains why Ethereum, perhaps considered Bitcoin's inferior in the popular consciousness, could soon become the leading cryptocurrency...
Too long, in my opinion, has Ethereum been considered the 'poor cousin' of Bitcoin. Too much the sidekick, not enough the actual star: more Robin that Batman, more Spock than Captain Kirk, more Gromit than Wallace.  It seems, however, Ethereum is finally holding its own. 
Frustratingly Bitcoin is the posterchild of crypto: a few years older and thus seen as more credible and established. Increasingly, however, we often see that Bitcoin is the entry point for retail investors, who then diversify in Ethereum, and thereafter into other altcoins. I am interested to note that most of the more vociferous fans of crypto from the traditional banking industry (i.e. Blackrock, Citi, Goldman Sachs, JP Morgan) tend to limit their comments to Bitcoin. Further, the trail-blazing businesses using crypto as a reserve asset for treasury, such as Tesla and MicroStrategy, have also focused on Bitcoin.  
The market data, however, shows a more nuanced picture.  Certainly, in terms of performance Ethereum has wiped the floor with Bitcoin. In 2020 the appreciation was more than double – Bitcoin's gains were a non-too shabby-240% vs Ethereum's stratospheric 450%.   
Rao Paul, considered a sage crypto market analyst, only a few days ago pointed out that Ethereum has only fallen below its initial price against BTC for the first five months of its existence in 2015. While few retail investors trade ETH/BTC it does put to bed the theory that all cryptos tend to follow BTC price movements.  
Indeed, whilst the market cap of Bitcoin £822bn dwarves Ethereum's £181bn, the market dominance figures of the recent past make for interesting reading. Since January 2020, Bitcoin's dominance has fallen from 69% to 56% whilst Ethereum's has risen from 7% to 12%. 
The use case for Ethereum can be seen as its biggest joy and challenge. Bitcoin seems to be broadly accepted as a potential replacement store of value, and thus heir apparent to our current economic system.  
Investors, the media, and a reasonable proportion of the general public have heard of Bitcoin, and, even at a basic level, understand it. Ethereum's proposition is more complex: it is a more subtle argument about how smart contracts can power a huge variety of innovations in finance, gambling, gaming, advertising, identity management, and supply chain. 
Personally, I see Ethereum's potential market as greater than Bitcoin's albeit hard to explain to someone new to the industry! 
In the near term, I think the trend for NFTs will help lubricate a great discussion of the role of blockchain in all industries in the near future. I can't help but think that Ethereum may be more palatable for those who see crypto as 'the bogeyman' - a dark force of faceless decentralised, and thus uncontrollable, anonymous revolutionaries. Bitcoin's anonymous creator (or creators) does not help this fear. Ethereum having a 'real person' as a creator, who regularly appears in public espousing the virtues of his technology and its uses make it considerably less frightening to sceptics.
Recently Ethereum has broken two all-time highs in quick succession: $2k on the 2nd April, and $2,187 ten days later. Ethereum deserves its time in the spotlight, and it would be good to see more mainstream and crypto media giving it the limelight it deserves.  I would expect, therefore, in the medium term to see more investors and treasuries alike increasing their Ethereum holdings.   
This article was contributed by Katharine Wooller, MD at Dacxi