How retailers can have themselves a merry crypto Christmas
By René Pomassl, CEO of Salamantex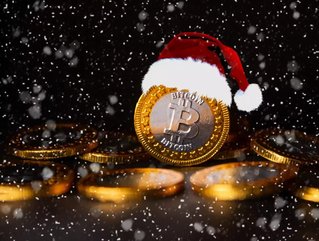 René Pomassl, CEO of Salamantex explains how retailers can benefit from the cryptocurrency wave of adoption during the festive season
Cryptocurrencies have soared this year, in type and in usage. In 2021, it only took four months for the crypto population to almost double from 106 million in February to 203 million in May.
In response to this rise, large corporates such as PayPal, Facebook and Revolut have integrated crypto wallets into their business models, to cater to the increased demand from the customer base. Throughout all generations, people demand more flexibility in payment options, both in-store and online in e-commerce. With Christmas around the corner, retailers should prepare themselves for ways to offer and accept crypto-based payments.
Not only do retailers need to be prepared for use of cryptocurrencies as payments in-store, but also online. A recent report from Concardis revealed that almost three-quarters of consumers across the DACH region – that is, Germany, Austria and Switzerland - prefer to buy products online. This trend is reflected across a growing number of countries across Europe and beyond. Retailers must therefore prepare themselves for an online Christmas shopping spree. 
This year, the average holiday spend is expected to be $1,463, a 5% increase from last year, so retailers need to prepare now for what could be their busiest period yet.



Choosing the right payment software

As cryptocurrencies proliferate, retailers have more options over the payment software solutions available to enable them to accept payments in cryptocurrency. However, we are not yet at a point where crypto has completely overtaken fiat. Retailers therefore need to consider how the software they choose can fit into the broader payments ecosystem, rather than replacing conventional methods altogether. This means partnering with software solution providers that provide flexibility, while accommodating multiple payment options, without unnecessary complications. 
It is also important to remember that, although Bitcoin remains the dominant cryptocurrency in the market, there are many other cryptocurrencies available. As the market matures, consumers will explore other coins. The aforementioned Concardis report also found that consumers value a broad payment mix. The figures show that almost every fifth person in the region stated they abandoned their online purchase due to missing or non-functioning payment methods. Diversified payment options, therefore, are necessary for retailers to futureproof themselves in the face of crypto's growth and increased e-commerce transactions. 
Going a step further 
While partnering with the right software solution provider is vital, other resources must accommodate changing payment patterns ahead of the busy Christmas period. This can extend to soft skills. For instance, training is delivered to staff, so they are equipped to handle digital asset-based payments in the same way as fiat. As much as consumers value flexibility, they also love simplicity. It is up to the retailer to make the payment process as smooth as paying with a bank card for the consumer. This means staff members should thoroughly understand how to use the payment software, integrating multiple cryptocurrencies and other tokenised assets in one interface.

Retailers can also introduce in-store activations or promotions to make the most of the Christmas period. For example, last year, Ben Zielke, Chief Marketing Officer at BitPay said that crypto gift cards were amongst their top-performing products in November and December – with the trend expected to continue this Christmas. Now multiple retailers accept cryptocurrencies, they can remain competitive by introducing such promotions. 



The Christmas crypto bonus
Cryptocurrency's potential and prevalence as a means of payment shows no sign of slowing. As Christmas this year promises to be a rebound event for many retailers in the wake of the pandemic, it is vital that merchants are equipped to stay competitive in an increasingly diversified payments landscape. Holiday retail sales grew by 8.3% last year due to people lightening up the mood from the pandemic, so we can only expect this to continue this year.

The pivot to the digital world has provided the unprecedented impetus for the acceleration of digital currencies. According to Statista, 60% of US consumers start their Christmas shopping before December, so the savviest retailers will stay ahead of the curve and implement the right software solutions now, equipping them for the new digital payments era. Exactly what that will look like is yet to be seen, but what is certain is that it will look remarkably different from what we are used to today. 
About the author: René Pomassl is CEO of Salamantex and an experienced IT professional with a long-standing passion for software and computer science. He also specialises in creating algorithms for banking and financial systems. He founded Salamantex in 2017, which has scaled and formed partnerships with some of the largest companies in the payments space.