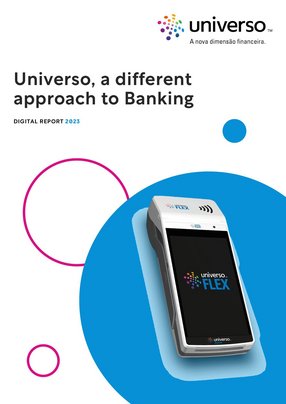 Universo, a different approach to Banking
Carlos Braziel David, Chief Operating Officer of Sonae Universo, explains why is Universo "different"
Universo has been able to succeed with a different approach to banking services in Portugal. This has been reached by being "different". But what does it mean being different? From our conversation we understand many things make Universo different, starting with the strong will to be "different".
But there is much more: a broad ambition and challenging culture inherited from Sonae DNA; the ability to combine digital and physical worlds; the capacity to create and leverage ecosystems, the nerve of trying new technologies and emerging companies as partners (Universo started cloud-native already in 2015; and was one of the first clients of emerging companies at the time, as Mambu or Mastercard Processing Europe). The use of AI at its core and seeing itself as a technology company are some of the clues to understand "who" Universo is.

Universo: the background
As a multinational corporation managing a broad portfolio of companies in retail, telecommunications, financial services, technology and real estate, Portugal-based Sonae's solid culture and highly-developed ability to innovate and execute its actions take the benefits of progress to an ever-increasing number of people. It is a major employer in Portugal with a global customer base and a wide range of conscious focus, including impressive sustainability commitments and a focus on conscious practices.
The creation of the Universo was part of Sonae's innovation policy that looks to challenge an industry while also fulfilling Sonae's mission of bringing the benefits of progress and innovation to a growing number of Portuguese families.

Universo: Financial accessibility for all
Sonae's portfolio includes the Universo brand, a financial institution focused on B2C segment, offering accounts, payments, cards, credit (credit lines, in-store credit, BNPL,…), personal loans, insurance and investments. Founded 7 years ago, the company has more than a million clients and over 1 Bn euros yearly Production generated across its financial offers.
Universo integrates Sonae retail loyalty programmes to reach a wide base of the Portuguese families. Universo combines the Continente Loyalty program and the Worten Resolve program to deliver a large range of benefits to its customers.
"Continente loyalty programme – which is the major loyalty programme in Portugal – offers Universo an important differentiation opportunity" explains Carlos Braziel David, Chief Operating Officer of Sonae Universo. "The cashback is provided by this program, that includes major brands in Portugal, from Continente (food retail), to Galp (petrol), Zippy and Mo (fashion) as well as Burger King or Pizza Hut, to name a few"

Universo: Why is it different?
Universo is different from neo-banks, not only by its large partners' ecosystem and related loyalty benefits, but because it innovated in payments and credit options.
The major innovation was offering fixed term credit options (3, 6 and 12 instalments), interest free options and fixed amount payment options on its credit cards and online. In 2016, at the start of Universo, this revealed to be widely appreciated by the customers and a major driver of growth.
"When it comes to the growth of Universo, I would separate it into two different time periods," says Braziel David "During the first phase, Universo focused on growing the accounts and the payments. This was done together with Mastercard Portugal with a groundbreaking project designed by teams from Data & Services with schemeand Mastercard Processing Europe (MPE), which helped us innovating in the payment options offered. In fact, Universo was the pioneer to offer a Mastercard-only card issued from Portugal".
"The second period was focused on developing and internalizing the credit generated by our products. Mambu is a key partner to make it possible, as well as Deloitte, that helped us building the operational model".
"Indeed, Universo is fully cloud based since its inception and built a network of delivery partners adopting a SaaS (Software-as-a-Service) model, partners as Mambu or MPE to name two of the major ones".
"Our belief is that being cloud native and working with partners in Saas enables Universo to scale its business, in terms of customers, offers and geographies".
"Also, this delivery model allows our team to focus on the key assets for growth, that is focusing on our clients, our offer, our brand, our people and on our key capabilities. For example, artificial intelligence competences are kept in-house, in a large and highly skilled team, that is at our core, making a huge contribution to our success"
Finally, Universo is also different in combining digital and brick-and-mortar realities. "Universo's main focus has been a swift and quick customer enrolment, using point-of-sale presence combined with digital channels", says Braziel David. "As we have an established relationship with retailers, it was our plan – and it is our approach – to use commercial points of sale enabling a light physical presence. Thus, we are primarily digital, but we are also physically presence, what is highly appreciated by our customers and partners. This combination is working and makes Universo different from other players"

Partnerships at the heart of Universo development
Within Universo Sonae's ecosystem, partnerships are nurtured and valued. "Mastercard is a partner that supported Universo from the beginning and was fully aligned with Universo's innovative approach" recounts Braziel David, alongside "Mastercard Processing Europe (MPE), which fostered innovation in credit options offered at Universo, among other features"
Mastercard is a global leader in payments and has been developing cooperation models with players like Sonae to bring innovation into the industry. Indeed, Mastercard has been focused on modernising the payments ecosystem and creating stronger bonds between people through technology. Through its innovative approach and commitment to customer collaboration, Mastercard has established itself as a leader in the payments industry and a partner for businesses looking to transform their transactions.
Mastercard Processing Europe (MPE) is one of the fastest-growing issuer processors in the region with operations in 33 markets (32 EEA and Israel). The company offers a comprehensive range of payment solutions that enable customers to launch payment products with efficiency, scalability, and speed to market. MPE flexible solution leverages powerful APIs for platform integration, focusing on digital use cases that allow for instant issuance of virtual cards and more. MPE's services offer access to the latest technologies and leverage state-of-the-art security at the forefront.
The third key partner for Universo at this stage is Mambu, which Braziel David references as "the SaaS partner for the Credit platform, a successful Fintech provider of core credit systems."
Mambu is a cloud-native, API-driven banking and financial services platform that offers its clients software-as-a-service (SaaS) solutions. The company's primary goal is to enable financial innovation and help its customers bring their solutions to the market faster while also lowering cost barriers and expanding their ecosystems.
The company has an extensive customer list, including fintech startups, telcos, and top-tier banks. With a presence on six continents, Mambu helps its clients transform how financial institutions operate and innovate. As the leader in cloud banking and fintech, Mambu is taking on the $250B banking technology market worldwide, servicing over 250 customers with more than 90M end-users.
Universo has partnered with Deloitte on developing the operational model concerning credit and risk. "Together with Deloitte, we set up Universo risk, credit and collections operations" says Braziel David.
Deloitte is a key Mambu partner, with specific expertise in helping Fintechs and Banks in the delivery of Core Transformation Programs.
"I would say that together with the Mastercard and Mastercard Processing Europe for the payments – with Mambu and Deloitte for the credit and risk areas setup – we could fulfil this second stage of Universo being across all the credit value chain".
Preparing for the future
Sonae recently announced a preliminary agreement with Bankinter Consumer to create a joint venture that will take the Universo to the next stage.
The joint venture will combine Sonae's Universo businesses with Bankinter Consumer Finance in Portugal, which manages Bankinter's Portuguese consumer credit products and services.
The agreement establishes the main terms for creating a leading consumer credit operator in Portugal with Sonae and Bankinter Consumer Finance as shareholders.
Sonae's CFO, João Dolores, says: "Over the course of the past few years, Universo has been consolidating its position as a reference operator in the Portuguese financial services market, leveraging its digital structure and contributing to bolstering the performance of the Group's businesses, in addition to its ecosystem of partners. The preliminary agreement now signed with Bankinter aims to seize this successful path to establish a leading consumer credit operator in Portugal."
Both shareholders have the ambition of growing internationally and taking some of the features that made them successful to other countries.
When asked about internationalization, Braziel David says "what Universo has built can be leveraged in other markets". Not only the technical solution and related partnerships ecosystem, but also the AI, Risk and other core competences critical for this business".
"Naturally, we know each market differs, and the business model must be adapted. Nevertheless, our success has been driven by our teams, by our people, that will be successful in other markets if challenged to it".
Moreover, Braziel David says "Universo success has been driven by a challenging mindset, with a very clear purpose and distinctive culture. Our challenge is finding business models that work and that cannot be easily replicated – creating an "unfair advantage". We did it once. We expect to continue doing it".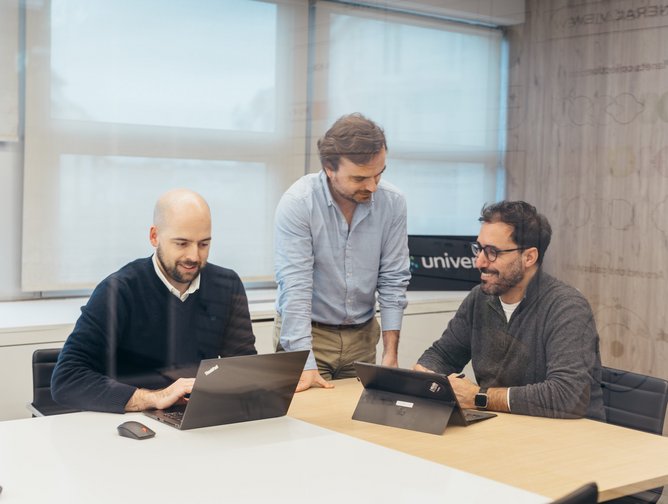 Universo Sonae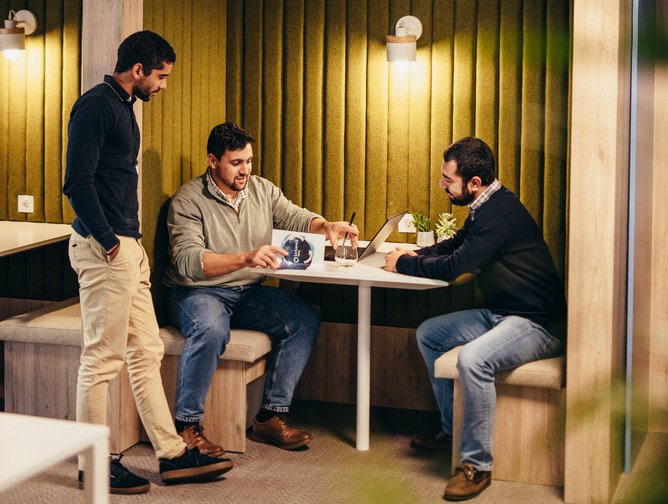 Universo Sonae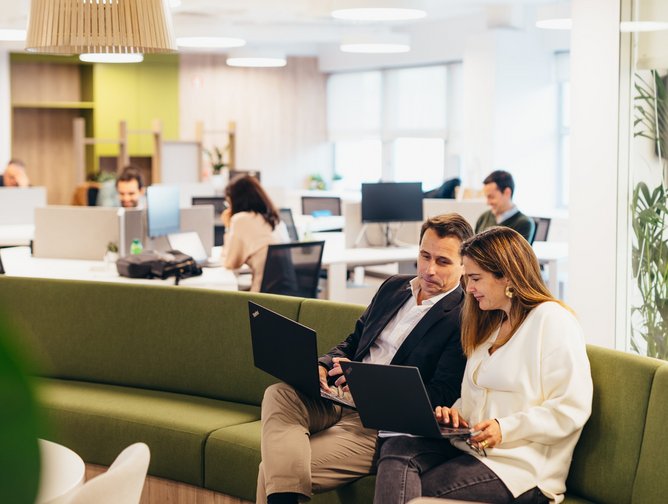 Universo Sonae
Universo Sonae