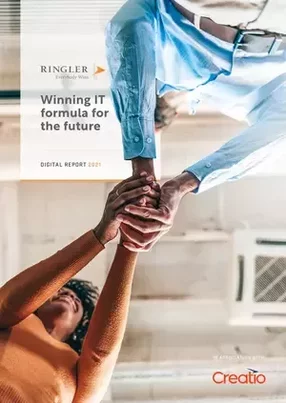 Ringler: Winning IT formula for the future
Innovative IT strategy for Ringler - the largest US settlement planning company who has put the customer first for 45 years - will ensure "Everybody Wins"
Bridging the gap between business and technology is Butch Knowlton, Executive Vice President and Chief Information Officer of Ringler -  the oldest structured settlement planning company in the US. For more than 45 years it has designed hundreds of thousands of settlement plans with premiums in excess of US$3bn.
Stepping into his role at Ringler, Knowlton is driving innovation by leading the digital journey to expand its competitive edge and create additional value for clients. "We are working towards innovations that will be more scalable, more secure, will deliver strong analytics, and will have greater integration capabilities."
Ringler is renowned for its message "Everybody Wins," highlighting a tradition of helping clients succeed at the settlement table by providing products and services that create the best settlement solution for all parties involved. The team of 150 structured settlement consultants work in 65 offices nationwide to collaborate and design the best settlement plan for injured people, attorneys, and insurance professionals.
With previous career expertise in managing virtual teams at Aon Hewitt, the fact that Knowlton joined Ringler at the height of the pandemic wasn't ever a concern. From his office in Powell, Ohio, he was able to quickly be up and running, hiring seven new staff members, and overseeing a US $3mn IT budget with the goal of accelerating Ringler's digital transformation.
Curve of the digital journey
"We are on the curve of a digital transformation which is the foundation to accelerate innovative products and services," said Knowlton who points out that during the pandemic, Ringler focussed on digital housekeeping, comparing it to a spring clean. "At a time when business was slow we focused on our internal security data and technology. This is testament to our Board of Directors and our CEO who chose to make investments internally to support our continued path of growth and innovation."
Knowlton's long-term digital strategy for Ringler includes:
Cloud adoption - which will allow for scalability

Digital Application Sales Hub (DASH)

Creatio CRM

Focus on cybersecurity and zero trust

Data-analytics to drive future decisions internally and for our clients 

Voice of the Customer

Artificial Intelligence   
"I've always been solution-focused, and my interest in technology has evolved over time. Today's business solutions often end up having a technology component. Although I've never coded, I'm able to bridge the gap between business and IT and I'm a strong advocate for integrated IT-business partnerships."
By thoroughly understanding business strategy, Knowlton is able to be agile in his approach and pivot technology to match Ringler's  business goals. "For an IT organisation to be successful you have to understand the business goals and show your peers how technology can be enabled. Success comes from understanding and using the technological tools available. As CIO I manage a myriad  of pieces to support the business. When technology dictates to the business or hamstrings goals, this is where you have a lot more difficulty in delivering strategy," said Knowlton.
Ringer helps to bridge the settlement process to create the best outcome for all parties involved, with the main focus on the injured party. Our consultants look to provide the best solution to ensure the injured party has the funds they need, now and in the future.  "Our company values are woven into every settlement we create and is the heart of what we do," said Knowlton.
Scalability offered by cloud  
Knowlton highlighted how he has overcome legacy architecture and why he has prioritised cloud services (Microsoft Azure's cloud computing platform) for Ringler's digital journey. "We're in a heavily regulated space and have security requirements that we need to meet for different state requirements, federal requirements, as well as client expectations.
"As Ringler deals with multiple clients one of the things we're building out within Azure is an enterprise gateway so that we'll have a RESTful API architecture that allows us to quickly and easily integrate with any client that we may engage with."
API architecture is the process of developing a software interface that exposes back end data and application functionality for use in new applications.
"When we think about the expectations of our clients and regulatory agencies, as well as where we need to go for innovation and scale, we felt the most economical and secure solution was in the cloud. In order to accomplish that plan, we had to update some ageing technology. We congegrated our data centres into one location, and in doing so, we addressed potential security risks and reduced our overall online footprint," said Knowlton.
Ringler is now turning its focus to delivering a new proprietary application suite, DASH (Digital Application Sales Hub) which will combine their five currently used applications (an accounting app, two case management systems, and a proprietary quoting application) into one experience. This new application will be used to support consultants, clients and internal employees. 
"DASH allows us to put all five into one application experience. In order for us to be able to do that we are building everything in the cloud, within Azure  This approach allows us to scale as necessary, manage our staffing costs, maintain best in class security and confidently interface with our many partners and clients. It enables our organisation to utlise modern technology - which was one of our goals," comments Knowlton.
Focus on cybersecurity 
To ensure sensitive data is protected, Ringler uses a virtual information security officer from All Covered, who offer a layered approach to security services.
"We consistently perform monthly vulnerability scans, periodic penetration testing, and 24/7 monitoring with SIEM and SOC services. But the biggest security threat we have is our people," said Knowlton. "90% of security breaches come from an individual who has broken protocol like clicking on a phishing scam," said Knowlton who points out they work with security education specialist KnowB4 to help train their team for spotting security threats.  "Going forward, we will continue to focus on security awareness and following protocols."
Power of partnerships
Ringler works with an ecosystem of partners to ensure they offer the best service for their customers. These include long-standing partners Creatio, Microsoft, Ascydent (a Columbus-based consulting partner), and All Covered (Ringler's security partner). 
Knowlton highlighted the fact that working with Creatio gives Ringler a "low-code, no-code solution" that allows them to configure their CRM. "One of the challenges I have as CIO is the decision to build or buy. Creatio has allowed us the happy medium between buy, or build and come up with a solution that allows the smooth execution of our application suite," said Knowlton.
"We ended up with a proprietary solution for Ringler that isn't being replicated anywhere else, yet we were able to use the out-of-the-box capability from Creatio to start us off and then configure toward where we wanted to go with our goals.
"The costs from a development and new project perspective are substantially smaller because we're starting with a base application capability. Creatio has bent over backwards to work with us on the customisation. At the end of the day, we're able to configure our outcomes. We have someone on our team who has trained in that Creatio space to allow us to really manipulate the application in a supremely unique way," he said.
Looking ahead, Knowlton said Ringler is focused on organic growth. "We already own 33% of the market and our goal is always to improve that market share. We're always looking for opportunities to improve our services and customer experience and the work we are doing today is the foundation for future growth."
What is a structured settlement?
At the heart of a Ringler settlement plan is an annuity which is a financial tool that provides a tax-free solution to maximize their settlement dollars and is exclusively for injured people called a "structured settlement." 
Instead of taking all of the money a client receives from a personal injury claim as one lump sum, they can choose to put some or all of that money into a structured settlement. Regular payments are then made over a specified period of time to match your future needs and goals. The financial advantages of a structured settlement are:
Guaranteed

Tax-free 

Customised

No risk, no fees

Eligibility
Structured settlements apply to a wide variety of injury cases regardless of how much money is involved. Structured settlements are used for any personal injury claim including workers' compensation or medical malpractice cases involving:
Long-term medical needs

Temporary or permanent disabilities

Minors or the mentally incompetent

Severe injuries that result in brain damage or shortened life expectancy

Surviving spouse and/or dependents
The money can be distributed as future lump sums, over a set period of time; in level or increasing payments; or in some combination of these options. 
How "Everybody Wins" with Ringler
Objectivity combined with expertise, experience and a reputation for collaboration is how Ringler helps everybody win. Rather than representing the interests of just one party, Ringler is responsive to the needs of everyone involved in settlement negotiations. 
Attorneys - by providing them with the information and recommendations they require to analyse how a settlement plan and structured settlement will meet the needs of their client. 

Insurance professionals - in bridging the gap between a lump-sum offer and the need of the injured party for funds for future medical expenses. 

Injured people (and their loved ones), knowing a plan is in place that will provide future financial stability and peace-of-mind. 
"We know every injury and every negotiation is different, which is why Ringler consultants specialise in designing custom settlement plans that explore all the options," said Butch Knowlton, Executive Vice President & Chief Information Officer of Ringler.