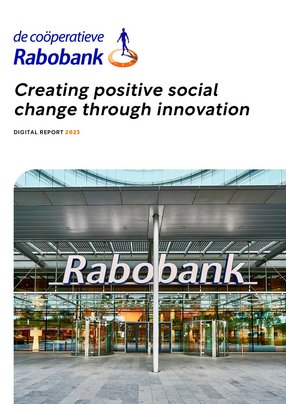 Rabobank: Creating positive social change through innovation
Rabobank is generating positive social change in the agri-food and energy sectors by doubling down on its commitment to innovation
Rewind for a moment, if you will, to 1898 – you'll find that the world is a very different place. The US president is William McKinley; in England, Queen Victoria is into the last few years of her reign; and in the Netherlands, her third cousin, Wilhelmina, is embarking on what would eventually become a near-60-year spell on the throne.
Meanwhile, in the Netherlands that same year, two Dutch banking cooperatives were inaugurated that would go on to form the backbone of one of the world's largest financial institutions – one that, this year, is celebrating its 125th anniversary. Raiffeisen-Bank was founded in Utrecht and Boerenleenbank was founded in Eindhoven, originally acting as banking cooperatives to serve local farming communities.
Nearly 75 years later, the two would merge, taking the first two letters of their respective names to create a brand that is still familiar to this day: Rabobank.
When Bart Leurs, Rabobank's current Chief Innovation and Technology Officer, dials in from his home office to talk about the company's innovation strategy, there's a small parallel with the bank's agri-heritage: he is speaking from Utrecht, where he lives with his family – and where Raiffeisen-Bank began its journey exactly 125 years ago.
Leurs is a seasoned banking executive who joined Rabobank in 2016, first serving as Head of FinTech & Innovation before four years as Chief Digital Transformation Officer. He has held his current role since September 2021. Prior to that, he spent almost two decades at ING, where he spent two years as Head of Strategy for ING Direct, followed by a number of senior positions within the company in Canada, Germany, and Belgium.
According to Leurs, that experience overseas has given him a deeper appreciation for the financial challenges in existence around the world, as well as an understanding of Rabobank's reputation abroad.
"It really broadens your perspective of the world," he tells FinTech Magazine. "It has really enriched my work and my life, in general, and given me new inspiration thanks to the different cultures and the different ways that people look at life."
What does Rabobank look like today?
125 years after its founding, Rabobank is an immense organisation with international reach. Domestically, Rabobank Nederland is one of the leading banks in the Netherlands with a focus on mortgages and SME lending. In 50 years, the number of local Rabobanks reduced considerably, from 1,192 independent local member banks in 1972 to one Rabobank with 78 regional areas today.
Globally, Rabobank's business is focused on being a food and agri bank, true to its roots as a farmers' banking cooperative. As such, it's heavily active in North America, South America, and Australia – parts of the world where food and crop production make up vital parts of the economy. But Rabobank finances all players throughout the entire food value chain, from farmers at one end to retailers at the other.
Rabobank's balance sheet globally is more than €600bn and, last year, the bank made almost €2.8bn in profit from €12bn's worth of revenue.
Despite its massive scale, Rabobank hasn't allowed its growth to diminish its cooperative heritage or dampened its core values; in fact, the business still operates with much the same mindset today as it did over 100 years ago.
"The idea behind the cooperative was to fix things together that you cannot fix alone," Leurs explains. "At that time, it was bigger farmers helping smaller farmers to access credit so they could build and grow their business. Of course, we have grown to be a much bigger bank that's not only focused on food and agri anymore, but that has broadened its scope and its activities. But the mentality and culture of a cooperative – of fixing things together – still exists within the organisation."
In part, he credits Rabobank's success to its operating model, which is unique among global institutions of this size. As a cooperative, Rabobank exists for the mutual benefit of its members. Unlike listed companies, this means that it's able to take a more strategic long-term approach rather than focusing on just short-term profits. You occasionally see that distinction in family-run businesses as well, Leurs points out.
Over time, the cooperative's main priorities have evolved, even while its focus on food and agri have remained the same. Today, Rabobank has its eyes firmly set on deep-set social issues that affect all of society – including food security and energy security.
How can banking have a positive impact on society?
According to the United Nations' Food and Agriculture Organization (FAO), food security remains one of the most pressing concerns in today's world. Its latest update, published at the end of 2022, lays bare the issues facing the global food supply chain:
"Malnutrition in all its forms remains a challenge, and child malnutrition, in particular, is expected to be higher due to the effects of the COVID-19 pandemic," the FAO writes.
The report continues: "Climate change poses the greatest threat to rural small-scale producers, particularly poor and vulnerable communities. This pressure comes through increasingly frequent extreme weather events such as droughts, storms, and floods, as well as gradual changes such as shorter rainy seasons, delayed onset of rain, rising sea levels, and melting glaciers."
Facing this complex combination of risk factors, it's clear to see why food producers and other stakeholders within the food supply chain need financing from a reliable partner like Rabobank. "We are the biggest bank around the world in food and agri, and we deal with all the players in the food value chain – from the farmer up to Walmart," Leurs says. "We see that, with a growing population plus issues around sustainability and being able to feed the world within the bounds of the planet, there's really a role for us as a bank."
Part of Rabobank's role in that mission is supporting the food producers it works with to be able to play their part in the fight against climate change, and, in particular, stick to the Paris Accord goal of keeping global warming below +1.5°C compared to pre-industrial levels. As well as providing financing and knowhow, Rabobank also encourages companies to play their role in the green transition by nurturing accelerated innovation.
"At this point, more than 60% of our innovation projects are geared towards that transition," Leurs elaborates, "towards making the food value chain more effective and more sustainable in the future."
Empowering the energy and agri-food transitions
In the same report, the FAO also pinpoints energy security as a major global concern. The two are very closely linked; food production is a resource-intensive industry, meaning fluctuations in wholesale energy prices – as we have been seeing since the beginning of the war in Ukraine – have a major impact on farmers, growers, and food producers.
"Agri-food systems are becoming more energy-intensive," the FAO report says, "and this has implications for food prices, as well as for the environment. On the one hand, several studies have highlighted the relationship between energy and food prices, and the recent hikes in food prices have been pushed up by increases in energy prices. On the other hand, it has been estimated that almost a third of the emissions of the global agrifood system comes from energy-related activities."
One thing we can do is reduce the amount of water needed for growing crops, and transitioning to renewable energy wherever possible within the food value chain. But the FAO also highlights the source of energy for cooking as a problem: in 2019, a third of the global population relied on wood, charcoal or agricultural residues for their household cooking needs – a demand that, in some cases, outstripped the abundance of natural supply.
Explaining how Rabobank empowers the energy transition, Leurs says: "We are one of the biggest financiers of wind farms around the world, but we also have the obligation of making sure that we bring clients with us in making this huge transition to a more electrified world. In energy security, our knowledge is younger than it is in agri-food, but we can still have a major impact and we know we already have a strong position.
"That's why we have chosen those two – agri-food and energy – as the main transitions to bank on for the future. We know that, if we do a good job with our clients in those two areas, we will also do a good job for the planet."
How is Rabobank fostering a culture of innovation?
Leurs joined the business in October 2016, and since then, he knows that there have been improvements. Even from the beginning, Rabobank has always been an innovative organisation: it was the first bank to offer internet banking and ATM withdrawals to its clients in the Netherlands; and it pioneered a payments system called iDEAL, which has become instrumental to transactions, taking less than a decade after launch to capture 50% of online payments made in the country. But it hasn't always got everything right.
"We have made lots of mistakes and had quite a lot of setbacks," Leurs freely admits, "but we have tried to learn from every single one of them.
"When I joined Rabobank, it already had a strong history of innovations. But my perception coming into the bank was that innovation was very disorganised. We were doing lots of different things in different places, and it was very tech-driven. Innovation was part of our IT department, and there was no structured way of bringing innovation to fruition. In that respect, we moved from being an organisation of inventors – people who create technical solutions without much coordination – to being an organisation that has a mature innovation governance with seasoned innovation professionals.
Leurs says that, in those days, innovation within Rabobank lacked direction. "We collaborated with tech startups and tried a bunch of different things just to generate power and enthusiasm. However, we learned that you can only be successful and impactful on innovation when it's linked to the mission and strategy of your organisation," he says.
In the intervening years, Rabobank has worked on a number of different approaches. One is to ensure that every innovation project is intrinsically linked to the bank's mission and strategy – and to those important transitions of energy security, food security, and financial inclusion for all; the other is to view innovation as a craft.
"I believe you can learn innovation, but you need discipline and structure. Things don't just happen by accident. We're not all Steve Jobs. You have to get a sense not only of how you generate ideas, but also how you validate (or invalidate) them quickly and integrate them with the mission of the organisation.
"We have organised ourselves quite well. We started with the concept of 'business-led' innovation, and we said we're not going to build projects outside the organisation that are not being inherited by the mothership. We've really set business-led innovation as the key."
Building 'the machine that creates the unicorns'
Within Rabobank itself, there are a number of separate work streams that help the bank dial-up its innovation efforts. The first is called the 'Innovation Factory'. Rabobank has recognised the need to 'industrialise' innovation, so it has assembled a talented team of innovation experts with experience in founding startups, building and scaling corporate ventures and shaping partnerships with fellow innovators. These experts accelerate Rabobank's internal ventures including scouting and shaping partnerships via its Open Innovation activities. "It is the machine that creates the unicorns," he jokes.
Then the company has a corporate venture fund, Rabo Frontier Ventures, that is investing in early-stage fintech companies and several venture capital funds, as well as an open-innovation ecosystem that allows it to bring external innovators into the business and give them the chance to start working with Rabobank.
"We have organised innovation portfolio management," Leurs continues. "We have a funnel where we're constantly looking at how many innovations we have, and in which phase of development – whether they're just starting an innovation project or scaling up within the organisation."
Innovation has its own centralised budget allocated that is ring-fenced, meaning other tech projects within the bank don't eat into innovation. The bank's innovation leads are connected to board members, ensuring that there's corporate buy-in for major innovation projects.
And the bank isn't afraid of letting go where it needs to: take the example of Peaks, a retail investing app where Rabobank was an early-stage backer. Rabobank itself was not able to turn the company into a success and, recognising that there was a better place for Peaks, chose to sell its stake in the company to allow the fledgling fintech to fly.
"With the challenges that we face in the world today, there's always a need for innovation, so I don't think we'll ever slow down. We will always need innovation to continue making those energy and food transitions a success, so I don't see a world where we will never need to innovate.
"Of course, that doesn't mean you can't be sensible with what you spend and what you get out of that expenditure. We're super-realistic. If we see that our innovation projects aren't moving fast enough throughout the year or we're not going to use up our allocated budget, we give it back to the organisation. We don't need to use up our budget to show that we're successful. But I think it would be naive to think you can just pause your innovation. I don't think that's an option in today's world."
Innovation is embedded in Rabobank's DNA
From Leurs' perspective, this cooperative mentality makes Rabobank ideal for outside partners to deal with – whether that's startups, consultants, or innovation enthusiasts. That doesn't mean that new relationships are always seamless, though. Any organisation of Rabobank's size would find it difficult to integrate with young, agile entrepreneurs – particularly those that are used to moving at pace, and less experienced in dealing with a heavily-regulated industry that has internal safeguard layers, protocols, and approval procedures.
"We have had a number of successful collaborations, but we have also had some failures around collaborating with startups, too. We always start with good intentions, but, sometimes, it can be a difficult thing to marry the small with the big."
Leurs believes that innovation is baked into Rabobank's DNA. It's an integral part of the way it does business. "I honestly think that the cooperative culture in the organisation translates into our people being willing to work with teams, to help each other get results. That, in the end, is what you need to get great innovation and great new ideas."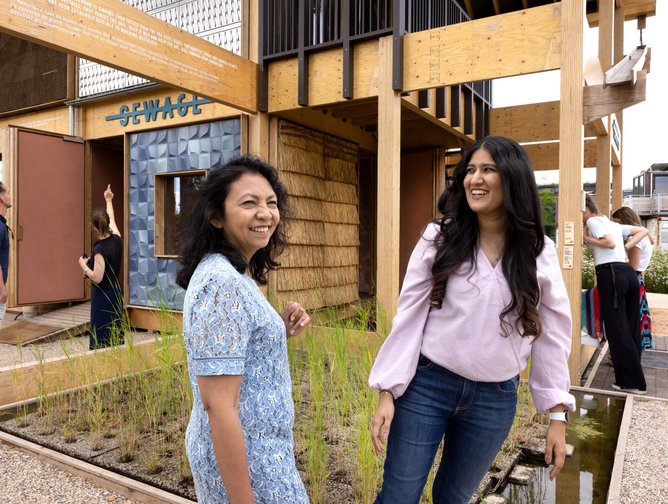 Raboobank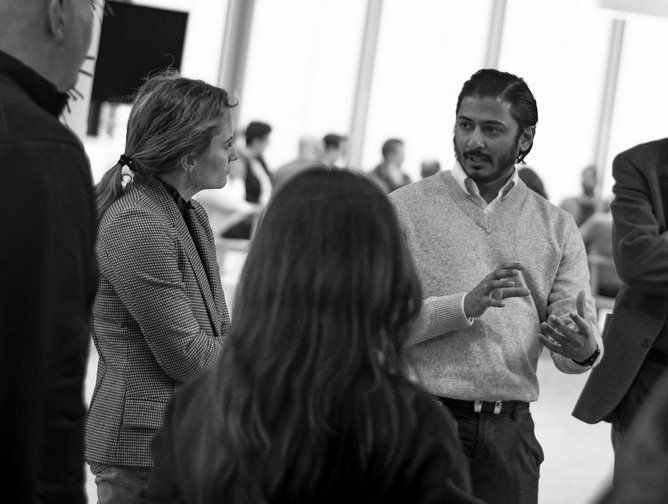 Foodbytes
Rabobank's office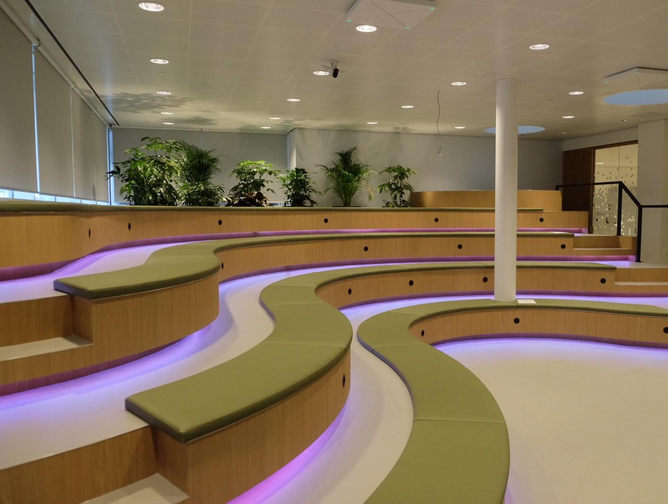 Rabobank's offcice