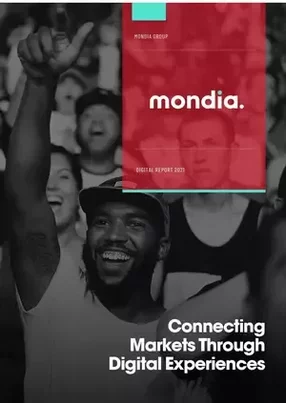 Mondia: connecting markets through digital experiences
We hear how collaboration, people and data are the keys to unlocking global ecommerce in emerging markets...
From Dubai, Brad Whittfield, Group Chief Financial Officer at Mondia Group, oversees a global network of regional offices spanning Europe, the Middle East and Africa.
Today, however, he has been packing his suitcase. Later this week he will fly to Europe to spend some time with the Mondia teams and to meet with Mondia's countless valued partners. The irony of heading a company that prides itself on connecting disparate parts of the planet through technology, while himself flying 3,500 miles for an in-person meeting, isn't lost on Whittfield; genuine relationships are paramount to success. 
Mondia helps companies connect with their customers through digital experiences. It provides the technology platform, the acquisition and engagement know-how and the extensive content catalogue – through its long term partnerships with the likes of Warner Bros and Universal. Essentially Mondia manages the end-to-end user journey. It underpins its digital content business with Mondia Pay, a flexible, direct carrier billing infrastructure which allows customers to pay through their phone bill - a fintech innovation driving current growth into new markets and sectors. 
A technology business by definition, Whittfield says Mondia is a "very unique company" at heart. Its approach stems from an internal culture of collaboration and innovation – despite the team being spread across many countries around the world. 
"Our platform and product teams are based in Germany and Spain. We have a development and delivery hub of almost a hundred people based in Cairo," Whittfield says. "We have offices in the UAE, Egypt across Europe and throughout Africa. So we have a really diverse group and we invest a lot into creating a one-team environment, having everyone engaged in our products and services, and having everyone engaged in our core values: customer-centricity, innovation, collaboration." 
Having people "on the ground" with insight into regional dynamics and user behaviour is key, says Whittfield. "If I were sitting in Dubai, I wouldn't necessarily get a sense of what's happening in Africa. I wouldn't be able to comment, so we have to have that sense of engagement and collaboration, no matter what, and that's why we really do create teams that are purposely located everywhere."
Through this international network, Mondia serves some of the world's biggest telecoms operators, including O2, Etisalat, Orange, Telefonica, and Vodafone alongside a host of other B2B customers. Mondia's products and services empower these operators to engage their users through digital experiences, but its ambitions go far beyond that. Whittfield and the executive team firmly believe in extending their internal culture of collaboration to partners and, indeed, other startups and tech services. 
"We've got a lot of longstanding relationships, but we really challenge ourselves," he says. "We do not want to relax and sit on the fact that we've got these longstanding relationships. We want to be their true innovation partner. What do our customers want next? As an executive team, we ask ourselves this every day. 
"With technology nowadays, it's not necessary - and probably not advisable - to build everything yourself," he continues. "There are a lot of companies out there doing awesome work. It's about creating this ecosystem where you can provide a suite of technologies and services." 
One recent such partnership is with mobile communications giant Vodacom Group, an agreement spanning five countries across Africa, a continent where much of Mondia's immediate growth plans lie. Though individual countries are at different stages along the path, much of Africa and the broader MENA region can be characterised by a stark dichotomy: high tech literacy and adoption, coupled with a population that is grossly underserved by traditional finance institutes. It is here that Mondia is innovating. 
"In the last few years, we've really grown a presence in the MENA region. We want to digitise Africa," Whittfield says. "We see Africa as a huge opportunity, not only for the B2B business, and our digital content, but also for our direct carrier billing platform, Mondia Pay." 
"In emerging markets, many people don't have bank accounts, but they've got two mobile phones. That's how they participate in digital commerce. Our transaction volumes are more than doubling every year – which is extremely exciting." 
Mondia's direct carrier billing also expands beyond the walled garden of its own services, extending to Spotify, Deezer and other market-leading streaming and download services. Users can also pay for physical goods through Mondia Pay, and even experiences: they might visit a restaurant, enjoy their meal, and at the end of the evening charge the whole thing to their phone bill. For many, it has unlocked access to the global ecommerce market, says Whittfield, and "from a user's perspective, it's a very simple experience and journey".
Cultural perceptions also play a vital role in advancing Mondia Pay across the territory, an insight gleaned only thanks to Mondia's emphasis on regional teams and localised, tailored services. "As telcos are heavily regulated, direct carrier billing is rightly perceived to be an extremely safe way of payment," Whittfield says. "Particularly in the Middle East and Africa region, where security and safety is such an important part of the perception of paying online" 
Underpinning Mondia's push to "digitise Africa" and other underserved regions is data. "You must have a top-down data-driven mindset and fundamentally make all decisions based on it," Whittfields explains. "You really ask the data questions, and you can see the data providing the answer and user stories: we made this experience, this is how people reacted, and this is how you can see it in the data."
Mondia invested heavily into its data strategy over a number of years and the company is "really starting to feel that benefit". 
"When you have this data-first mindset, you make much quicker and much better decisions. For me, it is less about the actual technology and more about the effective use of that technology and ability to collect, extract and interpret meaningful data." says Whittfield. "The tech businesses that didn't acknowledge the importance of data five years ago are now scrambling and are at a real competitive disadvantage."