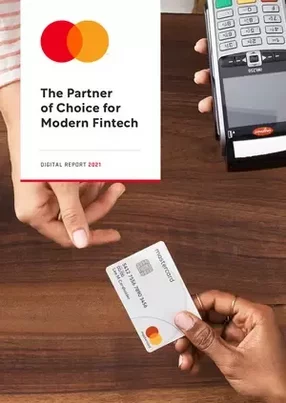 Mastercard: The partner of choice for modern fintech
Scott Abrahams, Business Development & FinTech, UKI, describes how the company is pushing the boundaries of payments, innovation, and financial inclusion
Ever since the company was founded in 1966 as 'Interbank Card Association' and later rebranded to its current name in 1979, Mastercard has steadily become one of the most ubiquitous and far-reaching payments solution providers globally. Indeed, some might consider that there could be few worlds left to conquer for this financial services mainstay. However, finance is not a static world, and Mastercard is aware of this fact. 
Never resting on its laurels, the company is continually striving not just for its own innovation but the development of tomorrow's disruptors: fintechs. "What's fascinating about Mastercard is that it allows you to bring together everything in payments, but also elevate it to the next level," says Scott Abrahams, Senior Vice President, Business Development & FinTech, UK and Ireland, at Mastercard. As the events of the COVID-19 pandemic have already demonstrated, relying on the same payments infrastructure is untenable, and customers have been set on a new path towards unprecedented digital adoption. This, he states, is his primary focus, "The next big thing in payments will be the consideration of how the payment ecosystem is going to evolve and meet customer needs."
Previously the Vice President and General Manager of Global Supplier Relations EMEA at American Express, Abrahams joined Mastercard in 2014 as Senior Vice President, Business Development & FinTech, UK and Ireland, at Mastercard. "What attracted me is the fact that it combines a strong brand with a strong legacy of innovation," he explains. "The company brings those two aspects together in a way that not only services our customers but works with them to move payments into the future." There is a sense that fintech startups, by dint of being smaller, more agile, and more digitally focused, are able to deliver a better customer experience than their larger, more established counterparts. Rather than viewing this as a challenge, Abrahams declares that this capability is actually what excites him most about partnering with fintechs in the first place. In fact, Mastercard endeavours to reflect this paradigm in its own operations, "The speed at which this company moves is thrilling. We don't spend too much time talking; we act, we deliver, and then look for ways to improve. That can sometimes be a challenge for bigger companies, but our partnerships with startups have kept us young and nimble."
This organisational philosophy, it turned out, was highly fortuitous as the pandemic began to alter how practically every business operated globally. "We all had to adapt; it was a time of change," Abrahams reflects. Mastercard immediately set about ensuring the welfare of both its employees and its customers, restructuring where needed, particularly in environments that would have previously required face-to-face interaction. "Obviously, a large aspect of the work we've done during COVID has been the digitisation of the payment ecosystem at an unprecedented speed. Digital had been at the core of our strategy for the last few years, but it became our number one priority." The pandemic has noticeably accelerated the gradual relegation of cash in favour of cards. Therefore, Mastercard's mission has been to make the increasingly online customer journey as safe and secure as possible.
Providing the foundations of a vibrant fintech scene that's helping to achieve this goal is Mastercard Accelerate. Designed to make it easier than ever before for startups to work with Mastercard at every major developmental stage, from market entry to ongoing innovation, the initiative helps fintechs focus on their own goals using specially designed tools:
"I believe we may have delivered more innovation during this time than ever before. There's certainly not been any less," states Abrahams. "The idea is that if a fintech wants to launch a payment solution, we can work with issuers and processors to get them up and running within weeks." Examples of this innovation in action include payment card consolidator Curve, Samsung Pay+, and Starling Bank's 'Connected Card'. The latter was a highly inventive solution for self-isolating individuals who needed to entrust their payment card to others while still retaining control of it. Any expenditures are drawn from an allocated space kept separate from the customer's main account and with purchases capped at £200 (US$280). "Starling had a goal, and so did we: enable innovation on the backend, support it in the journey, understand what it wanted to do, and use our tools to make it happen," he adds.
Mastercard empowers Black and ethnic minority-owned fintech
One of Mastercard Accelerate's initiatives focused on inclusion, Start Path, is jump-starting Black and ethnic minority-owned fintechs around the world. Part of the company's In Solidarity pledge, this programme strives to not only boost Black founders/CEO,but also help create new networks and elevate Black talent on the world stage. 
Michael Froman, Vice Chairman and President of Strategic Growth, recently told us:
"Driving financial inclusion is not new to Mastercard; we've long realised that the only sustainable economy is an inclusive economy, and we've been delivering programmes and partnerships over the last decade that have brought more than 500 million unbanked people around the world into the financial system."
Video: https://www.youtube.com/watch?v=k14yf-JA7w8&feature=emb_logo
Find out more about Mastercard's pledge to bridge the wealth and opportunity gap here.
Abrahams is clear that COVID hasn't really altered Mastercard's approach to delivery at all, merely accelerated and refined it for a new era. The promise of fintech isn't just the optimisation of the status quo but also the potential to create a better and fairer world. Mastercard, he says, doesn't just subscribe to the 'finance for good' philosophy; it lives and breathes it. "Financial inclusion is at the very core of what we do, and that's being clearly pursued from our Executive Chairman Ajay Banga and all the way down through the organisation." With millions in the UK alone still unbanked and underserved, the global scale of the challenge is easy to extrapolate. Partnering closely with communities in the UK, such as the Emerging Payments Association (EPA), Inclusion Foundation, and the Inclusive Economy Partnership, Mastercard is dedicated to participating in initiatives that will lead to a more connected world. 
As he looks ahead to the rest of 2021 and beyond, Abrahams is certain that fostering financial inclusion, sustainability (Mastercard launched the Priceless Planet Coalition in 2020), and supporting small businesses ("the backbone of the UK economy") will form important focus points of development for the company. Combined with an ongoing drive towards digitisation, innovation, and partnership, he says that Mastercard will "continue being the partner of choice for fintech" and "continue pushing the boundaries of payments, both internally within MasterCard and externally." 
Mastercard has been focused on digitisation for many years, but, as Abrahams says, innovation is not a "one and done" affair, and as new technologies emerge, Mastercard is working to make the ever-expanding universe of digital transactions safe, smart, and accessible. "Our consumers need to pay when they want, how they want, to whom they want, and how much they want. We need to have the customer journey in mind, and we need to make sure they are safe throughout the transaction. Payments are a very sensitive part of life - people might take them for granted, but our money must always be protected."