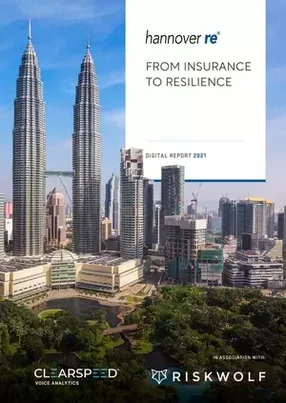 Hannover Re: From insurance to resilience
Dominique Roudaut, chief strategy, partnership and innovation officer of Hannover Re, explains the reinsurer's role as an ecosystem orchestrator
In 2019, Hannover Re launched their Asian Growth Initiative. The company's objective was to expand its footprint in Asia (ex China/ANZ) with an innovative approach, most notably in Personal Lines. The motivation behind the move was client-centric, targeting end-users, insurance companies, and direct distributors.
It resulted in Hannover Re Personal Lines launching 20 innovations over the past 10 months with as many partners.
Dominique Roudaut, chief strategy, partnership, and innovation officer of Hannover Re (Asia, ex China/ANZ), explains, "Hannover Re clearly distinguishes its effort between services for end-users, solutions for insurance players, and strategy enablement for direct distributors".  
"We provide resilience for end-users; customer-centricity, efficiency, and relevance for insurers, as well as pointed solutions for distributors to better enable aspects of their strategy."
End user-centric services
According to Roudaut, Hannover Re's services for end-users are geared towards generating frequent engagement. The traditional insurance model where insureds pay a premium once a year and eventually get the benefit of it the day a claim occurs has proved short, simply because it fails to engage with the customer.
With client-centricity presenting as a core value of the company, embracing change became essential in futureproofing Hannover Re's plans.
"We want our insureds to get something out of insurance every day with prevention services and relevant information, educating and empowering them to change their behaviour", Roudaut says.
The insurance company has designed its engagement in a way deemed valuable and relevant enough to not need additional rewards and incentives. However, in some markets there have been tweaks to the format to provide this appreciated value, nudging further behavioural change.
In the process, Hannover Re has evolved from a pure-play reinsurer into an ecosystem orchestrator and integrator. The company has built a list of potential partners reaching over 700 insurtechs and have engaged over 30% of these potential partners around specific use cases for each ecosystem focused on:
Lifestyle

Travel

Health and wellbeing

Consumption

Mobility
Personalised services that address real needs
Training and supporting employees have played a major part in the shift too. Hannover Re prioritises training their Personal Lines team in Design Thinking, which, says Roudaut, has allowed the company to better address the cultural shift required by its user-centric approach.
He explains, "Travel is a good example. As travelers, we have all experienced having to queue at an airline desk for two hours with another 400 passengers because a flight has been canceled".
"The Hannover Re team recognised the experience of flight disruption could be improved for passengers. Instead of queuing, our customers get notified of any disruptions by SMS within two minutes of the event. And receive a call within 15 minutes from our team, getting them lounge access, seat availability on the next flight, or overnight stay at the airport hotel.
"There is no paperwork to wade through for claims and the disruptions are automatically dealt with from that moment on. We have a similarly inspired solution for luggage, enhancing further the resilience we aim for."
The goal is to tailor insurance to fit into the insured lifestyle - rather than an insured having to change its agenda around insurance and life events.
As an ecosystem orchestrator, Hannover Re, identifies, compares, and selects relevant potential partners and chooses the best ones with whom it can co-design a solution to the problem identified, as defined by end-users.
Cyber crisis prevention and assistance
In the current climate, cyber-attacks are devastating and user priorities are usually prevention, crisis assistance, and then insurance. Hannover Re provides prevention services together with its select ecosystem partner via an application that checks the vulnerability of customer mobile phones or computers.
The solution comes complete with a dashboard to monitor the security score in real-time. Every vulnerability comes with an action plan to address it and improve the resilience score.
Roudaut says ease of use is paramount in encouraging adoption if the action plan is too cumbersome for a user to implement, Hannover Re has a hotline that remotely addresses what needs to be done on a customer's device to improve their resilience to cyber risks. If a claim then occurs, the service provides swift and streamlined crisis management.
"Hannover Re's ecosystem partner can also contact any social media to take down an offensive post. This is often far more urgent than paying a lump sum for psychological assistance, which is also covered under the insurance.
"The cyber solution product can also connect with social media platforms to re-enact a hacked account, instead of the insured having to re-create one from scratch."
Thanks to data collected through the prevention service, Hannover Re can even re-create the telematics of cyber. This ensures the company's solutions have a fair market price to all insured because each policy can be based on an individual risk profile.
"The solution enables us to engage specifically with some personas and market segments with specific communication relevant to them and their cyber exposure to inform, educate, empower and prevent," says Roudaut.
A scientific approach to healthcare services
Medical research indicates that those with the best prognosis are the ones with the best support system.
Hannover Re deliberately sought out an ecosystem partner that could recreate such a support system with an app and coach service as part of their Critical Illness insurance cover.
The cancer sup[port system helps insured to document how they feel, write a journal, track their symptoms, and receive educational content on their condition and treatment to better alleviate its consequences. These include tips on sleep or nutrition.
The app provides them with a connected community of real people who are going through similar experiences. The support system also offers unlimited access via video, chat, SMS, voice call to a certified health coach who can accompany the insured further.
Providing patients with support during their illness and treatment regimen is also essential, says Roudaut. "These solutions help the insured become active in their treatment journeys because they are empowered with the right support and information instead of being corralled on the conveyor belt of white blouses."
He continues, "The same thought process led Hannover Re to also deploy early detection and cognitive training as a way to prevent Alzheimer's disease available via an app and to deploy mental health coaching designed to create a new positive habit within a 16-week programme based on what the insured wants to improve also app and coach driven."  
Global leader in internet disruption solutions
Stability of service since the global digital transformation has become essential for companies worldwide. Hannover Re recently launched an unprecedented solution with their ecosystem partner Riskwolf to insure internet outages via an index, 1st for consumers.
A growing number of countries have enshrined access to high-speed internet as a right in their fundamental law. "Outages are well documented and nothing is currently being done about it," says Roudaut. He points out that while insurance can't fix a network failure, end users can at least receive an indemnity for it. "Together with Riskwolf, Hannover Re is working towards further outage insurance iterations for the digital economy and SMEs."
The goal is to deliver solutions to direct distributors that help them fulfill their strategy, be it market differentiation, retention, growing some market segment, building trust with their merchants and clients, or becoming more environmentally friendly.
"We do not position our solutions as a source of ancillary revenue. Rather, they are core to fulfilling the strategy of a direct (non-insurance) distributor."
User centricity also requires IT capabilities in order to deliver the entire insurance journey on a mobile phone. Roudaut explains that Hannover Re clients are not only insurance companies. They are also direct distribution clients such as MNO, MMO, Banks, retailers, and eCommerce companies. He says, "Ecosystem partnerships effectively digitises the entire insurance journey through a mobile phone, a feature appreciated by our MNO and SME clients notably."
Insurer centric solutions: Motor insurance
Hannover Re offers a Business Intelligence (BI) dashboard to insurance companies to monitor and pilot their portfolio performance. This provides a user-friendly interface between the customer and service provider.
According to Roudaut, the more details the customer can share with us, the better our insights are. The business visualisation tool enables insurance clients to better assess performance on top-line (distribution, market segment, geography, personas, demographics, age, make, model, etc.) and bottom line (granular LR and CR on every possible micro-segment).
The next stage is the analysis of the portfolios - for trends and performance metrics. Microsegmentation for propensity and sensitivity analysis can be deployed for more accurate price points per personas, distribution segments, demographics. The aim is to increase margin and market share where it is possible and where it makes sense. "Our approach has yielded a minimum of a two percentage point improvement of the client's combined ratio and a double-digit increase in conversion rates and top-line growth."
The third essential ingredient is innovation. Roudaut points out that the process is key. "As ethnographers we have defined the use case for end-users. The Job to Get Done is not insurance but how to get from A to B in a safe and engaging manner," he says.
"As ecosystem orchestrators, we have scouted, compared, and selected the best telematics, engagement, claims, smart city, mobility as a service company, and environmental impact measure and offset to integrate into our offering."
As such Hannover Re strives to offer insurance partners a turnkey pay-as-you-drive solution that is precise enough to be relevant, engaging enough to drive consumer behaviour. The Hannover Re solution favours neither the car nor the driver. Rather, it is mobility-centric.
Sustainability and green providers
Sustainability is high on Hannover Re's agenda. The company's mobility solution empowers customers to define their journey by combining public and private modes of transportation. It helps end-users, insurers, and the planet
Roudaut adds, "We also launched a solution enabling users to measure and offset any purchase made online through an eCommerce platform. It tends to increase conversion rates while internalising the cost of production, packaging and shipping on the environment."
Optimisation for sales and claims
Hannover Re's innovations have been pivoted towards sales and claims optimisation to better improve customer centricity while alleviating pressure on the Loss Ratio and streamline insurance back-office operations.
The company's solutions for claims revolve around fraud and First Notice of Loss with different partners for every ambition and every budget.
Another way to assess fraud and adjudicate claims is a triage mechanism powered by Clearspeed recycling and improving on a technology  - notably used by defense forces in war zones to for instance hire local resources and better distinguish between an earnest translator and a potential suicide bomber.
"We can also assist insurers with assessing and settling claims within minutes with a digital FNOL using the smartphone camera of an insured," says Roudaut.
Hannover Re's approach to innovation combines:  
Reinsurance

Reassurance, where Hannover Re accompany (reassure) our insurance clients with their customer-centric, change management, and innovation journey  

Ethnographic insight and data analytics

Ecosystem orchestration, integration, and facilitation for deployment
Ultimately, putting the customer at the heart of the process and taking a holistic approach to business, is paying off for Hannover Re. From providing swift and essential support services to paying attention to sustainable solutions, the company is future-proofing against the changes sweeping the industry globally.
Roudaut adds, "We deliver resilience, not merely insurance. We craft experiences from A to Z."