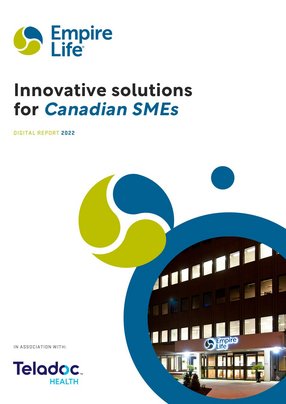 Empire Life and innovative solutions for Canadian SMEs
As the insurance industry evolves, we spoke to three Empire Life executives to find out how the company is transforming in an ever-changing marketplace.
Founded in 1923, The Empire Life Insurance Company, or Empire Life, is a Canadian life insurance company that has been providing life insurance, investment and group benefits solutions to its customers for almost a century. Empire Life caters mainly to small and medium-sized companies in its group benefits division.
The company's vision is to be Canada's most convenient insurance and investment company. Digitisation has become key to effectively delivering on this vision— streamlining the customer experience and making transactions seamless for customers, their advisors, and benefit plan members.
Christine Wyatt, Director of Group Digital Innovation, began her career in group insurance 18 years ago, joining Empire Life in 2011. She is proud to be part of such an iconic organisation that is recognised across Canada, and says, "My role has two aspects: my team looks at all the digital assets—that are customer and advisor facing—and we also work on strategic partnerships that help provide the connectivity and digital capabilities our partners need to deliver the intended customer experience."
Future forward, unhampered by legacy systems
Digital transformation has been at the forefront for every insurance company globally. Because Empire Life has grown organically and not by acquiring other insurers, it's not hampered by legacy systems that can't talk to each other. Still, the pandemic, industry consolidation, and the demand for faster and more seamless access to information have been key drivers of expanded digital capabilities. "Over the last two years, we've accelerated our investments in digital capabilities. We've looked at how quickly people want information, how they are engaging, how our advisors want to engage with their customers, and how they need to engage with us as their carrier and transfer data to us."
Ultimately, the willingness to embrace change comes down to the culture of the company, which, Wyatt explains, has a strong future-forward orientation. Vanessa Lycos agrees. Lycos is responsible for product, digital and marketing for the Group Solutions division at Empire Life. She joined the company in 2019 and her background includes financial services as well as insurance.
Lycos says that she looked at the company's core values, which centre around respect, accountability, honesty and fairness, with a high degree of curiosity when she joined Empire Life and hasn't been disappointed: "I've been really impressed at how every single person at Empire Life embodies these values. It's a culture of connection and innovation. We're agile and innovative, and we're growing our market share and our business—in a very collaborative, respectful, collegial manner."
Lycos continues, "If you don't have a strong culture—a culture that really respects and values its employees and customers—I think it's hard to achieve sustained business results. Our investment and our commitment to the wider community is also something that attracted me to Empire Life. What we give back to the community through charitable donations, community sponsorships and volunteerism—and the engagement around these initiatives—is motivating."
Technology drivers and the insurance space
A large part of Empire Life's journey towards digital transformation has focused on efficiency, the transfer of data, security, and agility. Lycos says some of the biggest questions are, "How do we get more efficient and how do we get data back and forth in the most secure manner possible?
On the infrastructure front, Empire Life has been proactively investing in new technologies for decades, updating as they progress, and because of that, they have not suffered the fate of some traditional insurers trapped with outdated legacy systems. An important part of the journey in the past two years has centred around APIs, and this is helping Empire Life differentiate in the marketplace. API technology enables Empire Life to empower advisors and third party administrators to manage certain functions that in the past have only been performed by insurers. "Our 'low-ego' approach to who does what is winning us high marks," says Wyatt.
Wyatt says these investments have resulted in better data and better services. And the journey continues. "Over the next 12 months, all of our projects and initiatives are aimed at driving the experience for advisors and plan sponsors—making it easier for them to access information and data that's critical to helping them make decisions about their benefits plans and what's right for their employees. Examples include speed and accuracy in underwriting and in delivering proposals.
"It's about how we get that information in the door faster, quicker, and presenting information back to customers and advisors in the way they actually want to get that information. We're also doing a lot of work in terms of making administration easier. Managing a benefits program isn't always top of mind for our target market of small, medium business owners—who are exceptionally busy running their businesses."
On the healthcare front, the pandemic accelerated the need for digital technologies and made it easy for Empire Life to prioritise the onboarding of the Teladoc Mental Health Navigator and Telemedicine services. Lycos believes the focus on employee wellbeing is now front and center for many leaders.
"But even before the pandemic, we had added the Best Doctors (now called Teladoc Medical Experts) online suite of services that include the Expert Medical Opinion," Lycos says. "One of the reasons we launched our telemedicine and Mental Health Navigator services was so that people could have fast and easy access to services that could help bolster their health. Lycos says that the 24/7 telemedicine service has been particularly helpful for employees and for business owners. "As any parent knows, illnesses often seem to occur in the middle of the night. With telemedicine, there are no long wait times in the emergency room, and the doctor can prescribe medication and transfer it to any pharmacy." Lycos notes that even for non-urgent complaints like a rash or an eye infection, being able to talk to a doctor from the comfort of your home or from work— at any time—is fantastically convenient and a huge time saver.
A new customer marketplace in insurance
But it's not just about new technologies and requirements. The customer marketplace has changed considerably too over the past 24 months. Lycos says, "Increased digitisation and improved customer experience are being focused on across all industries—from insurance and banking to retail, customers everywhere are looking for simple, fast and easy customer-focused digital experiences.
Using data to improve customer experiences
Part of Empire Life's transformation has been the use of Big Data to determine which products and services can best serve their customers, and how protection benefits can be tailored to best suit each party's needs.
Dara Brachman, Vice President of Group Distribution within the Group Solutions division at Empire Life, has been with the company for seven years. For the first five of those, she led the various teams as Vice President of Group Operations. She says, "Our mission is to be Canada's most convenient insurance carrier. Our distribution partners and our strategic partners have told us that success is a function not only of our investment in various digital capabilities but also of our flexibility and the way that we engage in a customised manner. Our flexibility is enabling them to grow, and as a result, we've also been able to successfully grow our market share in a fairly short period of time."
Insurance sector and digitization
Brachman says Empire Life has been successful working with distribution partners via flexible technologies and products. "We've spent a lot of time and effort in the last years developing capabilities, digital and otherwise, to support a variety of business models. We don't have a one size fits all approach. Rather, we work with each of these partners to understand their business and their value proposition. Then we tailor our solution, capabilities, products and services, to really meet their needs. These strategic partners can include, MGAs, TPAs, advisors and insurtech platforms, who are adding a variety of different digital capabilities to their own offerings in the market."
Brachman also points out that the increased involvement of fintechs and insurtechs within the industry as a whole has helped to close the protection gap within certain sectors. She says, "The increased use of technology improves convenience and simplicity for the customer in terms of their engagement with their insurance company, Empire in this case, and also, scalability. Leveraging the use of that technology enables us to scale and grow far more efficiently. Certainly Empire is on a very significant growth trajectory."
The future of insurance for Canadian businesses
It is clear the team is dedicated to the digital mission. They have an excitement and energy when they talk about the future plans and how insurtech capabilities inspire them. Wyatt says, "It's fascinating to see how digital capabilities are transforming other industries. Our teams are innovation-oriented and constantly looking outside our industry for new ideas."
Lycos adds that a strength of Empire Life lies in its focus solely on Canada and Canadian customers. The team is constantly working to enhance services and the customer experience.
"We're a Canadian company laser-focused on the needs of Canadian businesses. With so much progress, digitisation and customisation, it is an exciting time to be in group benefits" she says.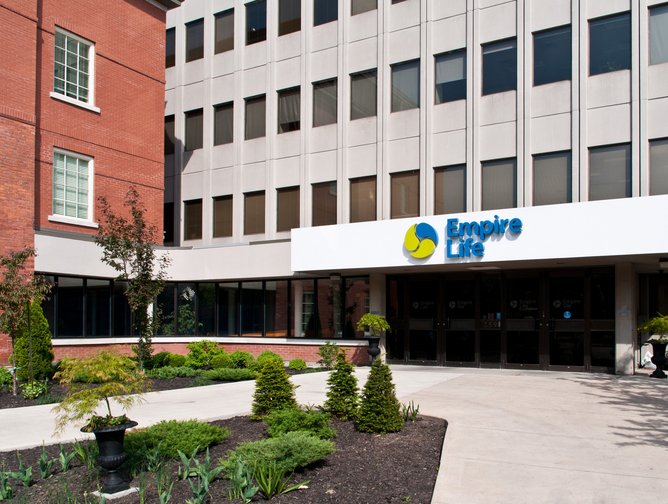 Empire Life building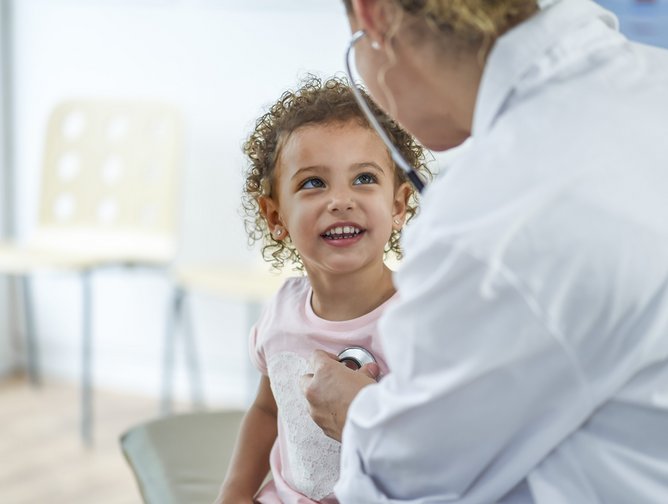 Medical experts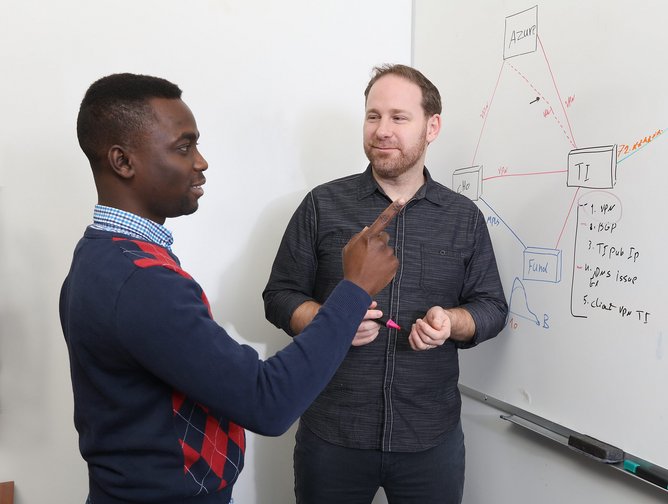 Empire Life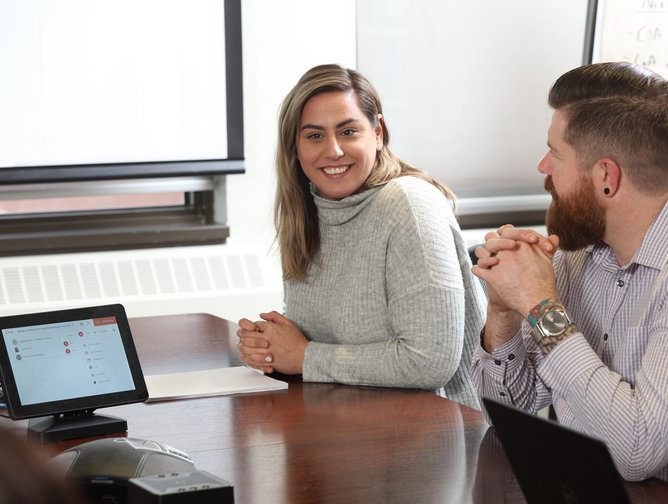 Empire Life