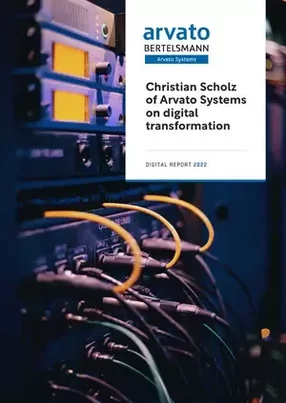 Christian Scholz of Arvato Systems on digital transformation
Christian Scholz of Arvato Systems discusses digital transformation, system integration and successful leadership
When a newly founded company grows or an existing company needs to be digitalised, the complexity increases with the new technical possibilities. Companies are often in the situation where they need specialists who know which services are the most suitable, where the strengths and weaknesses of the providers lie and which security levels are required. 
This is where Arvato Systems comes in.
"We are a system integrator that offers exactly these kinds of services," says Christian Scholz, IT Director Cloud Business at Arvato Systems. Christian has been with the company for 19 years. He started as Lead Architect and became IT Director in 2014. "The future belongs to all of us, but it is shaped by those who have the courage to break new ground. Because IT is changing our world." This insight of Christian's originated in 1984, when his parents gave him a computer on which he could play games. His soft spot for computer games soon turned into an interest in computer software and that became a passion.
"What do you need for your life?"
"Goals!" laughs Christian. "My personal challenge was to build large IT systems. To try out what is possible. I started at Arvato Systems 19 years ago and I kept getting the chance to work with IT giants, like Microsoft and Google, on various projects. These projects were large, complex and very challenging. I had the freedom to make my own decisions and do things differently. This allowed me to test myself, gain new experiences and grow. That kept me interested and subsequent management level positions have made it all even more exciting. Today, I'm happy to be able to help shape the company in my position."
Successful leadership and digital transformation
For Christian, successful leaders are not above the team, but part of it.
"One of the tasks for good managers is to put together a team that achieves the desired goals", says Christian. "It is important to understand that the team determines the path to the goal and not necessarily the manager. Successful managers include people with different skills in their teams and give them tasks they can grow with. In other words, the team is given the space it needs. In an open and trusting atmosphere, it can communicate freely and honestly. This is the prerequisite for developing as individuals and as a team. Everyone in the team has different abilities. You have to put people in the right place and see if their skills develop. 
"Good leaders therefore also give pointers on where their team members can improve,and some employees may not even know what their strengths are yetI have the space and freedom to develop the team."
Using technology to reach a large audience
In the 37 years since Christian started playing computer games, technology has of course changed a lot. IT has definitely become more normal, more commonplace. 
"You don't have to be a computer scientist to build a web shop today. We are in the digital age. It has never been easier to reach an audience that is geographically and demographically larger than ever before," Christian explains. "It has also never been easier to build new businesses that could, in principle, have anyone with internet access as a customer. Services like payment systems, web shops, warehouses or delivery services are easily available online. Even advertising works via search engines or social channels. All these elements can be used to set up a new business relatively quickly and without much prior knowledge or technical know-how."
However, the situation is different for established companies, which were often founded in the last century. This is because they already have successful processes - and an existing IT environment. 
"In order to be successful in the future, these companies need to build new technical capabilities and develop new, digital business models", explains Christian. "This is where our support comes in. Arvato Systems helps companies on their way to new digital business models. One approach can be to simply set up a digital interface between the existing business and the audience - to combine everything. An API management layer (Application Programming Interface) makes it possible to have apps and address customers digitally. The company needs to store information in its new systems, and the storage is done through API management. This gives a company a greater and safer interface that allows the outside world to use the legacy systems in a digital way. If there are, say, three different legacy systems that manage addresses of customers, business partners and perhaps goods, all of this can be combined into one API for each need. We've done that for some clients and it's really easy to implement."
Today, the cloud offers everyone the opportunity to install servers and access services from the cloud with just a few clicks, from databases to developer tools to machine learning. The role that the cloud now plays at Arvato Systems is correspondingly large. "Today, Arvato Systems acts as a service integrator for many of our customers", says Christian.Quite a few years ago, we recognised that the cloud was on the rise and would become a cornerstone of IT. Since then, we have earned a very good reputation in the German market with our service and our knowledge of the cloud. The cloud and the business transformation it brings to our customers: This is our bread and butter business today. We have a broad knowledge about multi-cloud environments and have good, close relationships with the various cloud partners."
Strong partnerships 
There are three big players in the cloud market: Amazon, Microsoft and Google. Each of them also offers native services, but these may cause a certain vendor lock-in. 
"If you use Kubernetes for container applications from Google, you will be able to move it to Microsoft perhaps 98%of the time", Christian explains, in an example. "But if you then leave Microsoft and move to AWS (Amazon) you may need to adapt the service or use a new one. We are aware of these limitations and take them into account when we create the ideal cloud or multi-cloud environment for a customer.
"At the same time, our partnerships with all these strategic partners are really very close. Microsoft, for example, has already been a very important partner for us for decades. Arvato Systems works with Microsoft in various areas, even with their internal processes. We have also been working with our partner Google on internal products for well over 15 years. We fit so well together because we have the same mindset. When we work on projects, I'm dealing with a lot of cool and experienced people from Google. Their knowledge, this collaboration also improves my own skills. The same is true for Amazon (AWS). We learn from and with each other in our long-standing partnership and have implemented very many different customer projects."
Together into the future
Cooperation and team spirit are also important goals at Arvato Systems. 
"As a manager, you simply have to make sure that the team feels valued. We usually have events twice a year," Christian reports. "Only this year, due to Corona, we switched to live events that take place via camera and video. Smaller teams cooked together, for example, and we had a professional chef with us - that was a lot of fun. Then there was also a quiz around the world." 
At Arvato Systems, too, the hope is that life will return to normal, that team members will soon be able to enjoy each other's company in person at the office again. Nevertheless, in our digital world, the most constant thing seems to be change. What do the next five years look like for Arvato Systems?
"I think we will continue to expand our connections and partnerships", says Christian. "From a business perspective, we will certainly continue our growth course, and even accelerate it. From a technological perspective, I expect a dramatic development in the field of artificial intelligence (AI). So far, AI's are highly specialised - they have a kind of savant syndrome: one AI navigates me to my destination while driving, another plays chess with me, the third monitors my fitness. But the great leap forward for future AI generations will be to understand human needs in their complexity, i.e. to support people through a more comprehensive, connected intelligence.
"At Arvato Systems, we are already helping companies to use artificial intelligence in a targeted way for their business processes and business models. This will expand significantly in the future with the advancing capabilities of AI. " 
Many new ideas, in-depth know-how, team spirit and strong partnerships are just some of the attributes that distinguish Arvato Systems, and with creativity, plenty of room for innovation and the right sense for customers' needs, Arvato Systems is ideally positioned for the future and will continue to stand confidently at the forefront of digital transformation.