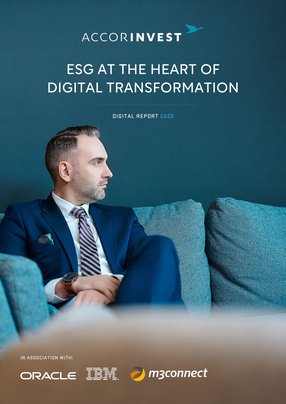 AccorInvest: ESG at the heart of digital transformation
Spearheaded by Group Chief Information Officer Wojciech Łącz, a digital transformation has taken place at AccorInvest, and the entire company is in on it
In a conversation with Sustainability magazine, AccorInvest Group Chief Information Officer, Wojciech Lacz provides an insight to the digital transformations taking place and explains why the entire workforce needs to be 100% onboard and engaged for the company to reach its ESG goals and deliver a consistently outstanding customer experience.
But first, let's take a look at a bit of AccorInvest's story and its current status as the leading* hotel operator and owner in Europe in the economy and mid-scale segments, and also present in Latin America and Asia.
The AccorInvest Group was created in 2017 as part of a reorganization of the Accor Group, which owns internationally recognized brands such as Sofitel, Novotel, Pullman, Mercure, ibis. The objective of this reorganization was to place the real estate assets and hotel operation activities within a dedicated structure, in order to enhance their value and development.
Today, AccorInvest distinguishes itself by the complementary nature of its two businesses, which combine real estate value and operating performance: the management of hotel properties and businesses, and the operation of these assets under hotel 14 brands owned by the Accor Group, covering a total of 122,000 rooms, and generating a high volume of annual revenues.
After the 2020-2021 crisis years, AccorInvest's strategy is to consolidate its leadership in its geographical scope (Europe) and asset range (economy and mid-scale). It aims to promote new Group dynamics to transform its hotels from transit locations into key players in their regions, able to demonstrate strong commitment to all of their stakeholders, facilitate social cohesion, and respond to current and future environmental challenges.
With more than 23,000 team members covering hospitality and real estate expertise, the global team is dedicated to AccorInvest's success and growth with a "One Team" approach.
When it comes to changing the status quo, 23,000 team members is no small amount of people to convince, but what's clear is that Wojciech Lacz with his leadership qualities and IT credentials, was always the man for the job.
* In terms of number of rooms, geographical presence and revenues

Meet Wojciech Lacz, Group Chief Information Officer, AccorInvest
Knowing from the beginning that he "would be an IT guy", Wojciech Lacz tells me that he started work in IT administration in 2005 after graduating from the Warsaw University of Technology.
After various experiences at L'Oréal and then for 8 years at Danone, Wojciech Lacz joined the Orbis Hotel Group managing Eastern Europe Accor hotel portfolio in 2018 as Director of IT & Digital Services, responsible for defining and supervising key IT and digital projects for 16 countries in the region.
In October 2020, Lacz was appointed Senior Vice President (SVP) Technology and Digital and ComEx member for Accor Northern Europe. Just six months later, in March 2021, he was appointed AccorInvest Group CIO.

AccorInvest ESG strategy
From a more sustainable acquisition and renovation to a more sustainable operation of its sites, AccorInvest Environmental, Social Governance (ESG) strategy is present throughout all of the Group activities and involves all of its employees.
Wojciech Lacz makes it clear from the very start of the conversation that for either the Group's ESG strategy or its digital transformation to be a success, the two must work hand in hand.
"In view of today's challenges, be they environmental, social or economic, and through its responsibilities as owner, investor and operator, AccorInvest takes very seriously the fact that it must be committed and focus, taking it as an important factor in any company action" says Wojciech Lacz.
As a young company, the company published in May 2022 its first ESG report, with the aim of sharing its ESG performance with all its stakeholders and in which it shared its ambition to achieve carbon neutrality by 2050.
"Our ESG strategy is linked to the identity of the company we are and the company we would like to be in the future, which is about helping both our guests and our employees to make the right choice in where to work, or where to go," says Wojciech Lacz. The ambition is clear: that AccorInvest will be recognised as a benchmark ESG player in its sector.
Three pillars, eight commitments and nineteen challenges certainly sounds very robust. "It is", says Lacz, adding "The first pillar is about us acting as a responsible Group. The second is about respecting people and the environment - so how to boost the employee's development and how to constantly reduce the environmental footprint. And last but not least, the third pillar is to deliver positive hospitality; positive not only from the customer experience point of view, but also in the way we are perceived by our customers, not only as hoteliers, but as part of the ecosystem in the city, by connecting with different core communities and enhancing the environment for them."
Acting as a responsible group, AccorInvest has four main commitments. This includes "a commitment to having the right governance in place, which will also serve our investor relationship," says Lacz. "The second is about compliance and ethics; to ensure compliance we demonstrate our ethical values across the portfolio. The third is about responsible investment; every time we begin a new construction or renovation, we make sure that our properties are competitive from an ESG point of view." The fourth, says Lacz, "is about monitoring ESG risks in the supply chain" to make sure that all suppliers comply with the Group's values.

Digital for the employees
Employees are at the heart of AccorInvest, "so, the second pillar is something that we are really looking at from the people point of view. We strive to foster employees' development and welfare, and constantly reduce our environmental footprint.
For Lacz, IT and digital transformation is key to transforming the employee's experience of the workplace. For example, taking repetitive and manual tasks and automating them so that they can focus on other more enjoyable aspects of the job.

Digital for the environment
Respecting the environment, reducing the carbon footprint, and implementing circular economy practices is another area in which digital and IT can really help, says Lacz. "We have already started to sync the different sensors to monitor and manage water and energy consumption. This allows us to discover a water leakage for example, before it is too late" says Lacz, pointing to the unexpectedly high utility bill we all dread coming.
As part of the goal to eliminate single use plastic by the end of 2022, AccorInvest is on track to substitute plastic room cards with those made of more sustainable materials. Lacz and his teams are looking at the possibility of getting rid of the room card all together and using the Internet of Things (IoT) to do everything it did and more. This, he says, "would enable us to detect the guest inside the room to manage the electricity, the humidity, the air conditioning and so on - another example of how IT could contribute to the ESG strategy and the guest experience."
We strive to foster employees' development and welfare, and constantly reduce our environmental footprint. A key part of the hotel digitalisation plan is to move the majority of things into the cloud, using different cloud providers to deliver the same experience or better for hotel staff and our guests, while reducing its environmental impact.
ESG + Business Digitalization = positive hospitality
The last one of the pillars is about delivering positive hospitality, which AccorInvest does together with the manager, Accor. "This is about taking care of the guests, their comfort, their well being, the way in which they perceive innovation inside the hotel, and improving accessibility to hotel services."
There are two main systems in the hotels right now – a property management system (PMS) and a point-of-sale system (POS), which manages everything ecommerce related. "In order to give our staff the possibility to develop themselves, we want to be able to move them between the hotels, without having to learn from scratch. So, the systems need largely to be the same in each hotel. The most important thing then is this concept of homogeneous use, an ecosystem, which gives us the possibility to plan the different external services into it."
Lacz uses the contactless journey of the guest as an example. "I don't need to go to the reception desk in order to register myself, obtain the room card, .Instead I can do it myself and enroll digital key on my mobile device. The system could recognise me from the past and thanks to that I can check myself in, I can check myself out, I can order some services, in or out of the hotel.
"For us, it's important, as well, what's happening around the hotel. So, in terms of ESG, it's how we can integrate with the social life of the city. By being homogeneous and open, we can start to integrate some additional services in the hotel, which could be delivered by our hotel staff, or by anybody else and fully embedded into the guest experience and journey."

Identifying the need, meeting the demand
It's all about need and demand, but unless you are close to the operations, it's difficult to decipher. "That's why when I'm travelling, every time I am trying to stay in different hotels," says Lacz, adding that members of the IT team are also visiting various hotels and seeing for themselves if the tools they have deployed really work in action.
"The solution we are putting in place needs to be a solution in which hotel teams who have never had any hospitality experience will be able to deliver the basics of hotel operations within a few hours of self-learning. "
The same applies to our F&B service – this has already been digitalised and we are rolling this digitalisation out across the portfolio. Guests can now choose, order and pay for their food and drink from their mobile phone. The technology also comes with different language options making life easier for international staff and guests.

Robotics to assist staff
At the back end of 2021, AccorInvest realised there were a set of the different processes in the hotel that were still being carried out manually by staff members. "Some were painful, for example, the night audit. As you can imagine, consolidating all of the data and closing down the day in all the systems manually was taking two-and-a-half hours of our team member's time". That particular job in some of the hotels is now being done by robots with no involvement of staff, which is complementary to human work, and we will be rolling it out across the remaining portfolio. "So at that time, around midnight, the team member could be doing something else or getting some sleep," in another example of IT and digital feeding into the company's ESG strategy.
Asked if guests like the digital innovations they see, Lacz is very clear: "Yes, but I think it's not even that they like it, it's gone beyond that, they demand it. Therefore, we need to meet this expectation. But at the same time, we can't just binary switch from a more analogue way of doing things to fully digital, because we still have different types of customers to cater for. It was natural that the digitalisation demands of the customer would increase during COVID. And I think the area in which this is most visible is payment. People do not want to pay by cash anymore.
"In some areas of the business I still believe we should work in parallel modes for a period, or we face losing customers who are not so comfortable with digital. For example, in some countries, there is no need for hotels to have analogue phones anymore. In France, we usually keep the phones in the rooms because this is part of the services that need to be delivered for the proper categorisation. However, in some other countries, like the UK, this is not a requirement. But even in those countries, for people who are less used to technology and need to call for emergency, we implement a specific type of the solution, which can be used for other hotel services too."
New partnerships
The conversation moves on to future partnerships, with Lacz telling me that in addition to consolidating suppliers and collaborating with different suppliers, by the time people read this article, thanks to creating homogeneous environment between new Oracle Fusion ERP and Oracle Hospitality, Accorinvest will improve operational performance leveraging smoother processes execution and data extraction which offer "flawless operations" from the lobby to the back office. "I believe the digitisation of the company is core to it taking care of its people," says Lacz, adding that ecosystem that is build on Oracle product will connect distribution, guest rooms management, Point of Sales (POS), finance and HR, delivering the integrations AccorInvest requires to offer a seamless experience for staff and very satisfied guests. This would give AccorInvest a market competitive advantage having all the data in one place and accelerate any decision taking process increasing company agility in the fast moving environment. "The companies that are flexible will survive," he says adding, ``we are creating this opportunity, this agility, for the future and this includes our innovation initiatives making sure we can customise and integrate solutions to meet our needs now and in the future."
I ask Lacz what the next 12 to 18 months look like for the company. He smiles and says, "I'm smiling because it's what I'm repeating almost every month to my teams, that the next 12, 24 months will be the year of delivery . We know exactly what we'd like to achieve, thanks to the executive committees of each of the companies we were able to achieve our specific plans. Now we just need to deliver. And I'm saying that with a smile, because you can imagine how easy or not easy it is to deliver for almost 800 hotel properties within such a short period of time. So yes, we need to deliver the things that we scoped, both on site which right now, is 80% of my attention through the different suppliers, through the different partnerships at our core or in order, really, to be perceived as the modern and competitive hotel owner and operator for guests, and the first choice of our employees.
"Also offsite, looking at what we do with the data, how we track the customer experience being moved between the different properties and understand their likes and dislikes. And maybe we could be much more proactive than we are right now."
Lacz is keen to point out that the success of this digital transformation is not down to just one or few people coming from IT, but the entire workforce, "because only that way you can do something which is sustainable and that really brings value."
So that's key, the entire workforce needs to be completely onboard with what AccorInvest is doing and why it is doing it in order for it to reach its ESG goals and what it wants to reach in terms of delivering an outstanding customer experience - it all feeds back into the team.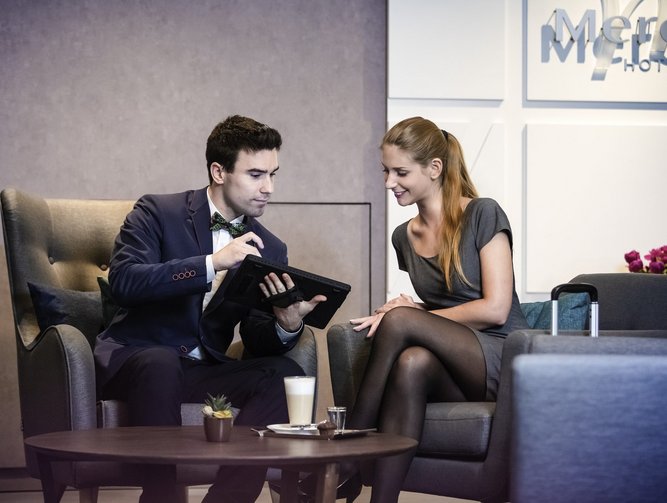 Mercure Budapest City Center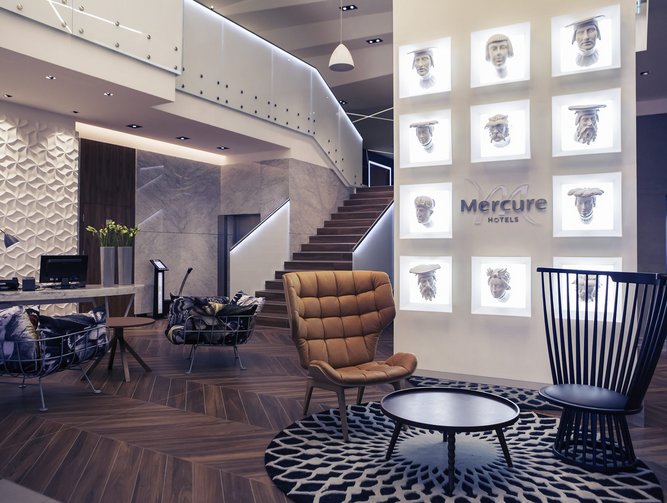 Mercure Kraków Stare Miasto
Sofitel Warsaw Victoria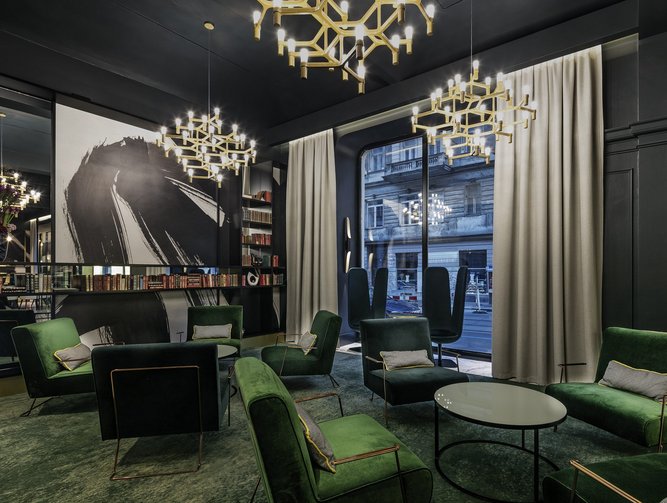 Century Old Town Prague