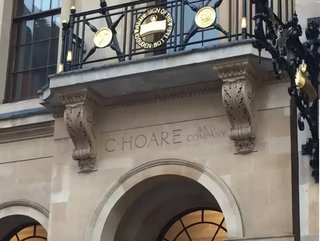 We track the story of the UK's longest-running banking institution that opened in the 17th centuary - C. Hoare & Co
C. Hoare & Co is the UK's oldest independent bank. Founded by Richard Hoare in 1672, the bank's head office is in Fleet Street and it even has its own museum. We plotted its remarkable history, from Charles II to modern-day fintech.
Date: 1672
C. Hoare & Co is launched
Founded by Richard Hoare, times were very different to 2021. There were no street numbers, businesses were identified by signs due to illiteracy rates, and the bank started out trading in Cheapside - under the 'Sign of the Golden Bottle' which can be seen in the bank's Fleet Street museum.
Date: 1690
Head office
The bank moved from Cheapside to its first proper offices in Fleet Street. The move marked the beginning of a long relationship with the area in which it still resides. During this time, the famous diarist Samuel Pepys opened an account with the bank. Other iconic historical celebrities later joined the bank, including Jane Austen and Joseph Smith.
Date: 1702-1712
Hoare is knighted
Following the great success of the bank, Richard Hoare was knighted by Queen Anne in 1702. His popularity and sense of fair play, as well as his interest in his immediate communities, led to his election as Lord Mayor of London in 1712.
Date: 1800's
A century of strife
During this period, the bank entered a turbulent time, caused by dishonest directors and a series of family feuds that saw members of the Hoare family disagree on the direction of the bank. In 1825, William Christmas embezzled £1,000 from the bank to fund his affair with an actress. He was sentenced to be transported for 14 years and his father was asked to make good the bank's losses.
Date: 1900s
War and the Blitz
Central London was the target of numerous bombings during the Blitz, so although the bank's credibility had recovered from the previous problems, and it had survived being absorbed by larger banking corporations, it now faced a physical threat. Most staff were evacuated from the headquarters at 37 Fleet Street. The building was almost destroyed by fire, but was ultimately saved through the swift actions of its employees.
Date: 2000's
Cryptocurrency and fintech
C. Hoare & Co sold its Wealth Management business to Cazenove Capital Management, owned by Schroders in October 2016. In 2018 Rennie Hoare was appointed a shareholding partner, in an effort to bring "millennial thinking" into the bank and to lead Britain's oldest independent bank towards digital transformation.  In March 2019, the bank opened a branch in Cambridge, its first-ever office outside London.
The bank has recently embraced ESG, and has launched new, environmentally friendly bank cards. This initiative supports the bank's wider ambition to drive sustainability.
While traditional cards are produced from petroleum-based products or a blend of plastics, the new cards are produced using only polylactic acid (PLA) in the main body of the card.* A statement released by the bank about the launch, said: "PLA is derived mainly from corn and is already used successfully in products ranging from medical implants to sunglasses. CO2 emissions for PLA cards are also lower than those of a standard PVC card: at polymer-production level, emissions are approximately 73% lower, and emissions, when the cards are industrially incinerated, are approximately 68% lower."
The eco-friendly cards will also be introduced over a three-year period to avoid generating additional waste by replacing plastic cards before the end of their natural life cycle.
Women executives leading C. Hoare & Co
Diana Brightmore-Armour, C. Hoare & Co
Diana Brightmore-Armour joined C. Hoare & Co as CEO in January 2021. She has 30 years of international experience in banking and corporate finance. Formerly she was CEO for UK and Europe at ANZ and prior to that she was CEO of corporate banking at Lloyds Banking Group. 
Of her appointment at the bank, Brightmore-Armour said, "C. Hoare & Co. holds a unique place in British banking, with a history of pioneering initiatives, and I am delighted to be part of the next chapter. Since joining the Board, chaired by Lord Macpherson, I have been impressed by the clear sense of purpose shared by the partners and my colleagues at the bank and their absolute commitment to putting the customer first in all their decisions. I am proud to be the first woman to take up the role of CEO and look forward to engaging with our customers, our people, and our partners to ensure the continued success of this remarkable institution."
After graduating from Trinity College Cambridge, Venetia joined Banque Paribas Capital Markets and then went on to Baring Brothers. She joined C. Hoare & Co. in 1991 and was appointed the bank's first female Partner in October 1996. Within the bank, she has responsibility for banking and treasury and works closely with the customer Relationship Managers.