André Esteves, Brazilian BTG Pactual's Bounce-Back Banker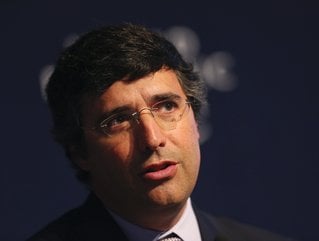 As Senior Partner, investor, financier, and entrepreneur, BTG Pactual's colourful corporate leader has always blazed a trail across Brazil's banking scene
Founder of BTG Pactual, Brazil's largest banking entity, businessman André Esteves is legendary for his aggressive investment approach, big personality, and sharp, business acumen. But he's also courted a lot of controversy throughout his 30-year career.
With an estimated personal fortune of more than US$7bn, André is one of the most prominent figures in global financier circles.
But the Brazilian native who hails from Rio De Janeiro is all the more impressive in his achievements because he didn't come from wealth.
Instead, his formative years were unremarkable even though this larger-than-life businessman, who was named to Epoca magazine's 100 Most Influential Brazilians list for four consecutive years, was raised in a middle-class family of white-collar workers.
Born in 1968, reports from Esteves's childhood suggest he was a bright and curious child and an excellent student. However, his was not an idyllic childhood. André's parents divorced when he was young. He was raised mainly by his mother, a university professor specialising in educational psychology at the State University of Rio de Janeiro. His grandmother played a leading role too because she minded him frequently as his mother worked long hours.
Possibly influenced by his mother's high-ranking role in education, André worked hard at his studies and obtained a Bachelor's degree in computer science from the Federal University of Rio de Janeiro. Soon after graduating, he took an entry-level role at the financial company, Pactual.
André Esteves rose through the corporate ranks
From the very start, Esteves's keen interest and intelligent decisions in financial investment saw him rise stratospherically within Pactual. Within 12 months, he had moved up to the bank's foreign debt trading team. By his third year, he was promoted to managing Pactual's IPOs and M&A - a remarkable indicator of his ability - and the company's trust in him.
The management team's faith in Esteves was well-founded, and he scored win after win for Pactual - helping the bank to post an incredible 52% return on its capital in 1992 - an achievement for which they made him a partner.
Esteves bought Pactual
Following six incredibly successful years as a partner, Esteves had generated enough revenue and income to actually buy Pactual. He ran the business himself for just two years, before releasing his interest in the venture, which was then sold to UBS, while he explored further business opportunities.
During his break from Pactual, Esteves explored several alternative business options. In 2008, he launched the BTG investment company. He then decided to buy back his former stake in Pactual and managed to raise an impressive US$2.5bn to re-acquire the bank back from UBS.
This canny move resulted in André reaching his industry-leading position as the founder of a global investment company - and the co-owner of Pactual Bank, and BTG Pactual was formed.
A big character in Brazil's banking scene
Today, Esteves is one of the most prominent financial figures in Latin America, and indeed the world. However, it hasn't all been plain sailing, as his aggressive and unorthodox approach to investing has often landed him in hot water with financial regulatory bodies.
In 2015, BTG Pactual moved to distance itself from a deepening crisis facing and embattled Esteves by replacing him with two co-chief executives, following his arrest amid allegations of corruption concerning state-owned oil company Petrobras.
BTG Pactual started focusing more on other industries, one of them being fintech. In 2021, it purchased a 100% stake in Kinvo, the Brazil-based investment app. It also launched a crypto platform called Mynt.
Esteves spent 23 days in prison and shortly after his release, left Brazil and BTG Pactual behind him. Despite this, he still maintains an estimated $7.89bn USD stake in the bank. In June 2021, the Rio de Janeiro press said there were rumours of André making a comeback to BTG Pactual, as revealed by four sources to the Reuters news agency.
Personal life
A married father-of-three, Esteves is reportedly a workaholic who, when he was CEO of BTG Pactual, took just two weeks holiday a year and drove the same Mercedes pick-up truck to the office for several consecutive years.
Despite these shows of frugality, he's not against enjoying his wealth and reportedly owns a $50m Dassault Falcon private jet that enables him to continent-hop whenever the job requires it. He also reportedly enjoys good food and wine, along with trips to the cinema.