Financial Services (FinServ)
Tyme raises $77.8m in pre-Series C capital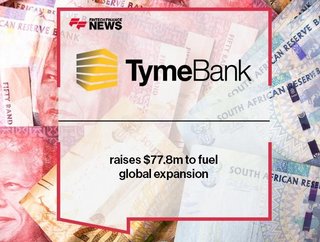 Digital banking group Tyme has raised US$77.8m in pre-Series C capital
Digital banking group Tyme has raised US$77.8m in pre-Series C capital from Blue Earth Capital and Norrsken22
New investments and bigger shareholdings
Digital banking group Tyme has raised US$77.8m in pre-Series C funding, with lead investment from Blue Earth Capital and Norrsken22. The new capital comes after the institution's flagship brand in South Africa, TymeBank, reached its seven million customer milestone in May 2023.
The $77.8m investment from African tech growth fund Norrsken22 and global impact investment firm Blue Earth Capital has been matched by Tyme's existing shareholders, with Tencent increasing its shareholders to take the third-highest majority share in the company.
Evolution and expansion
Tyme says its latest capital injection will further its operations in South Africa, the Philippines and other future expansions in Southeast Asia.
The first bank in South Africa to be entirely operated on a cloud-based infrastructure network, TymeBank can now facilitate the opening of a new bank account within five minutes. The neobank adds it can send money to any mobile phone through the TymeBank SendMoney app in as little as nine seconds.
Coen Jonker, Co-founder of Tyme and TymeBank CEO, comments: "We are delighted to welcome Norrsken22 and Blue Earth Capital to the group of high-calibre investors who have bought into Tyme's growth story and its mission to democratise financial services by lowering cost and other barriers to access."
Natalie Kolbe, Managing Partner at Norrsken22, adds: "We are delighted to invest in Tyme. The company offers a unique product with huge customer appeal, which has led to fast and sustained growth. We have analysed a lot of fintechs from across the continent, and Tyme set itself apart with its impressive growth, its differentiated product, and its unique ability to reach and serve new customer groups.
"The exceptional management team has already built one of the largest challenger banks in the world, and we are looking forward to being part of the next phase of their journey."
More investment to come
It is worth emphasising that this investment in Tyme is a pre-Series C round, with further funding in the banking group expected before the round closes later this year.
The latest round of investment follows a Series B round in 2021 when the company generated $180m with lead investment from African Rainbow Capital (ARC).
ARC Founder and Chairman, Dr. Patrice Motsepe, concludes: "We remain excited and committed to further creating value in building a global digital banking portfolio with our fellow shareholders and partners and we welcome the new investors who have participated in this raise."