Financial Services (FinServ)
Top 10 fintechs based in Canada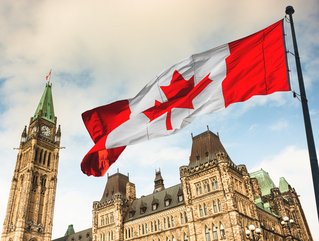 Fintech is flying the flag for Canada, with some really impressive local companies.
We take a look at 10 of the most promising fintechs, paytechs and crypto companies to emerge from the Canadian wilderness, ordered by total funding to date
Canada is often overlooked when it comes to fintech, shaded out by the success stories of Silicon Valley and the high-rise promise of the US East Coast. But America's northern neighbour has some fintechs worth shouting about.
We've pulled together 10 of the most promising and exciting Canadian fintechs and ordered them according to the total amount of funding raised to date, according to industry database Crunchbase.
Total funding to date: $251mn
Based in the Montreal suburb of Brossard, Bitfarms is using decentralisation and diversification to create a new generation of cryptocurrency mining – describing itself as "the only publicly traded, pure-play bitcoin mining company audited by a 'big four' audit firm". It has 10 farms in operation currently, mining 14.8 bitcoins a day – which might not sound like much, but it has an open-market value of nearly $300,000 at the time of writing. Bitfarms focuses on using renewable energy like surplus hydroelectric power and locally sourced natural gas to power its operations, keeping costs down and curtailing its impact on the planet.
Total funding to date: $278mn
KOHO is a financial services company aiming to build better financial products for Canadians. Partnering with companies like Mastercard, its product proposition centres around a virtual card and account that give users various perks when they use it. These include up to 4% interest on their balance; 2% cashback on groceries, dining and transportation as well as 5% cashback on purchases with partner merchants; budgeting and savings tools to help them control their spending; as well as opportunities to build their credit score for a small monthly fee, something that is particularly useful for Canadians with a patchy credit history.
Total funding to date: $331mn
FreshBooks creates cloud-based accounting software specifically designed for self-employed professionals and their teams – an oft-overlooked segment of the market wedged between B2C and MSMEs. The aim is to remove the pain points that self-employed professionals experience when it comes to invoicing, payments and tax – pain points that founder Mike McDerment knows only too well. While working as a freelancer, he accidentally saved over an invoice – and thus FreshBooks was formed. Today, the company has been used by over 30mn people and processed invoices totalling more than $60bn.
Total funding to date: $382mn
Black Banx is a Toronto-based challenger that is building a rapid head of steam, particularly when it comes to adoption. The digital bank, which provides accounts for both private individuals and businesses from 180 countries, reached the 20mn customer mark in December 2022, having added 5mn customers since July – a staggering rate of growth. It now processes cross border payments worth over US$20bn on a monthly basis and has more than 3,000 group-wide employees. Its success reflects the bank's mission to deliver financial services without friction or borders, which it sees as "a key enabler" for society.
Total funding to date: $424mn
Canada is opening up a neat little crypto industry for itself. One such company taking advantage of crypto and blockchain is Blockstream, which is using the bitcoin blockchain to create new financial infrastructure. The aim is to take advantage of the inherent decentralisation of blockchain, building products and networks that make financial markets more efficient by reducing their reliance on centralised trust. The company, which claims to invest "heavily" in R&D that strengthens the bitcoin protocol and ecosystem, has already enjoyed some measure of success: as well as raising over US$400mn in funding, it has grown out its team to include more than 100 employees.
Total funding to date: $454mn
Software company Verafin is a geographic outlier in this list, having its base in the eastern province of Newfoundland rather than the urban centres of Toronto or Vancouver. The company develops cloud-based financial crime management software that helps keep companies safe online by detecting and managing fraud risk; helping them remain compliant; and keeping them on top of high-risk customers. The company claims to "significantly reduce" false positives and prides itself on delivering context-rich insights for clients that help them get to the crux of their cybersecurity situation.
Total funding to date: $530mn
Founded in 2013 by Peter Kalen, Flexiti is a point-of-sale fintech lender on a mission to make high-ticket purchases more convenient. Its extensive network spans over 8,000 retail locations and ecommerce sites including notable brands like The Brick, Wayfair, Sleep Country, Staples, and Birks. The company's sales financing platform has facilitated over $2bn in flexible financing, earning recognition as one of Canada's fastest-growing fintechs in the instalments space. It has received prestigious accolades such as being named among Canada's top growing companies and Deloitte's Technology Fast rankings.
Total funding to date: $698mn
Clearco is a Toronto-based ecommerce investor that provides equity-free capital solutions for ecommerce businesses. Founders who receive funding from Clearco benefit from real-time access to a vast partner network, as well as valuable insights and data tools that facilitate business scaling. Clearco has successfully advanced over $3.2bn to over 7,000 brands including noteworthy names like Public Goods, Soludos and Monos. Notably, Clearco has provided significant support for female founders and women-led businesses, funding 25 times more than the average traditional venture capital firm.
Total funding to date: $830mn
Nuvei is a Canadian fintech payments company that offers the tools that so-called top-tier enterprises need to embrace cutting-edge payment solutions, comprehensive payout choices, and robust financial services such as card issuing, banking, risk management and fraud prevention. Nuvei serves over 200 markets worldwide including local acquiring in 45+ markets, supporting 150 currencies, and offering 580+ alternative payment methods. In April, Hollywood actor and producer Ryan Reynolds invested in the company following a successful exit from his stake in wireless company Mint Mobile.
Total funding to date: $830mn
Wealthsimple is an online investment management firm with offices in Toronto and New York. Led by a team of world-class financial experts and tech talent, headed up by former Ancestry.com exec Michael Katchen, Wealthsimple invests clients' money in a "globally diversified" portfolio of low-cost index funds. The company draws on technology to ensure the best possible returns and all its investment tools are available at the click of a button, contributing towards the growing democratisation of investment. The company has been fairly successful in finding funds itself, raising more than CA$1bn from investors.