Financial Services (FinServ)
Top 10 cross-border payment fintechs by total funding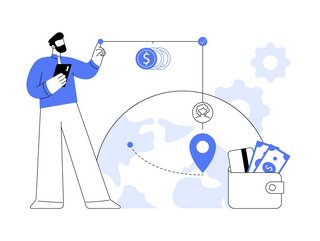 Top 10 cross-border payment fintechs by total funding
FinTech Magazine runs through the Top 10 cross-border payment fintechs by total funding
As Generative AI and other technical innovations start coming into use at cross-border payment fintechs, FinTech Magazine looks at the Top 10 cross-border payment fintechs by total funding, starting with TransferMate…
TransferMate is a global fintech company specialising in cross-border payments and foreign currency solutions. With its user-friendly platform, TransferMate enables businesses and individuals to send and receive payments quickly, securely, and at competitive exchange rates. With US$129.7m in total funding, the fintech has used its innovative technology to simplify the complexities of international transfers, offering transparent and cost-effective solutions. With a network spanning over 170 countries and a reputation for customer service, TransferMate has become a trusted partner for many businesses, helping them streamline their global payment processes.

Jeeves offers a comprehensive cross-border payments solution, allowing businesses to seamlessly send and receive payments internationally. Its platform supports multiple currencies and provides robust reporting and tracking capabilities, giving users access to competitive exchange rates, low transaction fees, and fast transfer times. In March 2022, Jeeves received $180m in a Series C funding round led by Tencent, which followed $57 million raised in Series B investment led by CRV and Andreessen Horowitz.
8. PPRO ($370m)
With its extensive network of over 175 alternative payment methods, PPRO enables businesses to easily and securely accept payments from customers around the world. Specialising in localised payment infrastructure and services, the fintech helps merchants overcome the complexities of international transactions, ensuring compliance with local regulations and preferences. Raising $370m in total funding, PPRO's robust platform enables businesses to expand their reach globally and tap into new markets.
New York-based Payoneer enables businesses and freelancers to effortlessly send and receive payments worldwide in various currencies through its user-friendly platform. With $570m in total funding, the fintech's services have grown to include international money transfers, mass payouts, and online payments. Leveraging a network of partners, Payoneer helps facilitate global expansion for businesses, efficiently connecting them with clients. Raising $300m in Post-IPO Equity in 2021, with lead capital from Wellington Management, Payoneer is one of the most well-funded cross-border payment fintechs.
6. Zepz ($699.7m)
Raising $699.7m across 12 funding rounds, Zepz is a fintech specialised in providing solutions for cross-border trade. The fintech offers a range of services through its platform, aimed at simplifying and optimising global supply chain management. Its trade facilitation solutions aim to streamline processes, reduce costs, and enhance visibility for businesses involved in international trade. With a focus on compliance, efficiency, and transparency, Zepz empowers companies to navigate complex cross-border regulations and seamlessly manage their global trade operations.
5. Rapyd ($770m)
With its all-in-one payments platform, Rapyd powers businesses to access a variety of payment capabilities, including card acquiring, e-wallets, bank transfers, and cash payments. Using its global payments infrastructure, the fintech aims to simplify complexities around cross-border payments, allowing businesses to tap into new worldwide customer bases and accept payments in their preferred methods and currencies. Raising $770m in total funding, Rapyd's comprehensive solution also includes fraud management, compliance, and reconciliation tools, providing a seamless and secure payment experience.
Raising $902m across 12 rounds, Airwallex sits fourth in our list of cross-border payment fintechs by total funding. The company's platform offers businesses a seamless and cost-effective way to send and receive payments globally, simplifying the processes of completing international transactions. Airwallex provides access to multi-currency accounts, real-time exchange rates, and competitive foreign exchange services. The fintech employs robust compliance measures, ensuring secure and efficient cross-border payments for business clients. Earlier this year, Airwallex's GM, EMEA, Pranav Sood, spoke to FinTech Magazine about the bright future of embedded financial services.
3. Wise ($1.7bn)
Making up the top 3 cross-border payment fintechs by total funding is Wise, which has received a total investment of $1.7bn. Formerly known as TransferWise, Wise offers fast, affordable, and transparent cross-border money transfer services with a focus on fair exchange rates and low fees. The fintech challenges legacy banking systems by providing cost-effective alternatives for businesses and individuals to send money overseas. With its user-friendly interface and robust technology, Wise is now trusted by millions of customers. Continued investment in the company has allowed it to further innovate and drive financial inclusivity, making international money transfers accessible to all.
Specialising in online payment solutions, Checkout.com has grown into a leading global fintech. Leveraging advanced technology and an extensive network of acquiring banks, the company enables businesses to accept payments from customers worldwide. Offering a range of payment methods, including credit cards, digital wallets, and local payment options, Checkout.com is able to use its scalable, fast platform to provide real-time data and analytics for optimal payment performance. Trusted by major global brands, Checkout.com prioritises security and compliance, offering robust fraud prevention measures and seamless integrations with popular e-commerce platforms. Raising $1.8bn across 12 funding rounds, Checkout.com's latest $1bn round of Series D investment in 2022 has helped it to begin expanding its offerings and product portfolio.
1. FIS ($2.5bn)
Taking the prize for the top cross-border payment fintech by total funding is FIS (Fidelity National Information Services). Providing a range of technology solutions and services to the financial industry, from banking, payments, wealth management and risk management, FIS also offers a comprehensive cross-border payments solution. Leveraging its extensive network and advanced technology, FIS enables businesses and financial institutions to facilitate secure and efficient international transactions, by supporting multiple currencies, compliance requirements, and payment methods. Serving a diverse client base, FIS's cross-border payments solution caters to the evolving needs of businesses operating in the global marketplace, providing them with the tools to expand their reach and reduce costs, offering clients real-time tracking and reporting capabilities. Raising $2.5bn across two rounds, FIS, although a multifaceted financial services provider, is the highest-funded cross-border payments fintech on our Top 10 list.