Financial Services (FinServ)
Top 10 credit unions in the US by asset size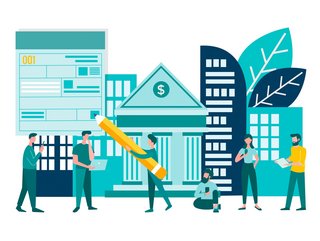 Credit Unions offer members lower interest rates for financial services
FinTech Magazine takes a look at the top 10 US credit unions by total asset size in 2023
In times of economic hardship, credit unions have become increasingly important for eligible members in offering low-interest rates and fees for financial services. In the US, as legacy banks begin to adopt the latest financial technology, 2023 may mark an important time for credit unions to do the same as they attempt to keep member engagement high in the financial initiatives for which they are famed.
Below, FinTech Magazine reveals the top 10 credit unions in the US by total asset size.
Florida's largest credit union, Suncoast, offers a range of personal, business and student credit options to its members. This includes checking, savings and retirement accounts, a range of loan options, mortgages and realty services. Founded in 1934, Suncoast extends its membership to anyone who lives, works or worships in the Floridian counties that it serves. In February 2023, the credit union announced its expansion into the Orlando market to further grow its customer base.
First Technology (First Tech) is California's third-largest credit union with $16.71bn in total assets. Alongside its suite of traditional offerings, including consumer and mortgage loans, student finance, credit cards, commercial real estate lending and investment services, First Tech also provides financial services for businesses through its partnerships with technology companies. These include Microsoft, Google, Amazon, Hewlett Packard Enterprises and Intel, among others. The financial services division of First Tech, Addison Avenue Investment Services, had five of its financial advisors named in Forbes' Top Women Wealth Advisors Best-In-State list for 2023.
America First Credit Union offers a range of financial services, including traditional and Roth IRAs, checking and savings accounts, Visa debit cards and investment opportunities. Founded in 1939, the Riverdale-based credit union generated $821mn in total earnings for 2022, up from $749.1mn in total earnings for 2021. Its 2022 total assets of $17.39bn also grew year-on-year, up from $16.83bn in 2021. As part of its philanthropic service, the credit union announced it would award $50,000 in college scholarships in April 2023.
Hailing from the Golden State, Sacramento-based Golden 1 Credit Union has 1.1mn members across California, with 72 branches and several home loan centres. The credit union offers a variety of no-to-low-fee financial products that offer higher yields on savings and lower rates on loans. Alongside its financial services, including checking accounts, savings products, loans and bank cards, Golden 1 Credit Union offers free mobile and online banking services and has over 30,000 free-for-use ATMs. It last reported $16.5bn in total deposits from its 1mn members.
Chicago-based Alliant Credit Union can count itself as Illinois' largest, with $18.74bn in total assets. The credit union last reported $13.2bn in total deposits across its 700,000+ membership base. Founded by a small collection of Alliance Airline employees, Alliant Credit Union now offers its services to several qualifying organisations, including members of the Foster Care to Success group. The credit union is associated with a separate charitable organisation, Alliant Credit Union Foundation, which has a Board of Directors composed of Alliant Credit Union employees.
Based in Tustin, California, SchoolsFirst is a federal credit union that offers personal services to California school employees and their families. It is California's largest credit union by asset size. Established in 1934, SchoolsFirst now boasts over 1.2mn members and offers investment and retirement solutions, auto and personal loans as well as mortgages, debit and credit cards. The credit union also offers a range of financial education workshops and money-saving tips, including credit report reviews, debt & budget coaching and student loan counselling.

A non-profit financial cooperative, Boeing Employees (BECU) is the largest Washington-based credit union with $28.78bn in total assets. With 1.3mn members, BECU offers access to ATMs through the CO-OP network and from its own locations. Founded in 1935, the credit union offers a range of financial services, including online and mobile banking, loans, checking and savings accounts as well home and renters insurance through its partnership with MetLife. In April 2023, BECU opened two new locations in Washington State's Snohomish and King counties.
Taking third place in the top 10 US credit unions by asset size, Pentagon Federal (PenFed) currently boasts over 2.6mn active members. Based in Virginia, PenFed faces competition from the likes of the Navy Federal Credit Union (also Virginia based) and the Texas-based Bank of America Military Bank. Federally insured by the National Credit Union Association, PenFed is a registered equal housing lender. Alongside its $35.53bn in assets, the credit union last reported $25bn in deposits and $10.4bn in equity capital.
Founded in 1937, North Carolina's State Employees' Credit Union (SECU) is one of the largest US credit unions by asset size at $50.97bn. For the full-year 2022, the credit union's yearly capital of $4.95bn represented a growth rate of 14% from the previous year. SECU has over 2.6mn members across North Carolina's 100 counties, offering share, investment and deposit accounts, loans, mortgages and home equity lines of credit in its 274 branches. The credit union also offers advisory services from estate and retirement planning to financial counselling. The union engages in a range of philanthropic services, most recently hosting a financial literacy event at Charlotte-Mecklenburg County Schools.
Virginia-based Navy Federal Credit Union (NFCU) takes the prize as not only the US' largest credit union but also the largest worldwide, with a significant total asset size of $156.65bn. A military financial institution, NFCU offers low auto rates and fees for active or retired military personnel. In 2023, the union has over 350 active branches and 12mn active members, providing a range of financial services such as consumer and mortgage lending, vehicle loans, mortgage repayments and student loans. As of December 2022, NFCU reported a total of $110bn in loans, $133bn in deposits and $14.1bn in members' equity. In April 2023, NFCU was recognised in Fortune magazine's 100 Best Companies to Work For.