Financial Services (FinServ)
Tipalti continues European expansion with new Dutch office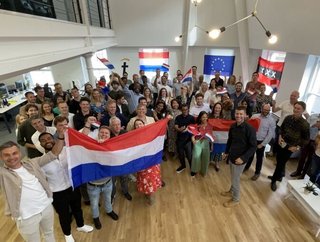 Tipalti's Amsterdam-based staff in their new office.
Accounting software provider Tipalti has continued its European expansion by opening a new office in Amsterdam, its first base inside the European Union.
Accounting software fintech Tipalti has expanded into mainland Europe by opening a new office in the Netherlands.
The Amsterdam office will cover the Benelux region and follows the opening of a UK base last October. It will create 50 jobs in the next three years. The fintech, which is valued at over US$8bn, has already amassed more than 100 UK-based customers and grown its London team to almost 100 personnel; it will now seek to establish itself as a key player in the rest of Europe – starting with Benelux.
Tipalti predicts that the demand for its payables solution will allow its Amsterdam office to hit the ground running. According to its own research, finance teams within the region spend half their time every week on manual processes – something which could be significantly simplified by Tipalti. Finance decision makers cite driving efficiency and reducing time spent on manual processes as their top two priorities.
'Even greater opportunities' for Tipalti inside EU
Rob Israch, General Manager Europe of Tipalti, says: "The UK launch was a huge milestone for Tipalti and adoption has exceeded our expectations. We already see a lot of demand for our solutions in mainland Europe and by opening up our EU market, this presents even greater opportunities for growth while also strengthening our solutions for our UK and US clients.
"Building on our momentum in the UK and the US, we know Tipalti's technology has a real impact on businesses who have a desire to scale. Now more than ever, businesses need to work efficiently to ensure they have a long-term solution that drives sustainable growth and frees time for finance to guide strategy and agility."
Markus Stellmach, Head of Finance – Systems at urban mobility company Tier, says: "With rapidly growing finance operations, we were struggling to align a fast growing team with multiple subsidiaries to a single process and finance was too ingrained in the day-to-day maintenance of AP – it was time-consuming and complex. We knew we needed to introduce a proper process for purchase requests and approvals that could scale with us and allow finance time to be freed up for more value-creating tasks.
"Once we onboarded Tipalti Approve, we had a high-quality and flexible tool that was implemented throughout the organisation in a matter of weeks, freeing up the finance team from highly time-consuming manual tasks to focus on more critical business endeavours. We now have a tool that can keep pace with us and are confident that our finances are fit to support our growing team as we continue to scale."