Financial Services (FinServ)
Webinar: the path to liquidity– strategies for private firms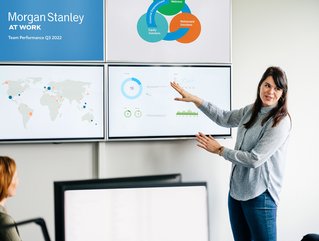 Join Morgan Stanley At Work for this valuable webinar on Wednesday 15 March.
Join Morgan Stanley at Work to discuss strategies for private firms in the current economy, including the mechanics of liquidity and preparing for an IPO
Managing shareholder liquidity has become a critical part of building a culture of ownership and retaining talent. As private companies face continued market volatility in 2023, they may be considering whether to conduct a liquidity program for employees and other shareholders.
In a new live virtual broadcast, the experts from Morgan Stanley at Work will discuss the state of private markets and secondary liquidity; the mechanics of a liquidity programme; the process of preparing for an IPO in an uncertain market; and what the outlook holds in store for the future. The webinar, presented by Bizclik, will take place on Wednesday 15 March 2023 at 12pm New York (5pm London).
Register now: The path to liquidity – exploring strategies for private companies
About the speakers
Kevin Swan
Managing Director and Co-Head of Global Private Markets | Morgan Stanley at Work.
Kevin Swan is a Managing Director of Morgan Stanley at Work in Wealth Management. He is Co-Head of Global Private Markets for Morgan Stanley at Work, which delivers equity management, liquidity, and workplace solutions to private companies. He joined Morgan Stanley at Work through the acquisition of Solium Capital, where he served as the VP of Corporate Development.

Prior to joining Morgan Stanley at Work, Kevin held roles in product management and corporate development, was a Partner at venture capital firm Inovia Capital, and served as a board member at several venture backed technology startups. Kevin has a B.Sc. from the University of Alberta and a M.S. from Stanford University where he studied mechatronics and control systems.
Sam Adams
Executive Director, Private to Public Strategy | Morgan Stanley at Work
Sam Adams is currently an Executive Director at Morgan Stanley at Work, leading a specialised team focused on helping private companies transition their stock plans into the public market.
Prior to this role Sam lead the global equity team at DoorDash through building a best-in-class equity infrastructure to operate as a growing public company and a tremendously successful IPO in 2020. She also led MuleSoft's global equity team through an IPO in 2017 and subsequent acquisition by Salesforce in 2018. Additionally, she designed MuleSoft's Total Rewards and Mobility practices, including global compensation programs, ESPP, and employee benefit packages.