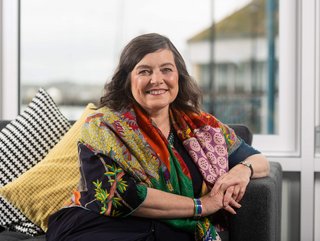 Anne Boden's headshot
Anne Boden's decision to step back from her role as CEO of Starling Bank will be keenly felt in banking circles, given the impact her leadership has had
Anne Boden is the highly regarded and vastly experienced CEO of the UK's Starling Bank. She founded the challenger in 2014 after a 30-year career at some of the world's best known financial institutions – including Allied Irish Banks, Royal Bank of Scotland, and ABN AMRO.
In a shock decision, she stepped back from the top role at Starling Bank at the end of June, replaced on an interim basis by the bank's former COO, John Mountain. Although she remains on the board, it brings a close to an impressive tenure that saw Starling grow from a fledgling disruptor to a mainstream fintech bank in full flight.
The move was designed to protect the bank from accusations of a conflict of interest, given Boden's role as both CEO and a major shareholder. "It is clear the roles and priorities of a CEO and a large shareholder ultimately differ and require distinct approaches," she said in clarification of the decision, further underlying how far the bank has come since its early days nearly a decade ago.
Reflecting on her reason to launch Starling Bank before she stepped down as CEO, Boden said: "I wanted to offer people a fairer, smarter and more human alternative to the banks of the past. We have achieved this by giving our customers world-class technology in the palm of their hand and 24/7 customer service, allowing them to feel supported wherever they are and whatever their financial needs."
An entrepreneurial spirit from a young age
A proud Welshwoman, Anne Boden was born in Swansea in 1960. Her father was a steelworker – a common occupation for the area at that time – while her mother applied her hand to several business ventures, including a car hire company and a builders' merchant. Clearly, the entrepreneurial spirit was passed on through the generations.
While still at school, Boden got her first taste of finance, entrusted with keeping the records of her school bank, which was set up to teach her classmates the value of money. Students would pay in a small amount of money on a regular basis and receive a lump sum at the end of the year, which they could spend on things that were important to them.
Boden went on to study Computer Science & Chemistry at Swansea University, graduating in 1981, before obtaining an MBA from Middlesex University in 1990. By that point, she had already held senior roles at Lloyds and Standard Chartered. Over the course of the next two-and-a-half decades, she built up an impressive résumé – first as Vice President of Corporate and Institutional Banking at Swiss bank UBS, then as Chief Information Officer at Aon.
Later came executive roles at ABN AMRO, RBS and Allied Irish Banks – where she spent 18 months as COO – before Boden left to found Starling at the beginning of 2014. Today, the digital-only fintech has three million account holders, thousands of employees and annual revenues at the last count in excess of £450m.
What will Starling Bank's Anne Boden do next?
As of yet, there is no official word about what Anne Boden will do next, now that she has left Starling Bank. The role of CEO is an all-consuming one – delivering on the objectives of the business, navigating the expectations of company directors and securing investment from outside backers. So it is possible Biden will seek some respite before accepting her next opportunity.
She has already furnished us with a few hints about her next pursuit, previously saying that she would like to be involved with "something entrepreneurial in the application of machine learning to fabric and fashion design".
We know that she will continue to be involved as a board director at Starling Bank. She also sits on the board of UK Finance; is chair of the government's women-led, high-growth enterprise taskforce; and regularly speaks at high-profile fintech events including Money20/20. Boden was recognised for her service to the industry with an MBE for services to fintech in the 2018 birthday honours list.