SME banking platform Qonto to acquire Germany's Penta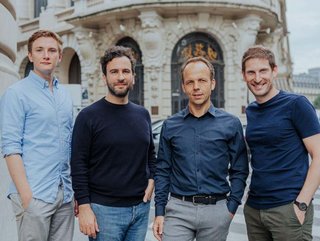 Qonto's Steve Anavi (2nd left) and Alexandre Prot (right) with Penta's Lukas Zörner (left) and Markus Pertlwieser (2nd right)
France's small business banking platform Qonto is to acquire Germany's Penta, as it presses ahead with plans to serve 1mn SME customers by 2025.
France's small business banking platform Qonto is to acquire German counterpart Penta as it pursues its ambition of onboarding 1mn European SMEs and freelancers by 2025.

Founded in 2017, Berlin-based Penta offers a suite of banking, budgeting and bookkeeping tools for small and medium-sized enterprises (SMEs) within Germany. The acquisition will bring 50,000 customers across from Penta, added to the 250,000 clients that Qonto currently has across France, Germany, Italy and Spain.
In a statement, Qonto says that "joining forces is a great opportunity for both Qonto and Penta, and the resulting union promises to be greater than the sum of its two parts". It adds that Penta will bring local market expertise, which will be useful in enabling Qonto's continued European expansion, while both companies share a similar mission and culture.
Striving to be the finance solution of choice for 1mn SMEs
"When Steve Anavi and I founded Qonto in 2016, we had the ambitious goal of simplifying everyday banking for SMEs and freelancers across Europe," explains Qonto CEO Alexandre Prot. "Today, we're already present in four European markets and, while I'm very proud of what we've achieved so far, we want to go even further. The natural next step was to join forces with Penta. We are thrilled to welcome the Penta team onboard. Together we're going to be the finance solution of choice for 1mn European SMEs and freelancers by 2025."
Markus Pertlwieser, CEO of Penta, adds: "[Penta's] Lukas Zörner and his co-founders have written a real fintech success story. With the combination of increasing customer numbers and rising revenues, we have gained even more substance in the past 18 months. We are very excited that we now have the chance to actively shape digital banking for business customers in Europe as a team with Qonto."
The two firms promise that further details of the merger will be announced in due course.
Deal builds on Qonto's impressive growth in Germany
Today's acquisition is the latest milestone for Paris-based Qonto. Since launching in 2017, it has set about building an all-in-one finance solution for SMEs and freelancers. The SME space has grown rapidly in the last couple of years, addressing demand for fintech solutions within a segment that has traditionally been overlooked. Just last month, fellow French fintech Hero secured €12mn for its B2B payments platform.
Qonto simplifies everything from everyday banking and financing to invoicing, bookkeeping and spend management. The tools that it offers to small business customers allow them to focus on their day-to-day operations. From the very beginning, founders Steve Anavi and Alexandre Prot have harboured the ambition to build a pan-European brand, which will now begin to be realised in the merger with Germany's Penta. The deal will still leave Qonto 700,000 customers short of its target – a gap it will need to bridge in just three years.
It will not be daunted by the size of the task ahead, though. Last year, Germany was Qonto's fastest growing market with 170% customer growth year-on-year. Qonto says that the acquisition of Penta will allow it to become the market leader in Germany, Europe's biggest SME banking market, and "further accelerate profitable growth" across all markets where it is active. The combined business will have 900 employees split mainly between France, Germany and Belgrade, Serbia.