B2B payments startup Hero secures €12mn in fresh funding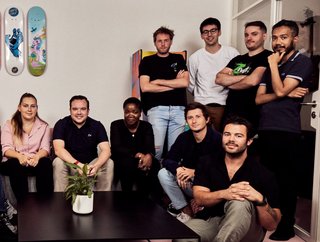 Hero was founded by Roland Jais-Nielsen (seated, bottom right)
French fintech startup Hero has secured €12mn in funding to scale its B2B payments platform for SMEs, barely seven months after the company was launched.
French fintech startup Hero has raised €12.4mn to scale its B2B payments solution, just seven months after starting out.

The round is being led by Paua Ventures, Embedded/Capital and Rapyd Ventures. Further investment comes from angel investors including Guillaume Princen of Stripe, Phillippe de Passorio of Adyen and Peter O'Higgins of Revolut.

Hero's full-stack payments solution is aimed towards SMEs, which it says remain underserved by incumbent banks. The fledgling startup is building a horizontally integrated payments platform that lets business customers handle both sides of a transaction, including procure-to-pay for clients and order-to-cash for suppliers. While invoice factoring is commonplace for large companies, Hero is bringing it to the masses.

The platform also features transparent underwriting to offer instant financing terms, resting on a proprietary data and risk engine; plus seamless integration with third-party software including ERPs and accounting tools.

'Hero stands out from others' in B2B payments space
The company was only founded late last year but has already assembled a team of 30 employees, drawn from the likes of Alma, Natixis and Dalenys. It was founded by Roland Jais-Nielsen, a self-confessed serial entrepreneur who brings prior experience in both fintech and B2B commerce.

Of today's announcement, Jais-Nielsen says: "Hero started out as an intermediary to B2B transactions, taking on the financial and credit risk of both counterparties and helping them optimise their cash flows. We quickly realised that lowering cost-to-transact for SMEs also implied better underwriting, centralising all sales channels and payment methods, third-party integration, and end-to-end automation. We built Hero around this holistic vision."

Georg Stockinger, Managing Partner of Paua Ventures, continues: "Hero stands out from others in the space because it makes payments in offline B2B commerce as seamless as an online B2C checkout experience while embedding credit into any transaction. A host of integrations into the most widely used B2B commerce sales, ERP and accounting tools helped with rapid adoption. This is why after only 7 months [since] inception, Hero managed to onboard over 200 merchants, power 10,000+ transactions and is growing at an astounding 30% month over month."

And Harsh Govil, Principal at Embedded/Capital, says: "We believe in Roland's vision and see Hero as well-positioned to support the chronically underserved SME segment with a holistic payment and credit solution that is built to seamlessly serve omnichannel commerce."