Financial Services (FinServ)
Shaping the industry: the Top 10 FinTech Leaders 2022
By Alex Clere and Joanna England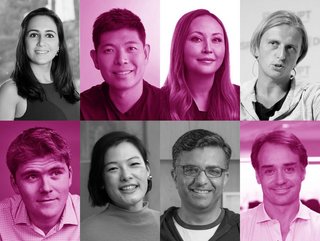 Our annual roundup of fintech's most influential leaders is back. Here's the top 10, but check out our FinTech Top 100 Leaders special for the full list.
Our annual roundup of the FinTech Top 100 Leaders is back, and it includes some of the most influential figures within the industry. They are the voices shaping the future direction of money, the thinkers changing perceptions of finance. You can read the full list here.

From financial inclusion to embedded finance, fintechs are continuing to steadily transform the financial landscape on a global scale. Our leaders of 2022 are those who have survived and thrived both boom and bust within a 24-month period. They have also exhibited outstanding resilience and they offer optimism for the year ahead too.

1. Cristina Junqueira

Co-Founder, Nubank

Financial innovator and fintech founder Cristina Junqueira is famous among the Latin American banking fraternity. Not only did she smash the glass ceiling in the fiercely male-orientated environment of the Brazilian financial industry, but her contributions have helped launch a new wave of digital banking and finance in the region.

Prior to the launch of Nubank, which was a collaborative effort between Junqueira and her two co-founders, David Vélez and Edward Wible, bank customers in Brazil had little choice but to fall in with the demands of the incumbent banks, all of which charged high fees for all services. Such exorbitant expenses drained precious resources from hard working families, and maintained, rather than aided, the financial inclusion gap.

A mother-of-two and qualified engineer, Junqueira helped launch Nubank in 2013 following several years of experience spent within Brazil's leading financial companies.
As a young post graduate, her first foray into finance was as an associate consultant at the Boston Consulting Group. During this time, she also completed her Master's degree in Economic and Financial Modelling – a course that was to set her on track for her spectacular banking career.

In 2007, Junqueira was selected for the One-Year Accelerated Programme at the Kellogg School of Management in the US. She joined Unibanco, which merged with Brazil's second-largest private bank, Itaú, in 2009 to create a financial giant. By 2012, she had risen to the position of portfolio manager for the Itaúcard.
The experience solidified her passion to make changes in the Brazilian banking world. Nubank now serves an estimated 45 million customers. It has been predicted to increase its valuation to $126bn by 2025.
2. Anthony Tan

Group CEO and Co-Founder, Grab

As the CEO and Co-Founder of Grab, Southeast Asia's most successful ride-hailing company and the region's first ever unicorn, Anthony Tan has enjoyed skyrocketing success in the world of fintech.

Headquartered in Singapore, Grab is classed as a multinational technology company. The basis of its innovation is the Grab super-app, which provides users with transportation, food delivery and digital payments services via a mobile app.
Born into one of Malaysia's wealthiest families, Tan's father is the CEO of Tan Chong Motor Holdings Bhd, which is also one of Malaysia's largest automobile distributors and Nissan's sole distributor in Malaysia.
His eureka moment came when a fellow HBS classmate complained to Tan about the inefficient state of the taxi industry in Malaysia. He then entered the HBSl New Venture Competition in 2011 with an idea that would reform the space. He was a runner up and used his prize of $25,000 to launch his mobile super-app, which was originally branded MyTeksi.

MyTeksi was rebranded as Grab and currently offers its services in eight countries, with offshoots into delivery services, software R&D and motorcycle taxis.
3. Emilie Choi

President and COO, Coinbase

An economics graduate from Johns Hopkins University, Emilie Choi holds an MBA from the Wharton School of the University of Pennsylvania. A dynamic and innovative business leader, she helped build the Coinbase exchange alongside the company's founder and CEO, Brian Armstrong. Choi is also a keen angel investor and has taken part in a number of seed, Series A and B funding rounds for several successful fintech startups.

Prior to Coinbase, Choi served as LinkedIn's Vice President of Corporate Development, overseeing more than 40 transactions at LinkedIn, including the acquisitions of Lynda, Bright, Newsle, Connectifier, Slideshare and Fliptop, as well as LinkedIn's JV in China and strategic investments in Cornerstone On Demand and G2 Crowd.

Her reputation as an advocate for founders through every step of the M&A process made her the perfect fit for Coinbase because she has an outstanding record of building strong relationships with founders, and in creating environments where entrepreneurs can continue to execute on their vision within larger companies.

Cryptocurrency aside, some of her primary business interests include consumer internet, SaaS, M&A, venture investments, corporate strategy, business operations, business development and data analytics. With an estimated personal net worth of $241.4mn, the sky is the limit for this dynamic COO.

Indeed, when Coinbase completed its 10th year in business, it elicited this positive tweet from Choi: "Coinbase is 10 years old. Some highs and lows, but I couldn't be more optimistic about what we're building. It's just the beginning."
In relation to the fluctuations in cryptocurrency, she says of the Coinbase exchange: "We have a trading model that generates a ton of revenue for us. We love that model and we're totally OK with the volatility of it."

4. Nik Storonsky

Founder and CEO, Revolut

Nik Storonsky has a story almost as colourful as his meteoric rise within the financial industry. Born in 1984 in a town just north of Moscow's city centre, he grew up in a Russia that was newly divorced from the Cold War and Communism and embracing Western style democracy and a free market economy.

Storonsky excelled academically, studying for a Master's degree in Physics at Moscow University, and also taking a second Master's in Economics at the New Economic School in Moscow. He is also a keen athlete and during his teenage years, he became a state champion swimmer, and took boxing lessons.
He started working as a financial trader for Lehman Brothers and then later for Credit Suisse. In 2015, he launched Revolut, which echoed the new digital neobank startups emerging within Asia.

The bank is now the most valuable fintech in the UK. In 2021, a Series E funding round led by Japan's SoftBank and Tiger Global Management raised $800mn and saw the then six-year-old fintech hit a jackpot valuation of $33bn.

5. John Collison

President and Co-Founder, Stripe

President and Co-Founder of the world's most successful ecommerce payments platform, John Collison is a leading figure in the financial industry. But this young and innovative founder started off small, and began his path to greatness in a rural village in Ireland, where he grew up. Along with his brother Patrick (CEO of Stripe) the duo began to investigate how they could fix the sluggish business of online transactions.

Their first platform was launched in 2010 when John was just 19 and it addressed the clunky payments challenges retailers faced when taking their businesses online. Despite the launch, Collison started at Harvard Business School to study physics, but dropped out the following year and headed to Silicon Valley to join Patrick, who was managing a swiftly scaling Stripe.

By 2013, following a successful beta launch in the US the previous year, Stripe raised $18mn from investors that included Sequoia Capital. It was also valued at $100mn. Stripe has since skyrocketed into the highest echelons of the financial services industry.

In 2021, the company was valued at $95bn. According to Forbes, John Collison has an estimated personal net worth of $9.5bn – and in 2016, he was also the world's youngest self-made billionaire.

6. Samantha Ku

COO, Square

One of fintech's leading female COOs, the climb to success hasn't always been easy for Samantha Ku. After graduating from the University of Miami as a 21-year old in the middle of an economic recession, she was deeply in debt and found the employment market unforgiving. Of that time, she recalls it was "a perfect storm of emotion to end the greatest college experience anyone could have". But despite a period of turmoil that came after attending 50 job interviews without any apparent success, Citibank offered Ku her first position in the financial industry with a job in New York in 2010.

She later joined Square in 2015 as Head of Operations and has risen through the ranks to her current position of COO.

As the Head of Operations for Square Capital, Ku also built and led several teams foundational to the Square Capital programme product suite and expanded the team to 100+ employees across San Francisco, New York, Las Vegas, and Melbourne, Australia.

7. TS Anil

Global CEO, Monzo Bank

With 27 years' experience within the banking and financial industry, TS Anil is a banking heavyweight. He is also a highly respected financial services and payments leader and the global CEO of Monzo, one of the world's fastest growing challenger banks.

He grew up in India, and enjoyed what he describes as an idyllic childhood with his social worker mother and military father, which took him across the continent as the family moved from one military base to another.

He originally considered becoming a doctor, but almost fell into finance when when he was offered a job with Citi following his graduation in economics from Shri Ram College of Commerce in 1991. He later went on to obtain an MBA from the Indian Institute of Management, Ahmedabad in 1993.

A passionate advocate of financial inclusion and one of the first people of colour to run a UK bank, he intends to disrupt the industry as much as possible with an array of new product launches on the horizon.
8. Sergio Furio

Founder and CEO, Creditas

As the Founder and CEO of Creditas, Brazil's leading online lending platform, Sergio Furio heads up one of the highest-funded fintech companies in Latin America.

The high-octane hustle and bustle of global finance is a far cry from his humble roots – a small village in Valencia, Spain. Furio's family moved to the cosmopolitan city of Barcelona, where he completed his education and discovered a love of finance and commerce.

He says: "I was totally into numbers and very analytical. I made a radical move in the last couple of months of my university and decided to apply for banking, and joined Deutsche Bank in Spain's investment banking team over in large corporates and spent five years there."

Today, Creditas has received over $80mn in funding from VCs and has a 480-strong staff. The company uses customers' assets as collateral in a process that has reinvented Brazil's traditionally costly lending processes.

9. Brad Garlinghouse

CEO, Ripple

The CEO of Ripple Labs, Brad Garlinghouse is a veteran of the tech industry and has led some of the largest companies in the space during his high-flying career.

He started out initially with stints at Home Network – a high-speed cable internet provider – and as a GP at the VC firm @Ventures. He also served as Senior Vice President at Yahoo! from 2003 to 2008. Garlinghouse ran the Homepage, Flickr, Yahoo! Mail, and Yahoo! Messenger divisions.

During his time at Yahoo!, Garlinghouse also wrote the industry famous internal memo known as the 'Peanut Butter Manifesto'. In it, he called for the company to focus on its core business, rather than spreading itself too thin – like peanut butter.

His current position at Ripple Labs began in 2016. By 2019, he had taken the company to new heights including a $200mn Series C funding round which included investors such as Tetragon, SBI Ventures and Route 66 Ventures.

A firm supporter of the NFT marketplace, Garlinghouse says the non-fungible token sector will improve if it does not have to rely on the gas fees of Ethereum.
10. Sebastian Siemiatkowski

Co-Founder and CEO, Klarna

Those who know Sebastian Siemiatkowski recognise him as a survivor. He is also no stranger to hardship, despite the fact that he hit billionaire status by the age of 40.

Born in Sweden in 1981 and the son of Polish immigrants, his parents were academics who had fled the USSR communist regime for Sweden just 12 months earlier in 1980. The early years were beset with heartache. Money was tight and his mother also suffered from debilitating back problems. Siemiatkowski's father drove a taxi to make ends meet.

But despite these hardships, Siemiatkowski proved himself to be a talented student. After high school, he enrolled at the Stockholm School of Economics.
Inspired by fintech, he joined forces with the company's other co-founders, Niklas Adalberth and Victor Jacobsson, to initially launch Klarna in 2005.

Today, he is an angel investor and entrepreneur as well as one of the most respected figures in fintech.