Papara hits unicorn status amid deal for neobank Rebellion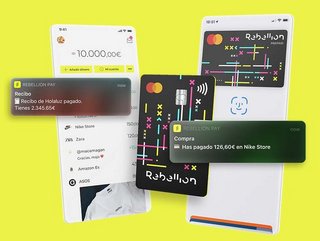 Rebellion offers a lot of the similar kinds of services to Papara, making it a strong fit.
Turkish neobank Papara has acquired Spain's Rebellion, signalling an expansion outside of its home market and giving it unicorn status for the first time
Turkish neobank Papara has announced today that it's acquiring Spanish counterpart Rebellion, becoming a fintech unicorn in the process.

The deal for Madrid-based neobank Rebellion – Papara's first ever acquisition – gives the company a combined valuation of over US$1bn, meaning Papara achieved the coveted unicorn status for the first time. It's a remarkable feat for the business, which has bootstrapped its way to the billion-dollar valuation with no external investment, having been profitable since 2017.
It's part of the neobank's European expansion plans and comes on the back of impressive growth for Papara in the last 12 months: the Turkish fintech has grown its user base by more than 25% and reached over 16m users.

The neobank now wants to create a presence outside of its home market for the first time, starting with Spain, where Rebellion will be rebranded as 'Papara Spain'. "We are confident that our products, services and vision can compete on a global scale, and Spain serves as our first milestone in this exciting adventure," Papara says in a statement.
Who is the Spanish neobank Rebellion?
Papara's proposed European expansion begins with a deal for Spanish neobank Rebellion. One of the country's best-rated financial apps, it offers many of the same products and services as Papara. These include money transfer, prepaid cards and cashback. The fintech was founded by Sergio Cerro and Alex Sagrado in 2017, and had received investment totalling €15m before the announcement of its sale to Papara.

Talking about the rationale for the move, Papara claimed that acquiring Rebellion would give it "a strong foothold in the fast-growing Spanish banking market", which it said was characterised by impressive digital and technological innovation.
According to research from SEON, Spain has the second highest neobank usage in Europe, with 17% of the population holding an account with a challenger bank. This is bettered only by Ireland, where 22% of people have a neobank, as well as six other non-European countries including Singapore, India and Brazil.

This means that Papara is buying into a captive market of 8m existing neobank users – including 250,000 who are using Rebellion, the company says – as well as nearly 40m Spanish people who are not yet using neobanks.
It is possible Papara could also be eyeing the Portuguese market; almost 1.5m people in Portugal already use neobanks, making it Europe's fourth largest market, and the country is one of the fastest growing on the continent in terms of neobank adoption. According to SEON's research, almost a third of Portuguese people will have a neobank account by 2027.
A deal for Spain's Rebellion would be seen as an ideal first step for unlocking the whole of the Iberian peninsula. Other strong markets for neobank penetration, which would presumably factor into Papara's future expansion plans, include Germany and the UK.
What did they say about Papara Rebellion deal?
Rebellion's current employees will join Papara's team, reporting into CEO Emre Kenci.
Speaking about the deal for Rebellion, Papara Founder and Chairman Ahmed Karslı says: "Papara was founded on the principle of financial inclusion for all, and this deal will allow us to ensure that is reality for even more people. 2023 is the year in which we are beginning to execute our ambitious international growth strategy, and we are confident that Rebellion is the perfect foundation upon which to expand our global reach.

"The business and team stood out to us for a number of reasons – primarily its unrivalled local market knowledge, best-in-class products and, most importantly, alignment of goals to our own. We look forward to working with their talented team and building on Rebellion's local market success."
Rebellion co-founder Sergio Cerro adds: "This acquisition presents an exceptional opportunity to propel a project that aligns seamlessly with the Spanish neobanking market. Given the absence of a dominant player in the Spanish sector, and considering the prevailing economic landscape, I strongly believe that Papara is the ideal partner to synergistically blend resources, business vision, and ambition."