Klarna rolls out new price comparison tool in Europe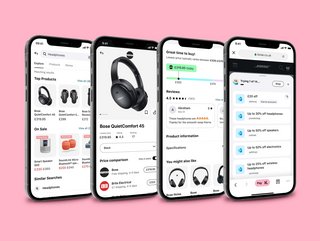 Klarna is launching an in-app price comparison tool in three European markets, as it attempts to pivot into "a single shopping destination" for consumers
Buy-now-pay-later (BNPL) frontrunner Klarna is launching a new in-app price comparison tool in the UK, Sweden and Denmark, having already rolled out the feature in the US.
The tool allows shoppers to compare prices across thousands of retailers and filter options by colour, size, features, customer rating, store availability and shipping options. It builds on last year's acquisition of price comparison service PriceRunner – Klarna's largest acquisition to date – and will provide a credible alternative to the limited price comparison tools available online, such as Amazon and Google, particularly for popular Klarna categories like fashion and electronics.
It will also provide an additional revenue stream for Klarna after a bumpy few months, and its launch could not be timelier. It will be available to use in time for Black Friday, when consumer research suggests that up to 85% of shoppers will use price comparison tools to find the best price.

Klarna aspiring to be 'a single shopping destination'
Sebastian Siemiatkowski, Co-Founder and CEO of Klarna, says: "You could spend the whole day comparing offers at conventional search engines or marketplaces, but you'll always have doubts – have I really found the best product at the best price? Klarna's new search and compare tool does the hard work for consumers and compares thousands of websites in real time to ensure they have all the information they need to make informed and confident purchase decisions.
"For Klarna, today's launch is a major milestone in our evolution from a payment network to a single shopping destination that covers everything from inspiring product discovery through to delivery tracking, digital receipts and seamless returns."
As well as helping consumers to find the best price, the launch will be seen as a conscious effort by the Swedish fintech to get more consumers into the Klarna app, rather than just using BNPL at checkout. In turn, the rationale is obviously to incentivise consumers to buy – including by taking advantage of Klarna's interest-free monthly instalments. The firm says the launch builds on an "already strong affiliate marketing business" which creates an estimated 600mn leads a year for Klarna's retail partners.