Financial Services (FinServ)
Kenyan embedded finance fintech Pezesha raises US$11mn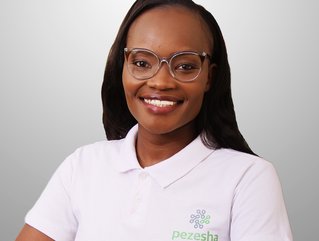 Pezesha's Founder-CEO, Hilda Moraa, previously started and exited Kenyan fintech WezaTele.
Kenya's embedded finance fintech Pezesha has raised US$11mn in funding, led by the second gender-lens investment fund from nonprofit Women's World Banking.
African embedded finance fintech Pezesha has raised US$11mn in a pre-Series A funding round led by Women's World Banking Capital Partners.
The Kenyan-based startup will use the capital to scale operations in its core markets in East Africa and grow into new geographies within sub-Saharan Africa. Pezesha's digital lending infrastructure focuses on providing affordable working capital to SMEs, who may feel excluded from traditional lending channels. It is such a massive problem that SMEs face a funding gap of more than US$300bn, Pezesha says.
The fintech bridges this gap by offering productive credit to tech-enabled platforms such as Twiga Foods, Jumia and Marketforce. In the last two years, Pezesha has grown the value of its disbursements by over 2,000% after giving more than 100,000 loans to MSMEs in Kenya, Uganda and Ghana.
The involvement of US nonprofit Women's World Banking is testament to the fact that Pezesha is female-founded and female-led. It was launched in 2017 by Hilda Moraa, who already exited her first fintech startup in 2015 in the form of WezaTele. One of Pezesha's focuses lies in improving access to funding and raising financial literacy among female-founded SMEs.

Investment 'cements inclusivity' in Pezesha's growth plans
"We are excited about attracting institutional investors led by the Women's World Banking Capital Partners [Fund] II to harness our growth plans and push our mission to the next level," Moraa says. "We are equally excited that WWBCP II intentionally invests in women, which allows us to cement inclusivity in our growth plans as a sustainable path towards our vision of building Africa's MSME lending infrastructure.
"Additionally, this round has brought together strategic investors who underpin the fundamentals of financial inclusion in their thesis and we believe these combined experiences will help us accelerate and enable millions of MSMEs across African value chains to access affordable working capital."
"We're excited to join Pezesha's journey," adds CJ Juhasz, Chief Investment Officer for Women's World Banking Asset Management. "Pezesha is dedicated to solving Africa's working capital problem through its robust lending infrastructure and this investment will allow them to deepen the range of financial products offering especially to women-owned MSMEs. We look forward to teaming up with Pezesha as it drives financial inclusion in Africa and continues to increase the number of women served in its business ecosystem."
The latest step up for Kenya's emerging fintech scene
Pezesha's funding round is the latest vote of confidence in Africa's burgeoning fintech economy. Over the past couple of years, a number of promising fintechs have emerged, attempting to break down the traditional financial barriers that African businesses and consumers face. Kenya, and its bustling capital Nairobi, are among the continent's biggest fintech hotspots.
Also this week, cross-border payments fintech Grey has raised US$2mn in funding to grow its business in Africa. The outfit, founded by Idee Obong and Femi Aghedo, previously expanded into Kenya through a partnership with Cellulant earlier this year, having already set up shop in Nigeria.
"The ability to embed financial services to traditional workflows or processes through tech and automation is estimated to be [worth] US$248bn by 2032," Hilda Moraa continues. "The foundation that Pezesha has built so far is anchored for the future with a talented team at the helm of it.