Financial Services (FinServ)
Income verification fintech Truework closes US$50mn Series C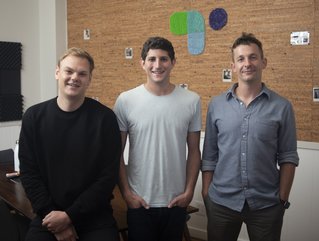 Truework co-founders (from l-r) Ethan Winchell, Ryan Sandler and Victor Kabdebon.
US-based fintech Truework, which provides income and employment verification to banks and lenders, has more than doubled its total funding raised.
Truework, a San Francisco-based fintech that provides income and employment verification to banks and lenders, has raised US$50mn in funding in its Series C.
The fintech's Co-founder and CEO, Ryan Sandler, says the latest funding would be used to "continue our efforts to help customers grow their businesses through instant, accessible and accurate consumer data".
Truework is on course to provide more than 20,000 small businesses and 100 enterprises access to income and employment verifications for more than 12 million credit applications. It claims its verification platform uses "a waterfall approach" to provide lenders with multiple methods of verification. The result is a process that reduces application friction, maximises coverage and expedites applications, Truework says.
Its Series C round more than doubles the total amount raised to date, bringing Truework's all-time funding to nearly US$95mn following a Series B round in 2020. The Series C round was led by venture capital fund G Squared with participation from returning investors Sequoia Capital, Activant Capital and Khosla Ventures. Investors new to this round include Indeed, Human Capital and Four Rivers Group.
'Lenders are seeing the value that Truework brings'
"A lot has happened in the world since we announced our previous fundraising round in the spring of 2020," Truework Co-founder and CEO Ryan Sandler says. "Since then, our team has shown incredible resolve and an unstoppable commitment to helping our customers throughout the peaks and valleys that have defined the last two years.
"The rising demand in 2020's housing market within the mortgage space meant businesses needed more flexible solutions that could scale quickly and help improve verification efficiency. While 2022 has seen some slowdowns to the pace of demand, the need for automated income and employment verifications is ever increasing. For consumer lenders, increasing competition paired with market uncertainty has driven demand for more robust and accurate data sets to build more resilient underwriting models.
"More lenders are seeing the value Truework brings in reducing costs, automating the process, and converting more borrowers to stand out amongst their peers. This has translated into our expansion into consumer lending this year, earning customers like Carvana, Octane, and Figure. This also resulted in the dramatic growth in the home loan segment. Since Truework's previous funding round, our customers now include 20 of the top 25 mortgage lenders, like Fairway Independent Mortgage, Caliber Home Loans, Guaranteed Rate, Citizens Bank, and LoanDepot."