Financial Services (FinServ)
Has the 'gamification' of investing apps gone too far?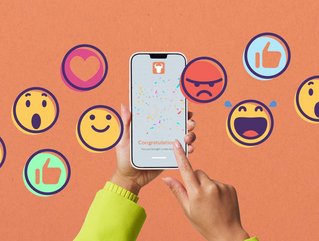 There will always be a fine line between what's engaging and what's irresponsible.
In order to attract new customers into the fold, investing apps are trying to make their platforms engaging – but has this led to a problematic culture?
Over the last decade, investing has undergone a transformation. Once the preserve of the rich and well-connected, stocks and shares – and now cryptocurrencies too – have become much more accessible, thanks in large part to a new breed of investing apps like eToro, Webull and Robinhood.
They have certainly made investing easier, with slick user design and intuitive flows, but have they distracted ordinary consumers from the inherent risk involved in investing? Myriad are the warnings about retail losses and the fact that your capital is at risk, but does the increasing 'gamification' of investment apps – the concept that these advances in user design have contributed to a game-like look and feel – pose a present danger?
In the UK, the Financial Conduct Authority (FCA) is clearly concerned about the extent of gamification within investing apps. Last week, the FCA warned operators to review the features of their apps to ensure that game-like elements do not lead consumers to invest above and beyond their risk appetite. The regulator said it was concerned about features such as in-app points tallies, leaderboards, reward badges, congratulatory messages, frequent push notifications and high default amounts for investing decisions.
The FCA surveyed 3,000 consumers across a sample of five different investing apps, and found that some displayed patterns of behaviour consistent with problem gambling. In three of the five apps studied, between a fifth and a quarter of consumers were demonstrating 'at-risk' behaviours. What's more, the FCA's Financial Lives Survey 2022 found that 9% of adults with investments had borrowed money in order to fulfil the investment – and 49% of these would not have been able to make the investment without doing so.
Some investing apps 'contribute to problem behaviour'
Sarah Pritchard, Executive Director of Markets at the FCA, says: "Some product design features could be contributing to problematic, even gambling-like, investor behaviour. We expect all firms that offer stock trading to consumers to review and, where appropriate, make improvements to their products based on these findings. They should also ensure they are providing support to their customers, particularly those in vulnerable circumstances or those showing signs of problem gambling behaviour."
The FCA is continuing to research consumer behaviour and the use of in-app features to understand the extent of problem investing. It has warned operators to review the design of their apps and act where it observes vulnerable customers.
Sivananth Ramachandran, Director of Capital Markets Policy at the CFA Institute, says: "There are ethical and investor protection concerns about gamification. Gamification can be a powerful tool for increasing financial literacy and attracting new and younger audiences to investing. However, the techniques that are so adept at increasing user engagement are often leveraged to drive excessive or high-risk trading, or to encourage other harmful behaviours at the expense of investors." Ramachandran encourages investing platforms to focus on three tenets – principles, conduct, and disclosures – to help ensure that users do not become a victim of their app.
The rise of cryptocurrency exacerbating the problem
The issue of gamification has become more prominent in parallel with the rise of digital currencies and NFTs. Crypto exchanges have understandably focused on simple user interfaces and intuitive purchase flows, sometimes at the expense of consumer safeguarding. Within the crypto space specifically, it has contributed to a culture of buy-now-learn-later, with a significant knowledge gap existing among those who had already made the leap.
According to a 2021 survey by Cardify, one-third of consumers who hold digital currencies admitted to knowing nothing or very little about what they had invested in. A survey yesterday suggested that crypto literacy among US consumers is slowly improving – but with more than 90% of crypto owners failing to make the grade on crypto literacy, there is clearly still a long way to go.
Glen Callow, Managing Director at Prime Wealth, believes the dangers stemming from gamification have emerged from a widening 'financial advice gap': "As the advice gap came into play, the rise of digital has led to the 'gamification' of the investment management experience. This has seen the rise in investments in some of the highest-risk assets such as cryptocurrencies and NFTs, rather than more stable and diversified solutions that a licensed financial planner would advocate. Personally, we see this type of trading as more akin to gambling than investing and has led to people making losses with money they can ill afford to lose."
Callow says the problem has been exacerbated by a 'get rich quick' mentality that has prompted consumers to chase losses and develop unrealistic aspirations for their portfolios – sometimes without the investing know-how to back it up. He expects to see a return to regulated financial advice, enabled by mobile-first technologies, over the next decade.
Mobile apps push us to invest more frequently
Simon Jones, CEO of Investing Reviews, says that having stocks and shares at our fingertips is an inherently dangerous temptation: "Many of these platforms, especially the mobile apps, are using techniques lifted straight from the beat-'em-up video game playbook to get amateur investors hooked on trading – like the now-banned confetti animation used by Robinhood in the past.
"Trading on a mobile app means users are likely to repeatedly check their investment many times a day, pushing them to buy and sell more frequently. Many complicated financial products are available on these platforms, and a mobile interface can simplify them to the point where trading becomes guesswork.
"There's nothing wrong with making investing more accessible to all, but remember this isn't Candy Crush and [that] you're playing with real money. The consequences of an investment made when you're tired or distracted could be serious."
As the economy continues to slump, calls for investing apps to become more responsible are likely to amplify. In the coming months, many consumers may turn to investing platforms as a way of offsetting the rising cost of living. That could explain the timing of the FCA's latest intervention and explain why it's looking into gamification now. Operators should be on their guard, too, as voluntary actions is almost always the only option to stave off more stringent regulation later on.