Fraud prevention fintech Sardine raises over US$50mn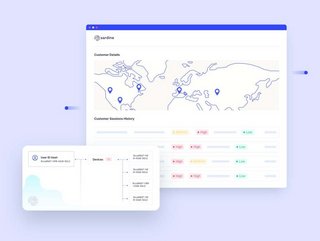 Sardine is building tools that make high-velocity money movements safer.
San Francisco-based Sardine has raised more than US$50mn, led by Andreessen Horowitz, to clamp down on financial fraud within digital payments and crypto.
Fraud prevention and compliance fintech Sardine has raised US$51.5mn in a Series B funding round led by Andreessen Horowitz's (a16z) Growth Fund.
Sardine's real-time fraud prevention products help customers reduce fraud within high-velocity money movement like banks and cards, digital wallets, and crypto. The platform leads to fewer false positives, which results in faster user growth and higher authorisation rates, the San Francisco-based company says.
Sardine combines traditional financial data sets – like bank account history – with identity, behaviour and device intelligence to significantly enhance customers' risk capabilities. It also offers KYC, AML, sanctions and transaction monitoring to reduce fraud across various stages of the customer's account lifecycle. It has been named one of the fastest growing startups in the US with over 135 different customers, and Sardine is actively hiring for roles across engineering, product development, sales and operations.
Fraud is a pressing issue facing fintechs, with research suggesting that payment fraud increased by as much as 70% in 2021. As well as a16z, Sardine's latest round include new and returning investors like XYZ, Sound Ventures, Activant Capital, Google Ventures and ING Ventures. It has also received investment from former Google boss Eric Schmidt, and ex-CEO of Citigroup Vikram Pandit.
'Faster payments leads to faster fraud'
"Faster payments means faster fraud," says Sardine CEO Soups Ranjan. "As Zelle, RTP and FedNow become increasingly popular, consumers are increasingly vulnerable to social engineering attacks where they are convinced to buy something that never arrives or invest in a scam. Secondly, financial Institutions only know that their customers bought ETH or USDC, not what they do with it afterwards. What is needed is a new way of looking at fraud prevention, one which deeply inspects user behaviour at the time of purchase and combines it with what happens to the funds downstream. That's exactly what we built at Sardine."
Alex Immerman, Partner at the a16z Growth Fund, concurs: "We believe Sardine is a key payments infrastructure provider across traditional and decentralised finance, and we're proud to continue to support this team on their next stage of growth. Sardine's fraud-fighting technology helps move money fast and without risk, and their rapid growth is a testament to the criticality and strength of their offering."
Maaria Bajwa, Principal at Sound Ventures, pinpoints crypto as the single biggest area of application where Sardine will be useful: "It's shocking that crypto grew to over US$3tn of market cap last year with such a terrible user experience. Solving onboarding is the biggest unlock the crypto industry has for continued adoption. It needs to be simple, trusted, and safe for both merchants and consumers. This means making it very easy to move money from fiat to cryptocurrency, and to use that cryptocurrency across applications. Sardine has deep expertise in both fraud and KYC to streamline this entire process."
Sardine offers an instant ACH and card on-ramp to crypto, enabling its fintech and crypto customers to instantly purchase over 30 different crypto assets or NFTs. Sardine recently launched a direct fiat-to-NFT checkout product, partnering with Autograph for their Tom Brady Signature Experience NFT launch.
"We are excited to offer instant ACH settlement, once thought to be impossible because the fraud risk was too high," says Aditya Goel, Co-Founder of Sardine. "Not only does Sardine take on 100% of all the fraud, compliance, and liability associated with instant money movement, but we also offer higher limits than would be available via card payments. We want people to move money online confidently, and this product is critical for payment companies who want to offer a great user experience."