Financial Services (FinServ)
FinTech Magazine's Top 10 UK fintech CEOs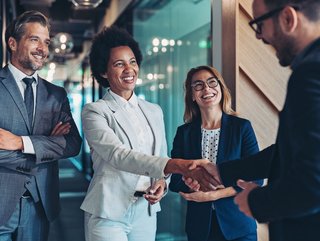 FinTech Magazine's Top 10 UK fintech CEOs
We run through our Top 10 CEOs of fintechs based in the UK, from Revolut to Thought Machine and Atom to OakNorth. Read on to find out our Top 10 UK CEOs
Leading a fintech in any market requires an entrepreneurial spirit. No more so than in the hyper-competitive UK, which has a thriving fintech market – one of the biggest on the globe. Read on the find out who has the top spot at the UK's biggest fintech companies.

Paul Taylor founded Thought Machine in 2014 to bring modern software technology to banking. With a PhD in Linguistics from the University of Edinburgh, Taylor served as CTO for Rhetorical Systems between 2000 and 2004. This was a company he co-founded, which was a leading text-to-speech system at the time. Going on to found Phonetic Arts in 2006 after time at the University of Cambridge, Taylor's goal was to bring speech technology to the computer games industry. Phonetic Arts helped revolutionise gaming by building dynamic speech output capability into game consoles, allowing the speech output to genuinely reflect what is happening in the game. The success of Phonetic Arts took Taylor to Google in 2010, where he became a Manager and Technical Lead before Co-founding Thought Machine in 2014. Thought Machine's proprietary Vault platform offers cloud-native core banking and payments technology intended to run the world's banks. With ambitious goals, Thought Machine is in a period of rapid growth.
Daniel Klein has been CEO and of SME payments solution, SumUp, since its founding in 2012. Coming from a background in venture capital, Klein was CEO of Pure Ventures from 2005 to 2011. As CEO of SumUp, Klein has helped the business achieve significant growth. Today, SumUp is a financial partner for over four million SMEs in over 35 markets worldwide – it is not tied exclusively to the UK. In 2022, SumUp secured new funding to mark its 10-year anniversary, funding it generated at a valuation of US$8.5bn.
Mark Lenhard is the CEO of Zepz, owner of money transfer brands WorldRemit and Sendwave. The company has received significant funding in recent years, namely US$292m in Series E investment in 2021. Today, Lenhard says Zepz is looking to invest in mergers and acquisitions as the company hopes to consolidate its growth. Although Zepz was founded in 2010 (as WorldRemit), Lenhard has only been group CEO since 2022. Before taking up the Zepz hot seat, Lenhard was CEO at both WorldRemit and Sendwave respectively. He has worked at a series of other financial companies and technology organisations throughout the years, namely PayPal, JP Morgan Chase, Adobe and Bill.com.
Jaidev Janardana is the CEO of Zopa Bank, a neobank offering personal loans, credit cards, saving accounts and money management tools. After graduating with a Master's in Business Administration from the Indian Institute of Management, Bangalore, Janardana joined Capital One as a Senior Business Analyst in October 2002. Spending 12 years at the bank, Janardan held further roles as a Director before becoming Chief Credit Officer in 2008. Rising further through the ranks, Janardana became Head of Risk Operations in 2009 and Head of Customer Acquisition and Business Development for Capital One's UK division in 2011. Finishing as Chief Marketing Officer in 2014, Janardana joined Zopa as Chief Operating Officer in 2014, before taking the role of CEO in 2015, a role he still holds to this day.
Mark Mullen founded Atom Bank in 2023, basing it out of Durham in the UK. Mullen has extensive experience across the financial services industry. Getting an MA in Business Administration from the University of Warwick in 2001, Mullen hasn't looked back since. He joined HSBC Bank in 200, rising to the position of Head of Marketing Communications b 2003 – a role he held for three years. He then took up the same role at insurer First Direct (wholly owned by HSBC), which he held for two years, before moving back to HSBC as its Regional Head of Marketing for the Middle East and North Africa. Becoming Chief Executive of First Direct and Head of UK Contact Centres for HSBC in 2011, Mullen held the role for three years before founding Atom in 2014.
Rishi Koshla is the Co-founder and CEO of fintech OakNorth – a company dedicated to helping SMEs scale in the UK. The entrepreneur established his first business in 2002, Copal Partners (which later became Copal Amba), alongside business partner Joel Perlman. The pair then launched OakNorth Bank in 2015, to empower high-growth startups struggling to access finance – an area OakNorth calls 'the missing middle', which it aims to fill. The fintech developed an ON Intelligence solution for SMEs, which has helped transform banking for SMEs, with a granular outlook focused on data-driven and forward-looking outlooks and goals.
Starling Bank was founded by Anne Boden in 2014, who served as its CEO until earlier in 2023 when she stepped back to assume the primary position as majority shareholder, handing over day-to-day control to John Mountain on an interim basis. Mountain joined Starling Bank as a Solutions Architect in 2015, before quickly being promoted to Chief Information Officer just over a year later, a role he held for almost six years. He then became Chief Operating Officer in 2022, before taking over from Boden as Interim CEO in June 2023.
Founding Monzo in 2015, the neobank's first CEO Tom Blomfield, stepped down in 2020 to take up the role of President. Since then, TS Anil has been CEO, stepping up from his role as US CEO. Anil has over 25 years of experience in the financial sector, beginning his career at Citi India where he spent almost 7 years, before joining Capital One in 1999, first as a Senior Business Manager for cards in Canada, before becoming Director of US cards in 2002. He then moved back to Citi Group in 2005, as Regional Head of APAC for Cards Products and Marketing. He then worked for Standard Chartered in Singapore, where he became Global Head of Retail Products in 2014. He then joined Visa, becoming Global Head of Payment Products and Platforms in 2018, before joining Monzo as US CEO in 2020. Now Global CEO, Anil represents a capable set of hands to take the operating reigns from Blomfield.
Nikolay Storonsky heads up the UK's most valuable neobank, Revolut. Born just north of Moscow, Storonsky's father was a senior manager for Gazprom. With his scientific background, Stornonsky was able to excel academically, and he moved to London in 2004 in search of new opportunities. Working for Credit Suisse, Storonksy soon left to launch Revolut in 2015. While the early days were slightly tumultuous, with long working hours an issue for employees, Storonsky addressed this by launching an equity participation plan for its 2,200 employees. Today, Storonsky is seen as a mentor and advocate for fintech, which means he's now a regular speaker for the cause. Revolut has generated significant funding and was valued at US$33bn in 2022.
Guillaume Pousaz is CEO and Founder of Checkout.com, and our Top fintech CEO whose company operates in the UK. Founding Checkout.com in 2012, Pousaz has worked with many companies over the past decade to provide them with solutions for complex payment problems. Based in Dubai, Pousaz has come a long way from his native Switzerland and has a net worth of US$7.2bn as of April 2023 according to Forbes. In 2006, Pousaz began working for the finance company IPC. Inspired by the online payments space, Pousaz launched NetMerchant in 2007, before buying SMS Pay. Finding his groove, the issue for Pousaz's first two startups was payment processing on a global scale for retailers and consumers. He solved the issue by launching his third startup, Checkout.com, in 2012. The ease of use and frictionless experience the fintech offered its customers made it an instant hit with online retailers. By 2019, Checkout.com was one of the world's most successful fintech stories.
******
For more insights from FinTech Magazine, you can see our latest edition of FinTech Magazine here, or you can follow us on LinkedIn and Twitter.
You may also be interested in our sister site, InsurTech Digital, which you can also follow on LinkedIn and Twitter.
Please also take a look at our upcoming virtual event, FinTech LIVE London, coming on 8-9 November 2023.
******
BizClik is a global provider of B2B digital media platforms that provides executive communities for CEOs, CFOs, CMOs, Sustainability Leaders, Procurement & Supply Chain Leaders, Technology & AI Leaders, Cyber Leaders, FinTech & InsurTech Leaders as well as covering industries such as Manufacturing, Mining, Energy, EV, Construction, Healthcare, and Food & Drink.
BizClik – based in London, Dubai, and New York – offers services such as Content Creation, Advertising & Sponsorship Solutions, Webinars & Events.