Financial Services (FinServ)
Embedded finance innovator Railsbank changes name to Railsr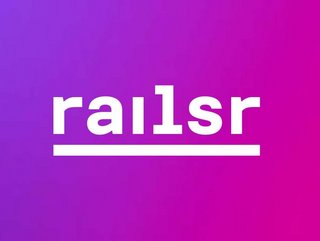 Railsbank, the fintech that lets brands embed financial experiences into their existing customer journey, has revealed new branding and a new name – Railsr
Railsbank, the fintech that allows brands to embed financial experiences into any part of their existing customer journey, has announced a change of name.
The company will become Railsr, as it seeks to "set the pace of the embedded finance space". The rebrand was announced for the first time at Money 20/20 in Amsterdam.

Railsr CEO Nigel Verdon explains: "In our fast-moving world of amazing customer experiences, the finance industry has failed to evolve. We're 'experience natives' thinking differently to deliver positive disruption.

"As the world's leading embedded finance experiences platform, running on Railsr helps brands put customers at the heart of their business by leveraging finance as a core engagement tool that drives revenue and deepens relationships. We've changed our name to Railsr, and we're making finance a phenomenal experience.
"The world has reached an inflection point. A time of radical digital transformation. Running on Railsr helps our customers drive relationships, revenue, rewards and relevance with their customers. We're here for every step of their embedded finance experience journey from prototyping through to launching and, ultimately, scaling globally."

CEO Nigel Verdon revealed the new brand at Money20/20 this week.
A market with US$7tn potential
The latest iteration of the brand, which removes the word 'bank' from their name, signals an intent to reach out and broaden their appeal outside of finance. Though Railsr will start work with fintechs to launch and scale, it sees a particular opportunity in the worlds of sport and retail. With this in mind, it has appointed former England rugby player Will Carling and ex-Formula 1 board advisor John Hall to help it build expertise in their respective fields.
The firm pointed to the "convergence" of market trends as one reason for the change. Railsr cited accelerating digital transformation, growing consumer demand for experiences, and the ongoing evolution beyond Banking-as-a-Service to deeper embedded finance experiences.
It expects the market is worth around US$800bn globally – but recent valuations of the potential embedded finance economy, which includes embedded insurance, lending and payments, have predicted it will be worth over US$7tn by 2030.
The demand is there from consumers: according to research from Railsr, almost 40% of consumers are interested in accessing financial services like credit, loans or investments from brands they know and trust. This rises to more than 50% of consumers aged between 18 and 24. At the same time, 41% would be interested in a credit card that offered early access to tickets, exclusive offers, or other high-value rewards from their favourite high-street brands.