Credit card challenger Yonder raises £62mn in Series A round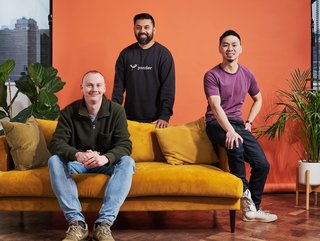 Yonder founders (from l-r) Harry Jell, Theso Jivajirajah and Tim Chong.
UK-based credit card challenger Yonder has raised £62.5mn to grow its rewards-based concept, which moves away from traditional credit scores
Challenger credit card company Yonder has secured more than £60mn in Series A funding to help scale its operations and transform consumers' relationship with credit.
The timing of the fundraise could not have been better, with consumers in the UK struggling with a cost-of-living crisis driven by rising inflation and stagnant wages. Yonder's Series A round consists of £12.5mn in equity funding and £50mn in additional debt financing. The round is being co-led by Northzone and RTP Global, alongside angel investors – including the founders of restaurant chain Crust Bros, Indian fintech app Cred and payment processing solution GoCardless, as well as former Manchester United footballer Rio Ferdinand.
Yonder is one of the latest solutions attempting to improve credit decisioning and move away from traditional credit scores. Instead, it uses open banking to create a clearer picture of a consumer's transactional history and improve the process of assessing creditworthiness. In return, successful applicants get access to a credit card with a rewards programme linked to their spending; no-excess worldwide travel insurance; and zero fees for spending abroad.
The UK-based startup was founded in 2020 by Tim Chong, Harry Jell and Theso Jivajirajah. While working for ClearScore, all three recognised the need to move away from traditional credit models – which can be particularly inhibitive for expats living in the UK. It wants to use its latest funding to double the size of its workforce, with plans to finish the year as a team of 35; expand its credit rewards programme; and launch into new UK cities beyond London.
Yonder rebuilding credit 'the way it should be'
Yonder Co-Founder and CEO Tim Chong says: "Securing this funding is a real achievement in the current climate, and we feel incredibly fortunate to have the backing of investors who believe in Yonder's vision.
"We've built Yonder as a key to the city for young professionals, which encourages responsible use of credit while helping them to unlock more value from their spending. The response so far has proved to us that we've built something that consumers really want, and signals a shift in the way consumers want to use and engage with credit. Yonder is a social-first business, so being able to expand to other UK cities and to grow our rewards proposition into other verticals like sport, fitness and theatre as a result of this funding is a huge step, and will mean we can offer our adventurous members more ways to experience more of their city.
"The credit market needs a rebuild, and we firmly believe change happens through intuitive products designed to help customers with their best interests at heart, not just blog posts on a website. This investor support will help us on our journey to completely rebuild consumer relationships with credit and show that Yonder is a company they can trust. We can't wait for more people to experience credit the way it should be."
Investing in up-and-coming Yonder 'a no-brainer'
Jeppe Zink, Partner at Northzone, adds: "We are thrilled to continue to be part of the Yonder journey as young professionals eagerly seek a cutting-edge digital credit card that delivers not only enhanced customer convenience but also genuine relevance. Yonder addresses this need by establishing an exclusive membership club for a community of like-minded individuals. The impressive early engagement metrics are a testament to the exceptional potential Yonder holds."
And Joseph Moore, Founder of Crust Bros, a chain of five Italian restaurants in London that benefits from Yonder's rewards programme, continues: "Yonder has designed its rewards programme to brilliantly suit both its members' lifestyles and the needs of their partners like us at Crust Bros. Investing was a no-brainer for me, and I look forward to seeing them grow."