Financial Services (FinServ)
CANDIS raises another US$16mn to automate accounts payable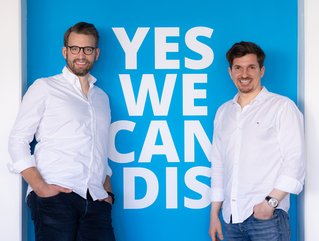 CANDIS' founders include Christopher Becker (left) and Christian Ritosek.
CANDIS has raised US$16mn from the likes of Viola FinTech and Lightspeed Ventures to help businesses automate their accounts payable (AP) function.
Fintech software provider CANDIS has raised US$16mn in its latest funding round to help businesses automate their accounts payable (AP) function.
The round, led by Viola FinTech and returning investor Lightspeed Ventures, means the Berlin-headquartered company has now raised US$30mn to date. It comes after two strong years of growth for CANDIS, which has increased the volume of its invoices processed by a factor of nine to reach more than 20bn in total. With a particular emphasis on the SME end of the spectrum, it will now focus on extending its product offering with payments, building further integrations, doubling down on core invoice management functionality, and expanding the team.
With the latest funding, CANDIS will be launching company credit cards which provide a central overview of all company expenses in real time, eliminating the need to wait weeks for a monthly statement. By giving each employee their own card, clients will be able to stop passing round a single card while retaining control over security and transparency issues.
'One of the best solutions we've seen in automating AP'
Christian Ritosek, CEO of CANDIS, says: "Finance departments are critical for businesses, especially SMEs and startups, yet the technology at their disposal hasn't kept up with other departments, forcing them to deal with time-consuming manual processes.
"This latest funding round is a critical step forward to help solve that fundamental issue and a recognition that our solution, both due to our technology and triple-digit growth over the past two years, is on the forefront. We look forward to continuing to build upon that growth, improve our product, expand our team, and most importantly, make the lives of finance departments far easier."
"SMEs are critical to innovation and growth, yet its outdated manual processes are often the culprits for the issues they face", says Tomer Michaeli, General Partner of Viola FinTech. "CANDIS is one of the best solutions we've seen across any department when it comes to upgrading and automating this process to level the playing field and boost SMBs. With a great team, a solid track record of growth, and an impressive number of customers that love their product, we're excited to be partnering with CANDIS in unlocking their full potential."