Argentinian payment acceptance fintech Geopagos bags US$35mn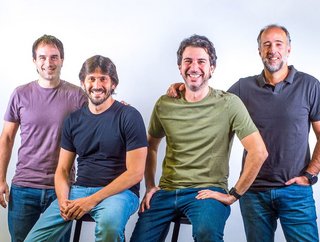 Geopagos co-founders (l-r) Raúl Oyarzun, Julián Lisenberg, Fernando Tauscher and Sebastián Núñez Castro.
Argentinian fintech Geopagos, which offers a payment acceptance infrastructure that has already processed over 150mn transactions, has raised US$35mn.
Argentinian fintech Geopagos has raised US$35mn in funding led by Riverwood Capital with participation from Endeavor Catalyst.

The funding round constitutes the fintech's first major institutional funding to date and will allow it to expand throughout Latin America while continuing to invest in its technology infrastructure. It plans to roll out new forms of acceptance and open up its API platform to enable software companies and fintechs to accelerate time-to-market.
Geopagos offers a payment acceptance infrastructure which it describes as "the most comprehensive omni-channel offering in Latin America". Its end-to-end digital solution gives large financial institutions, fintechs and retailers the ability to launch or scale their payment acceptance business within Latin America. It already has a presence in 15 countries in the region, processing more than 150mn transactions and over US$5bn in volume each year.

Geopagos targeting 'underpenetrated card market'
Sebastián Núñez Castro, CEO and Co-Founder of Geopagos, says: "Our vision since our foundation in 2013 has been to make payments acceptance easier and more accessible, helping our clients launch successful and innovative payment products via a robust and comprehensive solution that can deliver a superior consumer experience, improve engagement and generate customer loyalty.
"Over the years we have built an established and profitable business at scale, and this is an opportune time to accelerate our investments, expanding throughout Latin America and consolidating our technology leadership by investing more in R&D. We are excited to continue this journey with Riverwood, who has a 15-year track record supporting top growth technology companies in their respective sectors globally, a leading regional presence and reputation in Latin America, and is extremely selective with their investment destinations making them the perfect partner for the next phase of our journey."
Francisco Álvarez-Demalde, Co-Founder and Managing Partner at Riverwood Capital, continues: "Latin America is a significantly underpenetrated card market and Geopagos is well-positioned as the software enabler and infrastructure provider empowering payment card acceptance and digital payments across the entire region.
"We are excited to partner with this extraordinary team as they invest heavily to bring more disruptive and reliable payment infrastructure solutions to Latin America and consolidate the use of digital payments at a critical moment of change for the region, as more companies actively enter acquiring and embed payments in their offering."