Why the UK leads the global digital banking industry
By Ed Lane, VP Sales EMEA at nCino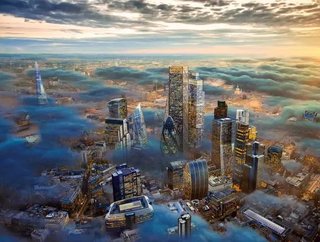 Ed Lane, VP Sales EMEA at nCino, discusses why the UK leads the global digital banking industry The UK is a global champion in promoting innovation in...
Ed Lane, VP Sales EMEA at nCino, discusses why the UK leads the global digital banking industry
The UK is a global champion in promoting innovation in the financial services sector, with London in particular at the forefront of building the next generation of fintech leaders.
Investments in technology solutions across financial organisations are now more important than ever, as the world shifts towards remote work and online channels due to the COVID-19 pandemic.
This has further increased the adoption of cloud software like nCino's Bank Operating System to help SMEs efficiently process loan applications under the UK Government's recent Bounce Back Loan Scheme and the Coronavirus Business Interruption Loan Scheme.    
Even before the pandemic, few industries have felt the impact of technological evolution and change more than the banking sector.
Traditionally dominated by a small number of large organisations in the UK, significant changes in the regulatory landscape have opened the market to a growing group of challengers and fintechs that have helped enable the digital age of banking - today the Department of International Trade reports around 89,000 finance firms in the UK. 
However, the UK's success is not just about its size; there are several key factors that make the UK a leader in digital banking. 
Regulatory environment 
The UK remains a front runner for its supportive regulatory approach to innovation in financial services.
In 2015, the UK was the first nation to put into operation its own regulatory fintech sandbox to enable innovation in products and services.
In fact, the success of the UK's fintech investment led to a whole host of nations including Singapore and Australia announcing their plans for fintech sandboxes at the end of 2016, according to the Financial Conduct Authority.  
Government policy makers and regulatory bodies in the UK have created a progressive, open-minded and internationally focused regulatory scheme.
The launch of Payment Services Directive (PSD2) inspired the creation of Open Banking and a new wave of innovation.
A report by EY revealed that 94% of fintechs are considering open banking to enhance current services and 81% are using it to enable new services.
The use of open APIs enable third parties access to data traditionally held by incumbent banks, meaning that fintechs can use these insights to produce new products and services.
Consequently, this allows UK fintechs to innovate in areas currently unavailable to the US and other countries across the globe. 
SEE MORE:
Appetite for innovation 
In addition to an unmatched regulatory environment, the UK's appetite for innovation makes it a champion for producing cutting-edge financial services.
This appetite is seen across the UK, including consumers themselves who are particularly digitally savvy and open to new technologies.
Currently around 12 million people in Britain have opened an account with a digital-only bank and nearly two thirds of Brits use contactless cards compared to 3% in the US, according to CNBC. 
The appetite of UK small to medium-sized enterprises (SMEs) for digital banking is also quite significant, particularly in the current environment.
The Bank of England reports that 83% of SMEs in the UK use mobile banking, while almost all use online banking for their businesses. With a total of 5.82 million SMEs making up 99% of businesses in the UK, this is lucrative sector for both established and new players. 
With its digitally native residents, both the UK's consumers and businesses have come to expect a seamless digital experience whether banking personally or applying for a business loan.
Banks and FIs are reacting positively to this trend. Santander UK adopted nCino's cloud solution to provide greater efficiencies, a swifter lending process and to enhance the service it provides to its SMEs and clients.
By implementing this software, the bank was able to cut the time to deliver loan decisions to clients by approximately 40%.
One reason for the UK's accelerated adoption of innovative financial technology could be that more incumbent banks and financial services companies have begun to offer fintech products directly to consumers.
As of 2019, Statista reports the UK has a higher adoption rate of fintechs (71%) compared to the global average of 64%. 
As more traditional financial institutions in the UK partner with fintechs, the country is positioned to supply its customers with world-leading digital services in banking that other regions are yet to experience. 
Technology and investment
More than 2.1 million people now work in the tech industry in the UK, increasing as technology jobs continue to cross over into the mainstream sectors like financial services, reports Tech Nation.
The performance of the UK digital tech sector has been world-leading. Last year, British firms attracted a record £10bn in investments exceeding the total in France and Germany combined, according to Reuters.
New players in the UK financial services sector are deploying cutting-edge technology including AI and the cloud.
Established financial institutions need to keep up with the innovation to remain competitive. Yorkshire Building Society (YBS) recently partnered with nCino to automate tasks that were previously paper-based and manual.
This allowed colleagues more time to deliver tailored services to clients and helped achieve an over 90% paperless environment – improving its corporate sustainability credentials too. 
With the UK's investment in new technology, combined with its strong appetite for innovative products and leading regulatory environment, it has proven its unique position to facilitate SMEs and financial institutions with the tools to conduct business during this time. 
As an increasing number of traditional financial institutions continue to partner with fintech firms within the UK, we will see the region continue to set the global standard on the application of technology, and more broadly, innovation in financial services.
The UK has laid solid foundations for its future in digital banking, truly cementing its place as the leader in the industry.
Find out more about nCino here.
For more information on all topics for FinTech, please take a look at the latest edition of FinTech magazine.
Follow us on LinkedIn and Twitter.