Why London remains the global fintech capital
By Rodney Bain, Co-Founder and Managing Director of APEXX Global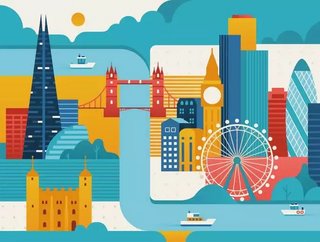 Rodney Bain, Co-Founder and Managing Director of APEXX Global, breaks down why London remains the fintech capital of the world. Uncertainty from the on...
Rodney Bain, Co-Founder and Managing Director of APEXX Global, breaks down why London remains the fintech capital of the world.  
Uncertainty from the ongoing Brexit negotiations, global trade tensions and now coronavirus have fuelled a sense of caution towards the UK's economy. It's true, we have seen shifts in investing trends and some industries have suffered. But the picture is not as bleak as it might appear – in fact, entrepreneurs and investors have reason to be upbeat and optimistic, especially about the fintech sector. 
London's continued dominance
Data recently released by KPMG found that British fintech companies attracted over £38.4bn of investments in 2019, which was an increase of 91 percent from 2018. Across Europe, the UK accounted for half of the top 10 deals and currently holds pole position as the top destination for European fintech investment, second only to the US globally. 
Critics might claim that London's fintech scene is being overtaken by other hubs such as Singapore, Zurich or cities in the US, but there is no denying its continued place as a global leader in the sector. The US, for example, has made huge attempts to build its industry, but it continues to lag behind London in terms of direct investment. The epicentre of the UK's fintech sector remains firmly positioned in Silicon Roundabout, attracting a wealth of emergent and growing start-ups. There are of course other hubs such as Leeds, Manchester and Edinburgh, but the UK has created an environment for fintechs that has proved much more efficient than other regions. Pair that with London's history with financial services and it's a perfect enabling environment for growth and innovation. 
This 'centralised' hub provides a fertile ground for knowledge sharing, tech cross-pollination and partnerships. The beauty of the Roundabout is that nimble and disruptive start-ups can find a home next to tech behemoths such as Google – what's interesting, is that both want to be associated with the other. It's exciting to see such an intertwined combination of global tech players and agile fintechs. 
Challenges facing fintech entrepreneurs 
Yes, London is thriving as a centre of innovation and originality, but challenges do exist. While I challenge the naysayers, who think that Brexit will halt future innovation and startup growth, it is true that financial services are inherently an international sector. It's my hope that Europe continues to collaborate and partner with Silicon Roundabout. A lot of fintechs are now faced with hard decisions, for example, whether to register in the Europe or UK for financial and electronic institutions licenses.  
Attracting talent 
In our experience, attracting talent is actually getting easier rather than harder. Today's talented highflyers are looking for careers that offer creativity, originality and autonomy. A few years ago, graduates would leave university looking for a job at a law firm, investment bank or hedge fund. These days, they are also looking for a community environment, with your employer becoming more like a family than a corporation. Increasingly young people are even open to taking lower salaries for a job that is more personally fulfilling. It goes without saying that London is an expensive place to be and you still need to pay to get the brightest minds, but we see this as an investment in your business and future growth. 
Attracting investment
In recent years, the Venture Capital pool has got larger and larger, and it will only continue to grow. Valuations are fundamental and will ultimately have significant implications. Historically, entrepreneurs have been focused on growth over profits, shouldering the high cost of customer acquisition. But you only have to look at Uber or WeWork to see that growth is not enough. Entrepreneurs must seek out revenue and find new ways to monetise and to demonstrate a commitment to profit generation. 
Key to attracting investors is establishing and building the right founding team. You need different skills and personalities that can complement each other, challenge each other and ultimately balance out. Critical to this is getting on with each other from both a personal and professional perspective – at the very least because you spend so much time together! Don't be precious with equity – raise money whenever you have the chance to and always be ambitious. You never know when you might need it for a rainy day. 
SEE MORE:
Entrepreneurs have always faced challenges and it's the resilience and grit that sets the most successful start-ups apart from the rest. As a hub, there is no better place for fast-developing fintechs, ripe to benefit from the network of expertise and talent that can be found at Silicon Roundabout. The macro-environment may present the appearance of a steep challenge but when I look around, I see investment, innovation and growth. 
For more information on all topics for FinTech, please take a look at the latest edition of FinTech magazine.