Banco Santander launches PagoFX money transfer app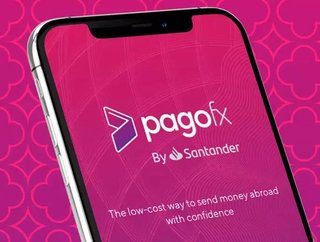 Banco Santander has today announced the launch of PagoFX, a low-cost international money transfer service, in the UK PagoFX will provide UK residents w...
Banco Santander has today announced the launch of PagoFX, a low-cost international money transfer service, in the UK
PagoFX will provide UK residents with a fast, secure and low-cost method of transferring money internationally through a dedicated mobile app. 
The service was launched by CEO Cedric Menager, CTO Edouard Metzger, and CMO Victoria Yasinetskaya during a dedicated virtual press conference.
According to Santander, it is one of the most affordable providers as a result of its competitive and transparent pricing, which includes real-time foreign exchange rates. 
In addition, in light of the impact of the coronavirus on industries and individuals worldwide, PagoFX has committed to allowing customers to transfer money abroad with no fees for two months.
More information in this can be found at www.PagoFX.com. 
About PagoFX
By using PagoFX, UK residents can send money abroad seamlessly and quickly through their smartphone, as long as they have a debit card issued by any UK bank or financial entity. 
The product will be launched into other European countries this year, with the expectation that it will be available in 20 markets within the next four years.
PagoFX has been developed with trust, safety and the consumer in mind. According to Santander, this means that customers will benefit from low costs, bank-level security and extensive in-app customer support, as well as through web and email. 
During the launch, several details were released about PagoFX, including: 
Quick but comprehensive verification process before making the first payment to guarantee the protection of data and money.
Every cost shown upfront with no hidden fees: users will know exactly how much they're paying and how much their recipient will get. This includes real-time foreign exchange rates.
Bank-level security with the same product validation process as any Santander Group product has, this means the company implements cybersecurity, financial crime and risk requirements.
PagoFX is authorised and regulated by the Financial Conduct Authority (FCA), the UK regulator for financial services firms. This safeguards funds until the associated payment has been sent, so users are fully protected in the case of defective execution of any payment.
A dedicated support team of people provide PagoFX users with expert advice and assistance for any type of enquiry via in-app chat, web and e-mail
At launch, PagoFX will facilitate payments in selected currencies from the UK to US, the eurozone, Poland, Switzerland, Norway, Denmark, Sweden and the Czech Republic.
Santander and digital technology
While the service is being backed by Santander, it will operate as an autonomous fintech startup organisation manned by an innovative team in Madrid, London and Brussels. 
This includes talent from companies including Amazon, PayPal and Intuit.
According to Santander, this collaborative approach "brings together the best of both worlds [...] Santander's expertise in international payments, foreign exchange and high security standards, with the digital innovation and competitive pricing of the fintech sector."
The launch of PagoFX forms part of Santander's four-year, 20bn euro digital technology pledge that is running between 2019 and 2022. 
The service is the open-market version of the bank's One Pay FX international money transfer service.
Discussing the launch, Ana Botín, Group executive chairman of Banco Santander, said: "PagoFX makes it possible to transfer money internationally easily, at low cost, and with the security and peace of mind that comes from a regulated entity backed by an international bank. 
She added: "This is a unique proposition and we hope it will help many people and businesses. It draws on our world-class technology and talent to deliver a new and highly relevant service for everyone in the open market." 
Find out more about PagoFX here.
For more information on all topics for FinTech, please take a look at the latest edition of FinTech magazine.