Top 10 fintech innovation labs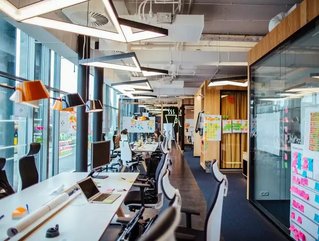 From internal initiatives to whole-community campaigns, we explore a sample of the most exciting innovation labs developing fintech globally...
From internal initiatives to whole-community campaigns, we explore a sample of the most exciting innovation labs developing fintech globally.
10: Goldman Sachs - GS Accelerate
Goldman Sachs' GS Accelerate initiative gives employees the chance to have a direct impact on their company's future.
Staff are encouraged to submit their ideas for ways that Goldman could be improved through further efficiency, improved customer experience, new revenue streams, and more. The limit is peoples' imagination and competition has been huge - of the 1,400 ideas submitted so far, approximately 1% have been given investment.
Elsewhere, the company has made a $500m commitment to investing in BAME entrepreneurs to increase sector diversity.
Established: 2018
09: AmEx Digital Labs
AmEx Digital Labs' focus is a logical choice for the payments giant behind the venture: contactless payments, mobile payments, and QR code-based transactions are just some of the areas it is exploring.
Determined to stay ahead of the latest trends in payments tech, AmEx has also partnered with leading e-wallet providers like Google Pay and Apple Pay. However, in addition to internal development, the company is also interested in facilitating the growth of promising fintech startups, which it manages through its VC arm, American Express Ventures.
Established: 2017
Number of locations: Three
08: PayPal Innovation Lab
Based exclusively in Singapore, PayPal's Innovation Lab unites from the lowest and highest stratospheres of fintech - from students and SMEs to industry experts and government agencies - in a single collaborative space.
Ambitious in scale and highly inclusive, PayPal's venture should serve as an inspiration for all organisations seeking to leverage the full capability of a single location.
The Lab itself offers infrastructural advice, access to fintech mentors and business leaders, and connection opportunities with investor networks.
Established: 2016
Number of locations: One
07: PwC Experience Centers
Bringing people together in a sandbox environment, PwC's Experience Centers are among the most numerous fintech innovation spaces in the world - a total of 15 locations at the time of writing.
The company is able to bring together experts from each aspect of a product's journey, from data scientists and consultants to programmers and end users, in order to create a holistic, multidisciplinary development arena.
It's clear that PwC recognises the value in breaking down legacy barriers and siloes in modern fintech.
Established: 2015
Number of locations: 15
06: Fidelity Labs
Fidelity Labs' approach can be summarised as a three-step process:
Identify customers' most "meaningful" challenges and assess the profitability in solving them
Test ideas with clients in order to determine their impact
Create new products and scale up the most promising ones
"Our challenge is to find the right balance between continuous organization and long-term planning. But the key is that we can't wait for customers and clients to tell us what they want or like. We must stay nimble and anticipate what customers need," said CEO Abby Johnson.
Established: 2005
Number of locations: Five
05: Citi Innovation Labs
In 2009, Citi's first Innovation Lab went live in Dublin as part of an effort to understand what effect prevailing finance trends would have on its customers. It soon proved both popular and successful in that mission, with subsequent Labs opening in the UK, Israel, Mexico and Singapore.
"The Innovation Labs' engagement with clients revolves around educating them about the promise of emerging technologies, while also ensuring that at Citi, we are addressing the unique problems they face," said the company.
Established: 2009
Number of locations: Five
04: JP Morgan Chase - Financial Solutions Lab
Launched in 2015, JP Morgan's Financial Solutions Lab is a 10-year project managed in conjunction with Financial Health Network and Prudential Financial.
Worth $60m, the initiative's three primary focal points are an annual innovation competition (specifically for products and services that could help unserved communities), a collaborative forum for NPOs and fintechs, and research opportunities for exploring new ideas.
So far, the Lab has supported over 40 fintechs, raised over $500m in capital and saved US residents over $1bn.
Established: 2015
Number of locations: One
03: FIS Ventures and Impact Labs
The most recently established Lab on this list, FIS set up its Ventures and Impact Labs in Denver during April 2020.
The company's intention is to invest $150m over a three-year period, targeting only the most promising fintechs for development. The Lab's emergence at the initial height of the COVID-19 pandemic is significant; FIS was determined that, at a time when others were hesitant to innovate, it remains at the forefront:
"FIS is deepening its commitment to stay at the forefront of innovative technologies that can help our clients accelerate digital transformation and emerge even stronger from the current pandemic," stated Asif Ramji, Chief Growth Officer.
Established: 2020
Number of locations: One
02: Visa Innovation Centres
Visa Innovation Centres strives to provide an immersive experience for fintechs tackling their biggest challenges, as well as a forum to help identify and develop new revenue streams.
The company achieves this through a combination of "human-centred design principles", real-time experimentation and access to Visa's team of expert innovators. Specific areas of focus include authentication, security, cloud, and digital.
Located in five global hubs, including San Francisco and London, Visa's spaces are enabling the world's leading fintech communities to stay connected and continue producing the exciting developments that transform the sector on a regular basis.
Established: 2013
Number of locations: Five
01: ING Labs
Located in Amsterdam, London, Brussels and Singapore, ING's Labs are dedicated to finding faster, better and more cost-effective ways of operating within finance.
In a , FinTech Magazine had the pleasure of speaking with Olivier Guillaumond, Global Head of Innovation Labs and Fintechs, about the company's distinctly forward-thinking approach. Always on the lookout for faster, better and more cost-effective methods of operation, he related that ING strongly believes in fostering experimentation and community on a local level for a global effect:
"In each specific area, we make a small selection of the most promising companies that we feel could solve a particular business problem experienced by ING or its clients."
Established: 2014
Number of locations: Four