FinTech & InsurTech Live: Day 2 of fintech industry insights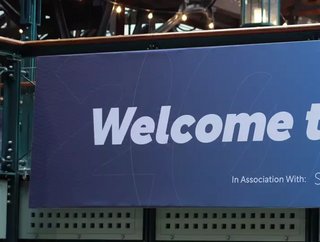 Day two of FinTech & InsurTech comes to a close and we reflect on various talks from leaders in financial digital transformation and tech adoption
Innovative ideas are forever shaping the way that we consume technology, particularly in the banking and financial sector. As a result, fintech companies have cemented their places within the industry and FinTech & InsurTech Live—sponsored by Saphyre—has created a fantastic way to showcase the diverse applications of technology across digital payment platforms, open banking, digital transformation of banks, and much more. Day two of the event provided viewers with some great insights from both established financial corporations and fintech start-ups.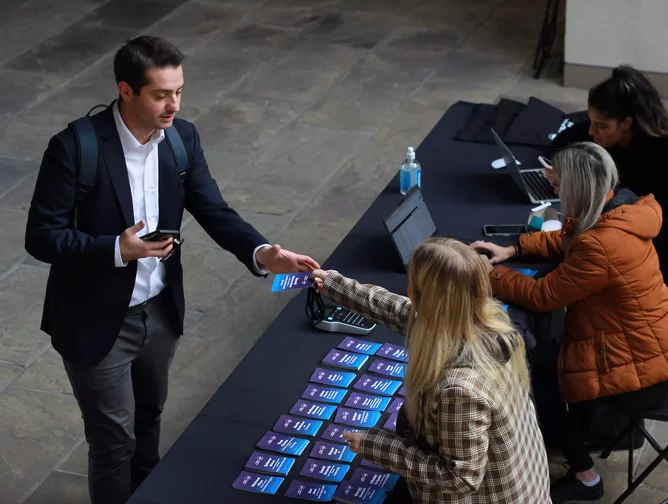 How the Bank of England is supporting innovation, Tangy Morgan
Tangy Morgan, Independent Senior Advisor to the Bank of England, has carried out various acts of mentorship for fintech start-ups. Morgan underlined some of the key areas in which the Bank of England is implementing artificial intelligence (AI) and machine learning (ML) for use in banking and digital payments, while also touching on the risk implications of sophisticated technology adoption, including the instability that can arise from working with third-party providers. The Bank of England is currently undergoing a huge push for training in digital banking and data science through partnerships with universities and encouraging further training. 
Future of commercial insurance: Technology to manage complex risks, Parul Kaul-Green
With the commercial insurance market valued at US$850bn—corporate risk valued at US$350bn—companies are experiencing exponential growth through mergers and acquisitions, as well as the adoption of new technologies. Parul Kaul-Green of AXA, is responsible for finding new opportunities in the market and provided great insights at the event. She discussed the process being insurance coverage and how it is affected by issues in certain countries, including the risk of events like flooding and disruptions.
The future of payments, Scott Abrahams 
As it strives to be the number one payment solutions provider, Mastercard's Senior Vice President of Business Development and FinTech, Scott Abrahams brings great energy to the main stage as he talks about what the business has achieved throughout Covid-19 and where it will focus its attention in the future. Through strategic partnerships and encouraging the adoption of technology in the UK as well as other countries, Mastercard aims to be the ultimate payment platform. 
"We're always focused on an ecosystem of partners. We have thousands of licensees both acquirers and insurers all around the world and it's my number one job to respect that, to harness that, and to look after that. So whether we choose to buy, invest, [or] partner, all of those decisions are focused on what's good for the ecosystem that we run and look after for all of those partners that are playing in that ecosystem." - Scott Abrahams.
John Duigenan
John Duigenan, Global CTO and VP of IBM discussed the value hidden within data and steps that can be taken to unlock it. Duigenan tells us that 74% of all data is not utilised within most businesses. To achieve more effective use of this large amount of data, he pointed out the use of AI models and how clients are able to use these to conquer a complex variety of challenges, of which he provided a long list. A real-world example was given to show that silos can be broken and the IBM model can be implemented in both modern and legacy systems. 
"I think most of what's happening right now is experience, I think there's a wild appetite to go beyond experimentation," Duigenan says. "The more people are active in this space the more they realise there are struggles with their trading data and as a result, there's a huge amount of bias. That bias often isn't detected until it's too late." 
Gareth Wilson
We were to gauge the extent of fintech benefits from the session with Gareth Wilson, Vice President, Head of UK Banking & Capital Markets at Capgemini. According to the insights Wilson provided, banks can push new products to market 65% faster with the use of financial technology, while also increasing agility by 58%. The use of financial technology can also support more collaboration efforts with digital ecosystems by 53%. 
CX in Insurance Panel 
Kicking off the afternoon was the CX in Insurance panel during which a group of executives ask and answer questions on several aspects of the industry. Dan King, Co-Founder of Insurance DataLab, James Daley, Managing Director of Fairer Finance, Paul Harvey, Founder of Adiona Insurance, Heather Smith from LV Insurance, and Matt Scott, Co-Founder of Insurance DataLab, discuss gaining customers' trust, looking at what customers want from their insurance providers, and how the motor insurance industry deals with poor drivers. They also discussed complaints handling, and how each of their respective companies dealt with them 
Leadership in a Digital Age Presentation, Alistar Fraser
Following the panel discussion, Alistar Fraser, Chief Executive Officer of Marsh, explained how leaders, and in particular executives, can adapt to a digital age, and why he believed their approach to leadership should change. "To adapt to a digital age, [leaders] need to be agile. Leaders need to be able to talk to people on all levels, " he said. He discussed how leaders should be more involved with their employees, and try to let everyone contribute in meetings. He also mentioned the 'Core Areas of Focus for Leaders', which are points that will enable executives to become more accustomed to management in the digital age. These key areas included strong communication, having an environment and dynamic mindset, and
being decisive, resilient, and inspirational. In addition, he encouraged employees to disagree more and pondered the question of whether employees felt comfortable doing this.
Creating Trust in a Digital World, Mark Mamone
The final presentation on the main stage was given by Mark Mamone, CIO of GBG. He talked about how to create trust online, saying "to trust an identity, you have to think holistically." He explained the different forms of identification from someone's name to their Date of Birth, including characteristics like the way they walk. He mentioned the GBG's use of onboarding to assess and verify the identity of a user in relation to identity fraud. According to Mamone, the company also uses threat intelligence to determine who a user may be. He concluded his presentation by emphasising that IP detection was not the best way to detect identity fraud in the digital world, pointing out that there are several ways to do this and that no single one is preferable over the other.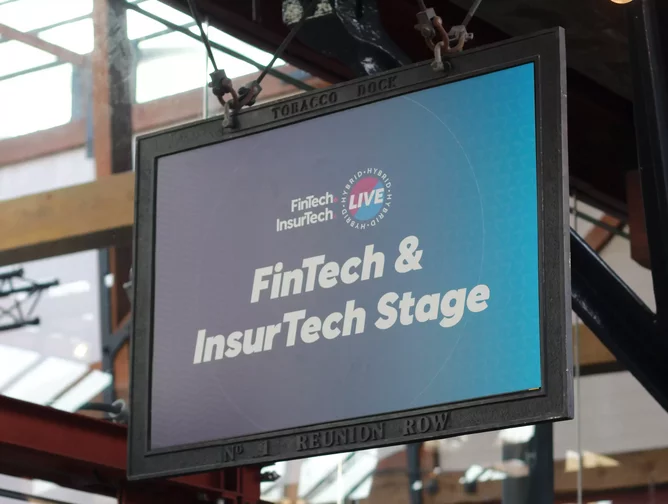 FinTech & InsurTech Stage 
Double the number of stages and you get twice the amount of insights. In the afternoon of day two, the FinTech & InsurTech stage opened up for viewers across the globe—including those at Tobacco Dock—to inform the audience about the next generation of automation, provide an in-depth discussion on embedded finance, and to discuss the importance of partnerships. 
How NextGen automation accelerates transformation across businesses, Marchela Georgieva and Alexis Chevallot
The first four weeks of the coronavirus pandemic displayed some drastic changes in technology, which resulted in a 5-year acceleration of digital transformation. A presentation from Marchela Georgieva, Co-Founder and Chief Operating Officer of Capto, and Alexis Chevallot, Chief Executive Officer of Capto, talked about the benefits of implementing automation and robotic process automation (RPA). According to Capto, around 73% of businesses expect a reduction in costs, resulting from the adoption of automation. 
"That is not the idea behind automation, the idea is not to replace people's jobs, the idea is to make work challenging and interesting and to get rid of the parts of the job that is not helping the individual in the first place." - Marchela Georgieva. 
Embedded finance, Leda Glyptis
Leda Glyptis, Chief Client Officer at 10x Future Technologies, provided a great explanation of embedded finance and how it has evolved over the years into a prominent tool in the banking industry. Glyptis is a FinTech evangelist who believes in utilising technology to make positive changes to the client banking experience. She drew upon her extensive banking knowledge to educate attendees on the current use of embedded finance and how businesses must collaborate in order to cement the place of new tools. 
FinTech Partnerships Panel - Alexis Chevallot, Gareth Wilson, Shubhanga Prasad, Avishkar Sharma
To round off FinTech & InsurTech Live, Ross Garrigan invited Chevallot back onto the stage to delve into the importance of partnership in fintech, alongside Gareth Wilson, Shubhanga Prasad, Director of Strategy at OakNorth, and Avishkar Sharma, EU Head of Partnerships at Checkout.com. The panel provoked an in-depth discussion about how fintech can create partnerships with banks and similar responses were given around building trust and aligning values and cultures across both organisations while ensuring a beneficial match of hard skills from each side.