MFTA & HW: driving fintech and sustainability collaboration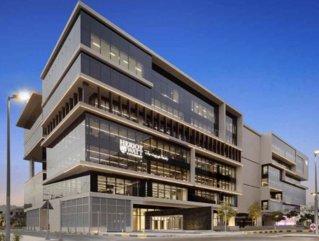 MFTA & HW: driving fintech and sustainability collaboration
Edinburgh Business School (EBS) at Heriot-Watt University and MENA Fintech Association sign an MoU to drive fintech and sustainability collaboration
Dubai – Monday 17th April 2023 - Edinburgh Business School (EBS) at Heriot-Watt University in Dubai - UAE, has signed a Memorandum of Understanding (MoU) with the MENA Fintech Association (MFTA) to collaborate on a vast range of initiatives and programs related to fintech and sustainability. The collaboration between the university and the fintech industry will help increase engagement among students and executives, drive innovation, accelerate the adoption of new technologies, and prepare the next generation of fintech and sustainability professionals.

Awarded 'Best University' by Forbes Middle East and ranked five stars by the Knowledge and Human Development Authority (KHDA), the digital-friendly campus is a satellite of the UK's Heriot-Watt University which carries over 180 years of world-renowned education with specialized programs ranging from management, engineering, built environment, to food science, which will now be extended to fintech and sustainability subjects.

The MENA Fintech Association (MFTA) – ranked among the leading fintech bodies globally, is an inclusive, not-for-profit association that fosters an open dialogue for the MENA Fintech community, shaping the future of financial services in the region. It is dedicated to promoting and supporting the growth of the fintech industry in the MENA region. The association is organized across several committees, from open banking, payments, sustainability, and regulation, where the brightest minds of the industry come together to study critical industry matters and engage with peers and authorities.

This agreement aligns with EBS' vision to expand its partnership with the fintech industry to leverage the ideas and resources accessible to both parties and to enhance students' learning experience. The MoU calls for collaboration and partnership in a broad variety of areas, including:

The exchange of knowledge and expertise
The development and delivery of educational programs in fintech and sustainable finance
Joint research projects
Seminars and conferences
Students' internships and mentorships with MENA Fintech members
This MoU comes at critical times where the fintech industry is taking off in the Middle East, a region aspiring to be at the forefront of innovation, including in fintech and sustainability. A recent study by Saudi Arabian technology venture capital fund STV predicts that MENA will see 45 unicorns worth over USD 100 billion by 2030 creating a pool of new jobs in the region. On the sustainability front, the United Arab Emirates will host the UN Climate Change Conference COP 28, with organizations accelerating their efforts to drive environment-friendly, and inclusive workplaces and cities. Among them, Fintechs that distinguish for their potential to create a more sustainable world by promoting financial inclusion, green finance, digital payments, blockchain, and data intelligence.