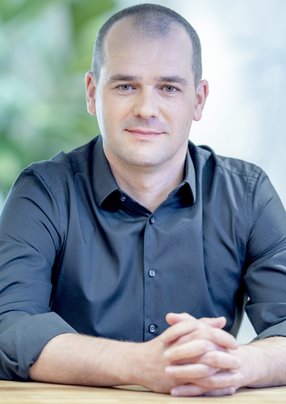 Teodor Blidarus
CEO and Co-Founder of FintechOS
FinTech Magazine sits down with CEO and Co-Founder of FintechOS, Teo Blidarus, discussing his career and foundership journey
Can you tell us about your journey to become CEO of FintechOS?
I always wanted to be in the tech industry and to do something that contributed to the greater good of the world, but I didn't expect it to be in financial services – even though both my parents were accountants!
Then, early on in my career, I joined an IT systems provider and had a focus on financial services. The complexity of financial businesses and the systems they needed to operate drew me in, but I felt that there must be a way to simplify the technical side of financial services. I've now been in the industry for over 25 years and simplifying financial technology has become my passion and purpose. I founded FintechOS to make fintech innovation available to every company.
What is the biggest challenge you've faced in your career to date?
I've founded and scaled several tech firms over the course of my career, and each time it has been an incredible journey, full of complex challenges.
Founding FintechOS was my greatest challenge because I set out on the huge mission of making fintech innovation available to every company. This meant not only overcoming the challenges of building a company from scratch but also developing a new technology that would completely rethink and reinvent how financial institutions operate.
Fast forward six years and I am so proud of the team and what we have achieved. We have over 50 enterprise customers using our technology platform to bring innovative banking and insurance products to market while expanding on the capabilities of their legacy core technology. Our fintech enablement platform allows banks and insurers to rapidly launch digital products and modernise core systems simultaneously. This enables them to stay relevant and grow in what is an increasingly competitive environment, while also providing their end customers with better and more inclusive access to financial services.
How important do you think generative AI is becoming in financial services, what does it mean for the future of finance?
The ability to train Large Language Models (LLM) on vast amounts of unstructured data could yield the largest transformation that the financial services market has seen in decades. But Generative AI (GAI) won't see meaningful adoption without specialisation.
Generalist GAI offerings in fintech won't work because they don't integrate with, and adapt to, the highly specific workflows, processes, and compliance requirements of financial institutions. The problem is that legacy core financial systems are notoriously closed off to new tools and technologies, hampering innovation. To fully take advantage of GAI innovation, embracing a new category of fintech infrastructure, called fintech enablement, is key. This type of platform extracts the data from legacy core systems to make it available to other systems and processes, provides a low code/no code environment that is specialised for financial products, and orchestrates APIs from existing legacy systems, combining it with GAI to deliver new solutions for employees and customers of financial institutions.
How else can AI be unlocked to boost revenue?
Innovation is key to the survival of banks and insurers – from boosting revenue to retaining and growing customer bases and protecting margins. Those that figure out how to innovate at a fast pace will survive and thrive, and those that don't risk falling behind.
This innovation includes using GAI to accelerate the creation of new financial products, and perhaps less glamorously, the automation of back-office servicing. Innovating the back office is about modernising processes, using data to make better decisions across multiple stakeholders, and integrating ecosystem tools to reduce risk and accelerate decision-making.
When looking at GAI in practice, it is best applied in a well-defined environment that includes well-defined APIs and interface definitions. For instance, customers using the FintechOS platform can use GAI to generate Apache Camel code to accelerate their development timelines for new products. Furthermore, customers can also use our platform to speed up the integration of new tools that leverage GAI to perform better KYC, fraud detection, and risk underwriting. As a result, innovating their back-office processes.
What is it you most love about your role? What gets you up in the morning?
Put simply, our customers are both what I love most about my role and what gets me up in the morning. When I talk about our customers, I mean both our direct customers – the banks, credit unions, insurance providers, retailers, and others that we support – as well as their end customers – the businesses and consumers that rely on their services to make their lives better. Whether it is opening a bank account, applying for a mortgage, insuring their business, paying for dental surgery, or buying home goods, we're able to improve the availability of these services and contribute to their lives. I've been in the financial services industry for over 25 years now and simplifying financial technology for all has become my passion and purpose. I love being able to do this for our customers.
Who has inspired you most throughout your career?
Many leaders have impacted my way of thinking. It may be unexpected for an entrepreneur and business leader to say this, but Gandhi has been a tremendous role model for me. He had a huge impact on the world by leading by example and addressing big, transformational challenges in a totally different way than anybody before him.
Perhaps more traditionally, Bill Gates has also been a great role model, as he has created an enduring company that has stood the test of time and has been able to innovate continuously for more than three decades.
Last but not least, Maya Angelou, for her ability to inspire generations of people to be better every day and her relentless work to address inequalities in society.
You can only be successful and impactful on innovation when it's linked to the mission and strategy of your organisation.