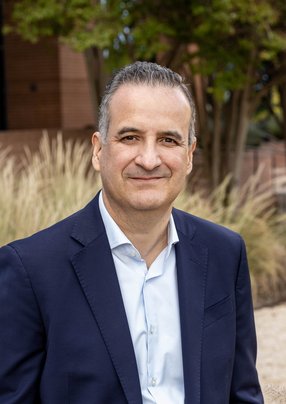 Alberto Guerra
CEO, UniTeller Financial Services
UniTeller's CEO, Alberto Guerra, explains the frictions in cross-border payments, the apps that are a source of inspiration in fintech
Could you describe your role and your background?

I am Alberto Guerra, CEO of UniTeller Financial Services, a company founded in 1995 and acquired in 2007 by Grupo Financiero Banorte, one of the largest financial groups in Mexico and Latin America.

My journey with Banorte began many years ago in the International Banking Division. Progressing through various roles, from International Banking to Corporate Banking, M&A and Investment Banking, I became the Head of International Banking at Banorte in 2003. In 2005, Banorte initiated a strategic endeavour to expand into the US and created the Banorte USA Division, with the goal of acquiring a Bank and a Company specialising in cross-border payments and remittances.

As Head of the International Division, I had the privilege of working on the Banorte USA initiative, and successfully overseeing the acquisition of UniTeller in 2006, culminating in the completion of the deal in early 2007. As part of this acquisition, I was presented with the opportunity to relocate to the US and assume the leadership of UniTeller as its CEO. Our vision was to transform UniTeller into a gateway for international cross-border payment transactions to Banorte and financial institutions in Latin America and globally. Being the CEO of UniTeller has been an exciting journey, during which the company evolved from a small, traditional remittance enterprise into what it is today: a major gateway and processor for global cross-border payments.

Who was your childhood hero and why?

I have two. The first is more personal in nature, and the second is a fictional character.

On a personal note, I would undoubtedly choose my father as my hero. I always looked up to him and admired him for his achievements. He was a beacon of inspiration with an exceptionally remarkable professional career. He was not in the finance industry. His domain revolved around the heavy metal industry, particularly in the steel industry. His progress was defined by an extraordinary professional career that was achieved by diligently studying, reading, and through his unwavering and honest dedication to his work.

On a fictional note, I admired Superman as a superhero. His strength, his ability to fly, and to time-travel allowed him to bring positive change to help everyone around him. The notion of bringing change in the world captivated me. While I cannot fly, I do recognise the power within me, "the power of my words, the power of my thoughts, the power of my ideas". So, I try to channel my inner superhero to shape my world, the company that I work for, and my family. As Superman, I try to use that power to positively influence those around me.

Are there any words of wisdom that have stuck with you through your career?

I've been very fortunate to have been guided by exceptional mentors throughout my career, and I hold deep admiration and respect for them. One quote that has resonated with me is "the harder you work, the luckier you get". Sometimes it's not about being lucky, it's all about working hard. This phrase, shared by one of my mentors, serves as a constant reminder of the importance of diligence. It's a philosophy I've internalised to the extent that I even have it written on a post-it note at my desk in my office. Reflecting my father's influence, I'm a firm believer in the value of hard work. When you work hard and follow the right approach, opportunities follow through.

What inspires you in the world of fintech today?

There are some people that I hold in high regard that have managed to build very successful companies from nothing, just by having an idea and being committed to that idea and exceling on its implementation. In the remittance space, there are a few leaders that I admire for their accomplishments. Outside of cross-border payments, one prominent figure for me was Steve Jobs. His principles and the frameworks he established can be fully applied to fintech. He excelled in crafting exceptional products with an emphasis on excellence and great customer experience.

There are several companies that have experienced a situation where the mere creation of a product does not automatically generate demand. Steve Jobs wisely said that, at times, people may not realise the need for something until it's presented to them with the right customer experience and a well-developed ecosystem. This approach cultivates an affinity for products, and occasionally motivates individuals to pay a premium for these products and services. If you translate these concepts into the fintech world, the focal question becomes: how can one build a successful product or service – for individuals or companies? The answer lies in factors such as the quality of the service, the reliability of the service, and the overall customer experience.

Are there fintechs or apps that you enjoy using yourself?

I constantly explore fintech apps. I love to download them and understand the customer experience they provide. One of the apps that really piques my interest is SoFi. What I find particularly appealing about this app is how it consolidates various services, including lending and investing, in a seamless and efficient way. The integrated experience they provide, along with their proactive follow-up is very interesting.

I enjoy using other fintech apps; Acorns and its intriguing micro-investing business model; Crypto.com, with a captivating value proposition for a debit card, wallet with crypto investing. Revolut is another platform that I've used that offers a compelling blend of multi-currency accounts, investing and payments; and our own uLink, an app providing an excellent consumer experience with the best rates and fees for international money transfers.

In essence, I'm an avid user of several fintech apps, and some of these companies really excel in their approach. At UniTeller, we make a deliberate effort to understand and learn from their business models and how they portray their services to their customers.

Could you describe UniTeller in 25 words or less?

We are a leading global cross-border payments service provider with state-of-the-art technology, advanced digital capabilities, and a robust compliance platform.

What are the biggest frictions that exist when consumers move money across borders?

There's still a lot of work that needs to be done to achieve frictionless global cross-border payments.

Even within the realm of very large corporate payments, it's astonishing that in certain cases, the process extends beyond two or three days. There's still a lot of interdependence of banking networks, structural intricacies of different banks, and liquidity issues around making these payments in real-time. This is still a big challenge that has yet to be overcome.

At times, these types of payments lack transparency with regards to fees and payment times. Fortunately, for low-value payments, we've witnessed significant improvement. There are several emerging fintechs, including UniTeller, that are actively improving user experience by facilitating more transparent and real-time cross-border payments.

However, there are still challenges that persist since not all payment networks are built to deliver the value of real-time payments. Despite the presence of companies like UniTeller and others that provide access, the ultimate delivery of payments still hinges on the efficiency of the last-mile infrastructure. Regrettably, in some countries, this final leg of the journey isn't adequately equipped to deliver such payments. We're engaged in discussions with multiple business partners in different countries to ensure that we can have a seamless experience in a wider range of countries.

Do you think B2B payments still lag behind B2C?

I believe that the B2B sector is experiencing improvement and catching up. In B2B, especially on the higher-ticket transactions, liquidity for real-time payments is a problem to solve. For instance, if your company provides these services and needs to make a payment in a country where you don't generally make payments, then your counterparty may require advance payment. To execute a real-time payment, you are essentially faced with two options: either have a business partner who is willing to advance the funds to make the payment in real time, or allocate substantial capital within those countries. Both approaches are highly inefficient. There are ongoing initiatives exploring real-time tokens or cryptocurrencies, which aim to enhance settlement efficiencies in some of these countries. However, for larger-ticket transactions, the complexity intensifies for sure.

UniTeller recently acquired Oh My Card, which provides a platform for gift card payments. What will that acquisition do for UniTeller?

At UniTeller, we see ourselves beyond the scope of being solely a service provider for remittances. While we have expanded into business payments, we firmly believe in the potential for a broader use case – a scenario where electronic payments can be sent instead of money, with the ability for these payments to eventually be converted to cash or used at retail stores. The underlying technology extends beyond the concept of gift cards; it revolves around establishing a settlement method at retail locations and building a robust settlement network. We do see a lot of synergies within the remittance space in sending gift cards to relatives. Yet, we also envision the prospect of developing wallets capable of leveraging settlement networks at retail locations, ultimately leading to even more efficient settlements. It's an interesting and innovative approach. We perceive opportunities and recognise the potential to leverage this technology not only within Latin America but also to expand its reach across other regions.

What's the one piece of technology (apart from your mobile phone) that you absolutely couldn't live without?

My laptop is indispensable. When I travel, my cell phone and my laptop are absolute must-haves. While I love my phone, there are certain tasks that demand a laptop to be efficient and productive.

Do you have any interesting hobbies or pastimes?

I have a love for reading, and I read often – novels, biographies, business books. I also love spending time with my family and my kids. Our conversations are a cornerstone of our interactions, and I particularly enjoy talking to my kids about current politics and social issues. Also, my son plays college soccer, and watching him play has always brought me great joy.

Engaging in physical exercise is also particularly important to me. I make it a point to incorporate daily walks and jogs into my routine, often accompanied by my dog, which helps me maintain an active lifestyle.

I also collect model airplanes. I have always been fascinated by planes and I hope to get a pilot's licence someday. It is one thing that I've had on my bucket list and I'm sure that one day, I will!

Describe yourself in three words.

Hard-working, blessed, and persistent.

The key benefits for us in automation are reducing manual processes, reducing manual mistakes, and improving our efficiencies