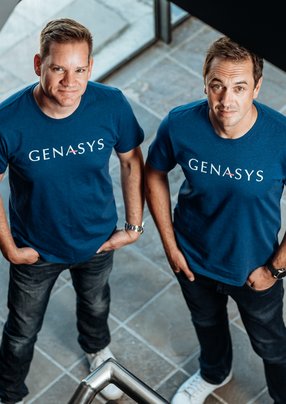 5 Minutes with André Symes and Craig Olivier from Genasys
How does a 20-year friendship help the leadership duo behind Genasys Technologies, which provides a SaaS platform for the insurance industry?
Can you tell us when you first met and what the circumstances were?
Craig Olivier (CO): It would have been around 1998 or 1999 – back when I wore my Kurt Cobain sunglasses everywhere, as André loves to remind me. I was already working for Genasys, so we had Steve (Genasys' founder and André's father) as a common connection, but we actually met at a bar where I was DJing. We were friends long before we worked together, which has been key to our working relationship and the success of our business. We've always made it fun.
You're friends as well as business partners. Is that something that's been important to you in business?
André Symes (AS): Craig and I have been friends for 20 years, and we've been business partners for over 10 years, so we've always found that we're greater than the sum of our parts.
We've always been aligned in how we want to scale Genasys in a sustainable way. Though we have different skill sets, they're incredibly complementary. We both focus on the areas where we can effect base change and, together, that becomes a strong, positive outcome for Genasys.
What's great is that the nature of our relationship enables us to challenge each other's concepts and ideas. Even though our titles have recently changed from co-CEOs to Group CEO and Group CTO, we're still the dual leaders of the business.
When Craig and I convinced our shareholders to dip the Genasys toe into UK markets, we set off to knock on many doors, sometimes getting lost along the way. But that was a real bonding experience for us because, when you're doing something as difficult as breaking into new markets on a bootstrap budget, having your bestie with you on that journey certainly makes it a lot easier and a lot of fun.
What did you want to do as a job when you were children?
CO: My ambition was to be a professional surfer – that's what I spent most of my time doing while I was at school and college. I love the ocean. Since moving back to Cape Town to head up our Product and Innovation Campus, I've bought a new wetsuit and new surfboard, and you can find me catching a wave whenever I can. I'm loving being back in the water.
AS: From about the age of six or seven, I was really into architectural drawing. I loved designing houses and buildings and when I happened to find a 3D drawing program on my parents' PC, I was in my element. I really wanted to become an architect.
Who was your childhood hero and why?
CO: Do you remember the original series of MacGyver from the 1980s? Well, I wanted to be Angus 'Mac' MacGyver. I used to absolutely love it. What I liked was his troubleshooting approach, taking ordinary objects when solving real-world problems. And, at the end of every show, there was always something that I'd seen him do that I wanted to try at home, which often involved me dismantling some form of electronics, like the Hi-Fi, much to the dismay of my family.
AS: When I was younger, I was obsessed with motorcycle racers including Valentino Rossi. To be honest, Rossi wasn't just my childhood hero, as he ended up having a career that spanned more than two decades and retired only two years ago. He was supremely successful in his field. And he always did it with a smile on his face and having a good time. And there's a lot of parallels that I draw on, as Rossi worked really hard but always with empathy and fun along the way, and he never took himself too seriously.
Insurance gets a bit of a bad rap. What problems does the sector struggle with?
AS: Insurance definitely has a bad rap and, in my view, it's because many people aren't aware of its value, so it's perceived as a grudge purchase. Add to this that insurance is sometimes mandated and the resentment levels increase.
As consumers, far too often we're forced into buying insurance that we view as expensive and inflexible – coupled with the fact that the process of buying insurance or talking to our provider when we want to, using our preferred channel, can be a frustrating experience.
At Genasys, we've always been about changing the way insurance is done, which means putting the end-customer first. Our approach is simple: we cut through the hype by simplifying technology and by making it clear that you don't need a complex, costly and time-consuming digital 'transformation' journey. As a result of our approach, our clients are able to evolve their technology as we provide them with the ability to deliver fast while succeeding fast on the customer experience.
Can you describe your point of difference in 15 words?
CO: At Genasys, we make insurance more accessible for everyone through simple, innovative, and open technology. The longer answer is that we're on a mission to make insurance easier and more rewarding for insurers, MGAs, brokers, and their end-customers.
Who or what inspires you in insurtech/SaaS today?
CO: Companies who want to use technology for the right reason – to effect positive change within society. But just as inspiring are the companies that are willing and ready to change because they know they can be, and want to be, better for their end-customers.
AS: For me, there's a group of people that are absolutely determined to change insurance to make it accessible to all and to be of real value to policyholders. Their drive and resilience is inspiring. We've been through a massively noisy season of insurtech where anybody and everybody was launching a product. Cash was cheap and there was a plethora of people joining the sector. Now, many of these entrants have moved on or funding has dried up – they haven't found the path to profitability. So, for me, the maturity of the insurtech market is inspiring as we've now gone through the trough of disillusionment and we're now getting to this plateau of productivity.
What's one piece of technology that you couldn't live without?
CO: I grew up in a musical family and music has always been important to me, so my JBL speaker is one thing that I always want to keep charged.
AS: Absolutely my smart watch! And if I didn't have Strava in my life then I would be lost – I use it all the time when I'm cycling or running.
What's the best piece of advice you ever received?
AS: One of my early mentors shared this with me: consistency trumps momentary brilliance. It's stuck with me ever since. If I'd perhaps realised that at an earlier age, then school, college and life might have been easier!
Describe yourself in three words.
CO: Ambitious, approachable, fun.
AS: Passionate, tenacious and authentic.
Is there a personal achievement from the last few years you're particularly proud of?
AS: I've shared a lot of proud moments with the Team Genasys cycling team, including winning some road races. My number one, though, is taking part in a 24-hour non-stop insurance industry charity spinathon a few years back – 600km of peloton biking, where that advice about consistency really came into its own!
What was the last good book you read?
CO: The last book that really changed my perspective was Who: The A Method for Hiring by Randy Street and Geoff Smart. It's all about getting the best talent into your team and picking 'A' players. It transformed the way I approached decisions involved in building my team.
What's next for you?
AS: We currently have some big implementations in play as well as helping a number of startups launch greenfield products into new territories. Since starting a digital partnership with our first large UK customer, we've gone on to partner with several other large-scale UK insurance businesses that are now going into the discovery phase, developing their digital evolution programmes.
We're serious about investing in our product development, and, most importantly, in our people, who have always been what sets Genasys apart. Through our product and our talented team, we now support clients across Africa, North America, Oceania and the UK to manage a gross written premium of over £1bn (US$1.24bn). As we take on more customers across more territories in a highly-competitive market, there's never been a more crucial time for us to invest in our product development and focus on staying ahead of the market.
CO: The opening of our new headquarters in Cape Town – the Genasys Product and Innovation Campus – is an exciting milestone. We've created a work space that will support our people to drive our technology expansion and attract new insurtech talent as well as outstanding university graduates.
We have a very clear path for the evolution of the Genasys product. This hasn't been us crystal-balling but spending time with people in the insurance industry to understand where the pain points are. We made a conscious decision some time ago to focus on insurance management, creating ecosystems where customers have the flexibility to plug in new technologies. Hype and technology are interconnected and, while one of our mantras is to 'avoid tech for the sake of tech', we're always alert, exploring how innovation can be used to support the insurance industry's aspirations and translate this into real-world application for businesses.
You can only be successful and impactful on innovation when it's linked to the mission and strategy of your organisation.