Financial Services (FinServ)
The Ultimate FinTech & InsurTech LIVE Event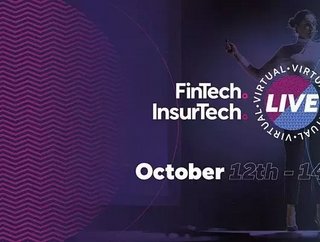 Where innovation meets implementation, coming to you live from London
Whether you attend virtually or in person, it will give you the chance to network with C-Level executives, share ideas with industry pioneers, and walk away with actionable, unique insights to bolster your business and career. 
By the end of the three-day event, you will have seen the latest innovations in both FinTech and InsurTech. You will be able to see how companies like yours are tackling the problems that keep you up at night, engage in a community that many struggle to access, and share your ideas with people who care as much as you do. 
Order your tickets now to take advantage of our limited-time Early Bird offer. 
How can you attend?
In the post-Covid era, not everybody wants to travel for events. So FinTech and InsurTech Live will be completely hybrid. That means you can attend the event in person or virtually - with no disadvantages to people who don't make the trip to the Tobacco Dock. 
In-person
FinTech and InsurTech Live is happening in the Tobacco Dock in London, a ten-minute walk from Tower Bridge. For more information on the location, click here. 
Virtually
There's no need to worry about missing out if you choose not to attend in person. You can still absorb all the information, interact with other attendees and enjoy the conference experience on our virtual platform. 
There will be live feeds from all of the stages (also available on-demand after the event) as well as virtual networking areas. So not being able to travel is no reason to miss your chance to gather with the industry.
New speakers
Group CIO, GBG 
Mark Mamone is an experienced Chief Technology & Information Officer, with more than three decades in IT management. Throughout his career, he has held a range of C-suite positions and delivered some of the largest solutions in Europe with companies including, BT, Detica and prior to joining GBG he was CIO at Serco. He joined GBG in 2018 as Chief Technology and Information Officer and is responsible for group product engineering and second Line Support, as well as group corporate IT including information security and cyber defence processes.
Speaking at international conferences on various topics, it comes as no surprise that Mark is a recognised expert in a number of technical domains, and also a published author. 
Global Head of Digital & Data at Standard Chartered
Kahina Van Dyke is a global financial services and technology leader with a belief in the power of purpose-driven teams to drive transformational outcomes in service to clients, communities, and businesses in every corner of our world. 
Her career spans global banking (Citi and Standard Chartered), global payment networks (MasterCard), big technology companies (Facebook), and start-up fintech companies (Ripple). Noted as a transformational leader who makes change seem normal and necessary to accelerate to the next level of service and impact, in all these roles she puts people and clients first and leads teams to lean into the future to build a better reality that is in service to the business, the industry, and the community. 
General Manager, Global Banking Industry at IBM
With over 15 years of experience in strategic consulting with notable knowledge in the banking industry, Likhit Wagle has worked closely with C-level executives in many Fortune 500 companies to deliver value to their customers and shareholders. 
Previous roles in IBM's Global Business Services include Banking Industry Leader in North-East Europe, the leader in Europe for Value Creation, and leader in Strategy and Change practice. Before joining IBM, Likhit led the M&A practice at PWC.

For tickets and information head over to our event site.