Financial Services (FinServ)
The Ultimate FinTech & InsurTech LIVE Event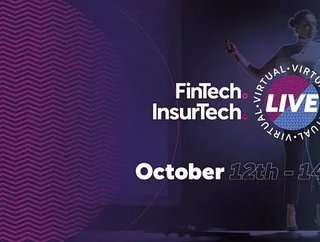 We release three new speaker names for the FinTech and InsurTech virtual conference that can't be missed, streaming live from London
From October 12th-14th, 2021, BizClik's FinTech & InsurTech event will bring together influential executives from around the world. Streamed live from Tobacco Dock, London, this three-day event will be an excellent way to finish the year strong, gaining the confidence your company needs to move forward into the future. 
With keynote addresses from global leaders, dynamic roundtable discussions, and extensive networking opportunities, FinTech & InsurTech 2021 will expand your network, deliver insight, and enhance your organisation's reach. 
Already confirmed speakers include Lucy Demery, Managing Director at Barclays; Scott Abraham, SVP of Business Development and Fintech at Mastercard UK & Ireland; Alistair Fraser, CEO, UK Corporate, at Marsh McLennan; and Mike Massaro, CEO of Flywire.
The event will include:
Keynote addresses from respected industry leaders

Dynamic live roundtables (inc. Q&A)

Fireside discussions

Inspirational Speakers & Presentations

Extensive networking opportunities
Meet the Speakers
Each week, from now until the event, we'll be announcing the latest speakers who are set to grace our physical or virtual stage, prepared to share their knowledge and insight with attendees. 
Our third batch consists of:
As AVP of Digital Strategy & Innovation at MSU Federal Credit Union, Ben Maxim helps facilitate innovation throughout the organisation. He also assesses emerging trends, technologies, digital platforms, and potential partnerships that could ultimately yield a better experience for members.
Holding a BA in Telecommunications, Information Studies, and Media from Michigan State University (2007), Maxim joined MSUFCU shortly after graduating and started as a Senior Web Developer. He subsequently progressed through the company, eventually reaching his current role in January 2020.
In addition to his work at MSUFCU, Maxim also serves as Chief Technology Officer at both Space and Reseda Group.
The Co-Founder and acting CTO of investment management app StashAway, Nino Ulsamer told us that, at the time, he "didn't know much about investing at the time, but the idea of having a digital wealth manager that acts as a guide for your investing journey and isn't incentivised by commissions or trying to sell you random products was very attractive."
A seasoned veteran of the European robo-advisory market, he shared Michele Ferrario's (CEO of StashAway) interest in a different investment model experience. When Ferrario was looking for a partner to launch his vision of a more accessible form of wealth management, he immediately sought Ulsamer as his first port of call. 
A tech entrepreneur par excellence, Ulsamer has also co-founded a host of innovative companies in Europe and Asia-Pacific, including Wevade, Shopperella, Mebelrama, Divvit, and others.
Originally Co-Founder and COO of insurtech leader Zego when it launched in 2016, Sten Saar took on his present duties as CEO in August 2018.
A driven entrepreneur even from a young age, he started his first business (Realister) in 2004 at the age of just 17. Saar was subsequently nominated for the European Young Entrepreneur award in 2007 and won Young Entrepreneur of the Year in 2008. The business was eventually sold in 2013, but not before it had achieved a net revenue of US$1mn and traded in four countries.
Following this, Saar held a diverse range of positions at Quickstart Global and onefinestay, before becoming Operations Director for Deliveroo in 2015. His ongoing mission with Zego is to save businesses time and money on their corporate insurance, therefore helping them reach their full potential. 
This event is set to be one of the year's most unmissable. If you want to get leading perspectives on the future of fintech and insurtech, find out more and purchase your tickets now.